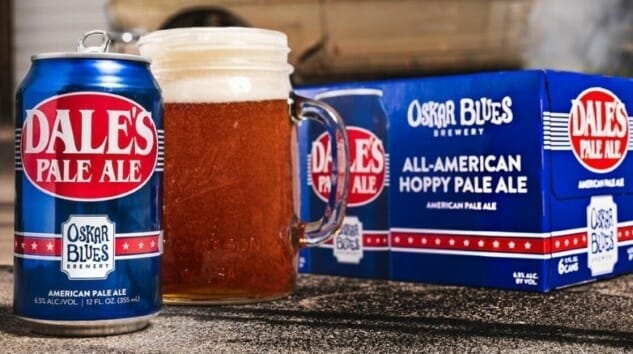 This essay is part of a series this month, coinciding with the concept of Flagship February, wherein we intend to revisit the flagship beers of regional craft breweries, reflect on their influence within the beer scene, and assess how those beers fit into the modern beer world. Click here to see all the other entries in the series.
Prominent craft breweries that launched and grew into national fame during the early days of the second great beer boom—beginning the late '90s and continuing in the early 2000s—had a tendency to define themselves in a specific way. Whereas the first wave had perhaps catered to images of welcomeness, the great outdoors or regional pride, the second wave brewers tended to define themselves with attitude. These are the Stone Brewing Co.'s of the world we're talking about here, or the Three Floyds. And yes, the Oskar Blues. Although they didn't really cling to the same sort of combative, hardcore, "you're not worthy" mantras of the likes of Stone or 3F, they did indeed project their own funky, thoroughly toasted mountain stoner energy into the beer scene. Few breweries have ever had such a firm grasp on their core identities as Oskar Blues, which is something you can say they've managed to maintain, even as a member of a private capital-owned "craft brewery collective" like CANarchy.
In the case of Oskar Blues, though, their iconoclasm extended to a choice that fundamentally altered how we drink craft beer, which isn't something many breweries can claim. The decision to start putting Dale's Pale Ale into cans in 2002 … well, you couldn't possibly leave it off a list of the biggest moments in American brewing history. Although it may not have seemed like a revelation at the time, or even a decade later, it was the beginning of a trend in packaging that would become a dominant force within the industry, and one that is attached at the hip to some of the most sought-after styles in modern beer. Would hazy IPA ever have gained such a foothold, without the aid of 16 oz, gauzily labeled cans as its chosen vessel? And would those cans have ever become so universal, without the massive influence that was Dale's? It's easy to argue that no other brewery has done more for cans as a format (in styles such as imperial stout as well, via Ten Fidy), not only for that 2002 decision but for the subsequent Burning Can festival, which celebrated its 10th anniversary in 2019.
And so too was Dale's simply an oddball of a beer when it arrived, especially for its designation as "pale ale." Who, aside from the aforementioned Three Floyds, brews their pale ales at 6.5% ABV? Who packs them with 65 IBUs worth of bitterness? It was a beer that seemed like something intended as a shock to the system for those who had grown accustomed to "pale ale" as a friendly, approachable brewpub staple, and it quickly became a product associated with boisterous concert-goers and good-time-havers everywhere. After all: Cans were welcome in places that bottles never could be. That fact got Dale's Pale Ale in through a lot of doors that might previously have been closed off to it, and Oskar Blues made the most of the exposure and headlines the beer generated.
Here in 2020, it's safe to say that Dale's has receded into the background a bit, surrounded by a lineup of vivacious, weed-referencing IPAs, stouts and seltzers—and a new series of lagers, thank god!—but there's little doubt that it will always be considered the heart and soul of the brewery. It's one of those flagships that engenders a lot of goodwill from beer geeks who recognize exactly how important it ultimately was to their favorite pastime.
So with that said, let's re-taste some Dale's and see how it's drinking in 2020.
---
Tasting: Oskar Blues Dale's Pale Ale
First, here's how the company describes Dale's.
Dale's Pale Ale is our defiant, proud, voluminously hopped mutha of a pale ale. If you're looking for a fistful of flavor, look no further than this hopped-up trail ride. It delivers a hoppy nose and assertive-but-balanced flavors of pale malts and citrusy floral hops from start to finish. Dale's Pale Ale is the beer that started it all. Oskar Blues launched its canning ops in 2002, brewing and hand-canning Dale's Pale Ale in the Lyons, Colorado, brewpub. America's first-craft-canned mountain pale is a hearty, critically acclaimed trailblazer that changed the way craft beer fiends perceive craft beer.
It's interesting that the description doesn't really mention or imply the depth of malt character that is present in Dale's, only mentioning "pale malts" when the malt flavors of this particular pale ale are really defined by deeper, darker additions than simple base malt. On the nose, they give it a more deeply toasted bread crust note than in the vast majority of the other pale ales I've been tasting throughout this series, along with light caramel and a hint of red fruitiness—somewhere between red licorice and plum. The hops then follow, with hints of pine and grapefruit, although if anything Dale's is a beer that (at least to the modern palate) leans toward malt on the nose. It has always been a malt-forward pale ale to at least some degree, and still is today.
On the palate you get more hops in play, with lots of grass and pine needles backing up a malt body of dark toasted bread and pronounced caramel—very caramelly indeed, in a way that few breweries are making these days. That can't help but flag it as an "old school" flavor profile for pale ale, which, like IPA has gotten drier and drier over the years, with less crystal malt presence and more reliance on hop aromatics, further blurring the line between session IPA, pale ale and IPA. Moderate bitterness rounds everything out, in what is ultimately a pretty solid balance between greener hop aspects and toasty malt. Certainly, this isn't a pale ale you would criticize for being lacking in terms of assertiveness of flavors—it has no shortage of oomph on the palate.
Oskar Blues' "all-American hoppy pale ale" remains a living legend of the genre, and one of the most popular beers to ever hail from Colorado, one of the country's greatest beer states. And it still drinks pretty well at a psychedelic bluegrass jam band festival, too.
---
Jim Vorel is a Paste staff writer and resident craft beer geek. You can follow him on Twitter for much more drinks writing.