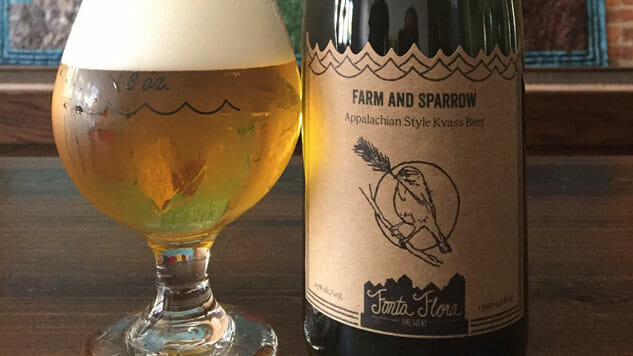 I consider the depths of my beer knowledge to run fairly deep, but a few months back when I saw a local brewery was releasing a Kvass I had to do a double take. A what? What the heck is that? The style actually dates back to the Middle Ages and hails from Russia and parts of Eastern Europe. Rather than fermenting grains, a Kvass was traditionally made with unusable or leftover rye bread and flavored with herbs and fruits like apples and raisins. The end result is a quite watery and subtly tart beverage that sits between 0.5% and 1.0% ABV. There are some soda-like versions too, but those tend to be syrupy like a regular soft drink. Heck, Coca-Cola even makes one.
You may be thinking to yourself: That sounds horrible. Yes, it does. Thankfully, when bottles of Fonta Flora Brewery' Farm & Sparrow Appalachian Style Kvass hit the shelf at my local beer store, the old world recipe wasn't exactly what awaited inside. Farm & Sparrow is actually the second Kvass that brewer Todd Boera and company made with the help of local bakers at the Morganton, North Carolina brewery. In fact, the name of the bakery that provided the rye loaves is where the beer gets its name.
"As long as people have been making bread, they have been drinking a slightly alcoholic bread-based libation," Boera explains. "The Kvass that we're talking about is the more traditional Russian drink where they would've taken stale and burned rye bread, soaked it in water and left it open to ferment naturally in the environment."
One of Fonta Flora's motos is "local culture, local agriculture" and that sentiment holds true in their beers. Whether it's an IPA with carrots or a Saison with beets that earned the crew a GABF gold medal in 2015, the focus on tapping into what's nearby is a sentiment in every beer the brewery makes. That includes paying close attention to the local bread bakers.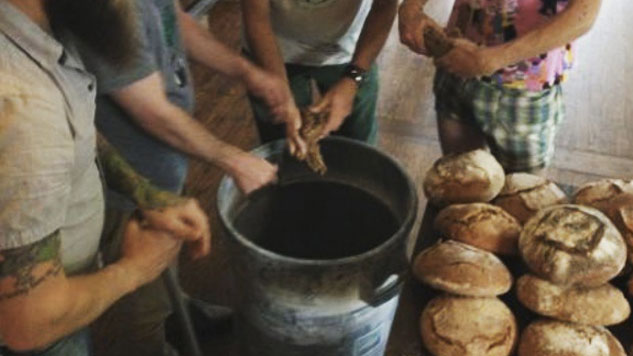 Brewing the first Kvass with fermentation guru Sandor Katz last year
Boera said that Kvass was a project he wanted to tackle for a while as a brewer elsewhere, but for one reason or another, it never worked out. Now that he's crafting the recipes at Fonta Flora, a Kvass has popped up a few times in the last year or so. After trying to tackle it for about six years, he's now able to experiment with projects like this. Fonta Flora isn't the only brewery making Kvass these days, but their versions of the style may be some of the most interesting.
"There's a lot of value in not letting something go away or giving something relevance again," he said. "I've been a bread baker all my life, so having this love affair with bread and the transition into brewing allowed me to combine the two."
Boera admits that what he's making is more of a reinterpretation of Kvass rather than something that's true to its centuries-old roots. Instead, a Fonta Flora Kvass is an updated version of an ancient style for today's craft beer drinker. There's some local malts and heritage grains added in to acheive a bit higher ABV (between 2-3%). It's not unlike what Dogfish Head and other breweries have done with Sahti and other styles that have literally been around for ages. What Fonta Flora is doing to respect the tradition is actually using bread to make the beer rather than totally relying on grains and malt.
"We're not making a true Kvass," Boera continued. "A traditional Kvass would've been more like a Kombucha than anything else. It's already a challenge to make a 2% beer with some body, so ours is like a hybrid."
So what do these new Kvass taste like? When I had Farm & Sparrow a few weeks ago, the first thing I noticed was how much flavor a beer with that low of an ABV could have. This particular Kvass was brewed with raisins and maple syrup as the aforementioned flavoring agents on top of Frisian bread, local rye malt and raw rye. To me, it drank like a Belgian Table Beer or a Grisette. It was flavorful, but super light and subtly tart — perfect for that blazing hot July day when I cracked open my lone bottle. It's also easy to guess that this is way better than the watery traditional Kvass you've found ages ago.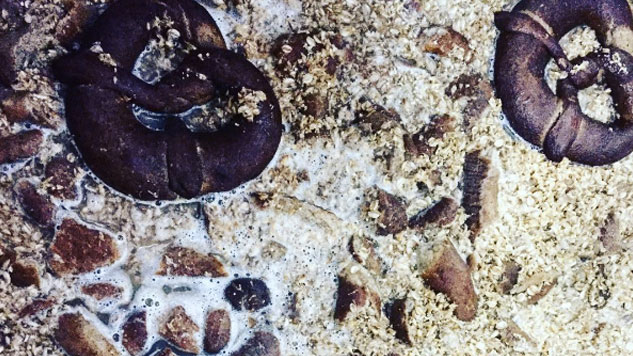 Photo credit: Fonta Flora Brewery
"With this Kvass series, we're trying to work with a baker that I really respect, talking with them about what they're really known for," Boera said. "Matthew is famous for his pretzels — he calls them Brezels — so it was just a natural progression."
That's right, the next Kvass-inspired release uses rye pretzels instead of bread. The pretzels came from another local outfit, Matthew Hickman's Underground Bakery in Hendersonville. They were made with rye flour that was smoked with pecan wood. One hundred pounds of pretzels were then added to a mix of both applewood and cherry smoked malt and Vienna malt. After some time fermenting with Fonta Flora's own mixed house cultures and a sprinkling of sea salt from the North Carolina coast, the so-called Brezelvass was just released.
Billy is the host of The Brewcast, a beer podcast that never records on a regular schedule. You can follow his drinking habit @beardbrews on Twitter.