Game On: 8 Crave-Worthy Dishes at Atlanta's New Mercedes-Benz Stadium
Photos: Mercedes-Benz Stadium and Sublime Doughnuts
Food
Lists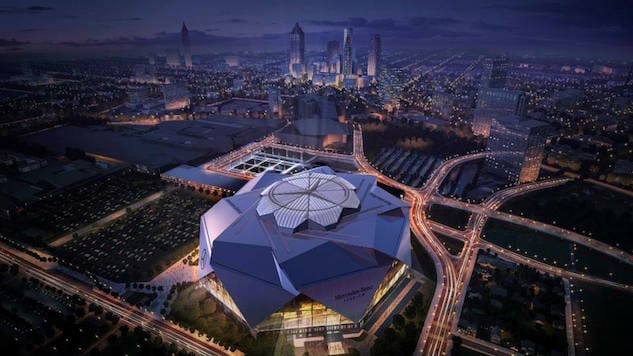 "Give the people what they want" is a pretty good mantra for a successful business, and it seems to be the one adopted by the brains behind Atlanta's new Mercedes-Benz Stadium. Projected to open in the summer of 2017, the $1.5 billion structure will seat up to 75,000 guests for Atlanta Falcons games, concerts, conferences and the new Atlanta United FC, the city's first Major League Soccer team.
More than 4,000 fans responded to a survey about what they wanted at the new stadium, which resulted in the recent announcement of 15 local and national restaurant partners including Antico, Chick-fil-A, Delia's Chicken Sausage, Farm Burger, Fox Bros. Bar-B-Q, Iberian Pig, Jim N Nicks, Ms. D's Popcorn, The Varsity and others. There will be 24 bars and restaurants with 673 points of sale for concessions scattered around the massive 1.9 million-square-foot facility.
Perhaps best of all, AMB Sports & Entertainment President Rich McKay announced that fair pricing will be a hallmark of the concessions. "Whatever they charge at the restaurant is what they will charge at the stadium," he explained. This means that the $3 chili cheese dog you love at The Varsity costs the same three bucks when you're watching the Atlanta Falcons (or Beyoncé) play. That could be a game-changer for the entertainment hospitality world. Here are eight of the dishes we're most anticipating.
1. The C.O.S.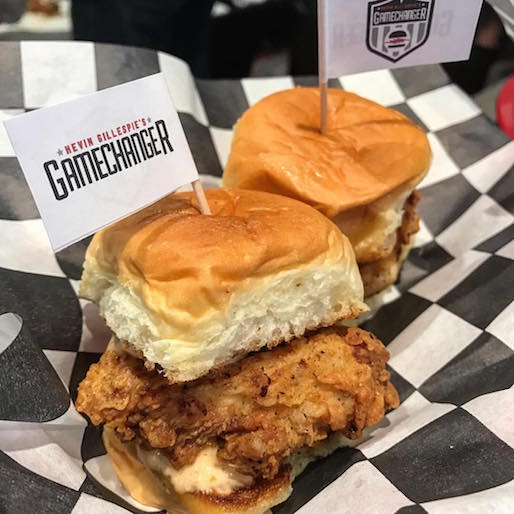 Photo: Chef Kevin Gillespie/Facebook
Chef Kevin Gillespie of Top Chef fame is launching Gamechanger, a new restaurant developed for the stadium. While guests will likely fawn over his Pork Belly Buffalo Wings served as sliders ($12), we loved the "Closed on Sunday" Chicken Sandwich, a riff on Chick-fil-A's famous chicken sandwich. As Gillespie told a group of Chick-fil-A execs, "The idea started years ago when I was making a family meal for my staff. Someone said, 'Let's just pick up some Chick-fil-A sandwiches,' but we realized we couldn't because you guys are closed on Sundays. It took a lot of tinkering, but we came up with our own version that checked some of the same boxes to make it delicious. We mean it as the biggest compliment." Gillespie's version is a juicy seasoned chicken breast with hot sauce and pickled mayo served on a honey butter roll ($12).
2. Pork Cheek Tacos
Decatur favorite The Iberian Pig will feature some delicious offerings, including a pretty stellar salad with butter lettuce, dried cherries, Manchego, Marcona almonds, and crispy shallots ($5), but we predict that their biggest seller will be the melt-in-your-mouth Pork Cheek Tacos ($12). Braised pork cheeks, grilled corn salsa, avocado crema, cilantro and lime are stuffed inside hard shells for a nuanced dish that is basically guaranteed to be a fan favorite.
3. Pop-Tails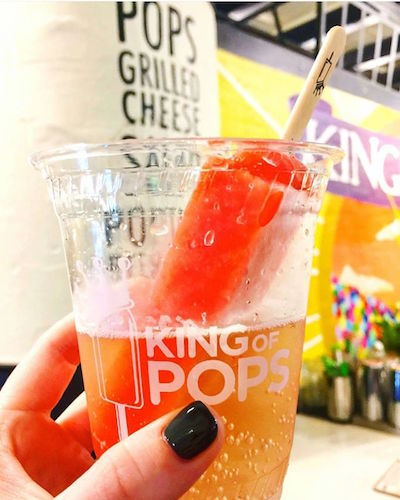 Photo: King of Pops/Facebook
King of Pops is known around Atlanta (and really, the South) for their carts topped with the signature rainbow umbrella and for delicious ice pops in creative flavors ($3). Vendors will be scattered around the stadium, but if you're seated on the Club level, you can get your pop swimming in Prosecco ($10). We recommend either the Raspberry Lime or the Strawberry Lemonade, though here's hoping they find a way to make the Chocolate Sea Salt boozy one day soon.
4. Cheddarwurst Corn Dog
GB&D (short for Golden Brown and Delicious) is a new concept by Concentrics Restaurants (Atlantans will recognize the group as the owner of popular eateries including Parish, One. midtown kitchen, Nexto and TWO urban licks), and it turns out that one of the signature items is both golden brown and delicious (see what they did there?). The Cheddarwurst Corn Dog is fried to perfection ($9) and served with smoked tomato ketchup. After all, who doesn't love food on a stick?
5. A-Town Cream Donut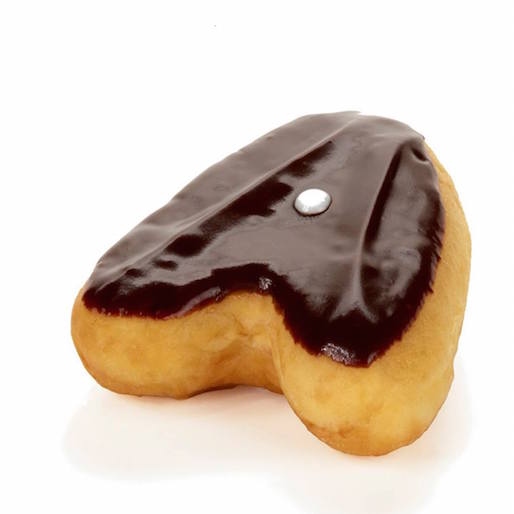 Photo: Sublime Doughnuts
Sublime Doughnuts Kamal Grant put Atlanta on the map for artisan doughnuts, and at $3 each they're a bargain. The A-Town Cream is Atlanta's answer to a Boston Cream Doughnut — the airy donut is filled with vanilla bean custard and topped with Callebaut dark chocolate glaze.
6. Frito Pie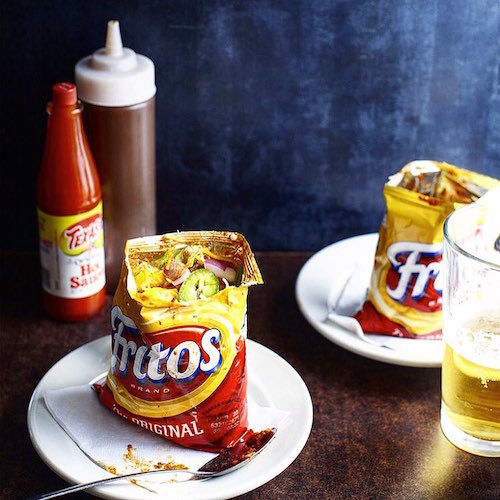 Photo: Fox Bros. Bar-B-Q
It's salty, crunchy and portable. What's not to like? This weighty dish-in-a-snack-sized-bag ($5) from Fox Bros. Bar-B-Q is built with Fritos, beanless smoked brisket chili, shredded cheese and onions.
7. True Red Velvet Cupcake
You may think, "OK, who's going to eat healthy food at a stadium?" After tasting the organic and gluten-free bites from Snackology 101, it's not a hard sell. Hummus and Organic Veggies ($6) and a Superfood Cobb Salad ($10) certainly don't taste like health food, but the star for us was the ultra-moist True Red Velvet Cupcake topped with whipped cream cheese icing and toasted pecans.
8. The No. 1 FB Burger
Atlanta's beloved Farm Burger is just what it sounds like, made with locally sourced grass-fed beef. This signature burger ($9) comes with aged white cheddar, caramelized onions and "Farm Burger Sauce," a creamy topping with tangy chopped pickles. Pair it with FB Fries ($5, topped with spicy garlic, herbs and Parmesan) for satisfying — and sizeable — meal.