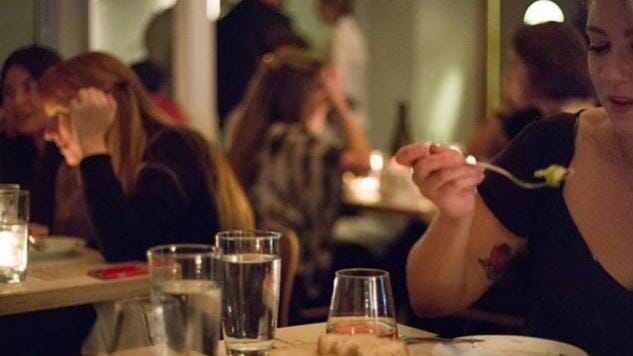 Angelenos received an early holiday gift last November in the form of Moby's new restaurant Little Pine, a 100 percent organic vegan fine dining experience. The Scandinavian design and Mediterranean-inspired menu make for a cozy brunch, lunch and dinner spot (they're open from an unheard-of 7:30 am until midnight) while the customer service is top-notch. It's a step up in size and palate from TeaNY, the electronic musician's former New York-based food venture.
Reservations are recommended but the restaurant promises to leave tables open for walk-ins in the 58-seat establishment, which has proven to be true each time I've dined there (once for breakfast—I'm talking hot donuts covered in fudge!; another time for a romantic prix fixe dinner on a Saturday night; and again for mid-week lunch with a friend). Little Pine also plans to launch a full breakfast menu available during the week this year.
"The first two weeks were absurdly stressful, but I think that's normal for a new restaurant," Moby told Paste. "But we've been busy and people seem happy and I'm biased, but I think that my restaurant is pretty great."
It's also pretty great to see someone put their money where their heart is, as it was just announced that 100 percent of Little Pine's profits will be donated to animal welfare groups. (This is from an artist with an album called Animal Rights, after all). That's just one more reason for locals and tourists to visit this newest gem of Silverlake… and if the gooey chocolate chip cookies with cold cashew milk on the side don't send you to bed sucking your thumb and looking for a blankie, you are dead inside.
Little Pine is located at 2870 Rowena Ave., Los Angeles (323) 741-8148.