Queens Library Prepares a Feast for Local Food Entrepreneurs
Header photo by Mark Thompson/Getty Images
Food
Features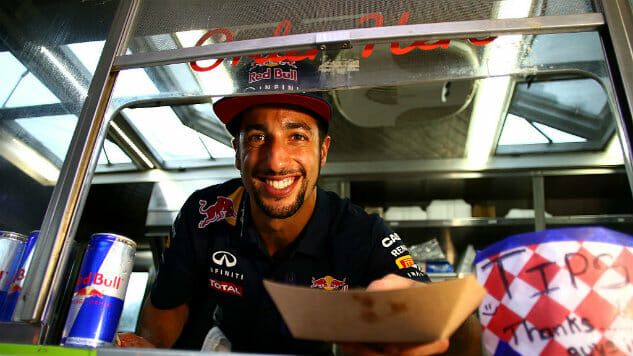 Banana tartlets, it turns out, pair well with small business loan advice. On a recent Sunday afternoon, 18 New Yorkers gathered in a classroom at the Queens Library's central branch to share baked goods and learn about the licenses, permits, and financial documents necessary to open a food truck or restaurant. The students, remarkably upbeat given the subject matter, all hope to open their own food businesses and were eager to learn about New York City's dizzying web of regulatory agencies.
The free lecture was one in a five-part series that serves as a preview for Jamaica FEASTS, a new library program scheduled to begin in January. FEASTS, which stands for Food Entrepreneurship and Services Training Seminar, will provide Queens residents with the tools and resources to start food businesses in their communities. As neighborhoods throughout the city see restauranteurs open gentrifying establishments inaccessible to less affluent residents, FEASTS aims to help aspiring entrepreneurs develop Queens food scenes from within.
From Dutch brewers to Italian peanut sellers to Egyptian halal cart owners, New York City's food industry has long been an entry point for entrepreneurial newcomers and longtime residents alike. Independent food establishments bring jobs and can help build community pride, but getting even a small operation up and running is no easy feat. FEASTS will guide cohorts of 15 students through a 12-week course designed to cover every aspect of opening a food business. Seminar participants will also receive one-on-one coaching. Then, after classes have concluded, students will get the chance to test their ideas in the library's newly renovated food incubator space. They'll be able to try recipes in a commercial kitchen and sell their products in the library cafe.
Tara Lannen-Stanton, Assistant Director of the Queens Library Job and Business Academy, began concocting FEASTS three years ago when she responded to a request for proposals from the New York City Economic Development Corporation (NYCEDC). Seeing the demand for food-related curriculum in her general entrepreneur classes at the library, she had the idea to use the library's commercial kitchen as a new incubator space. Lannen-Stanton also saw an opportunity to expand food options and career opportunities in the Jamaica neighborhood, where the library is located.
With the NYCEDC grant, FEASTS will run six cohorts of students through the program, wrapping up in late 2018. The seminar is unique in its comprehensive approach and, as Lannen-Stanton is quick to point out, a reminder that libraries are a vital community resource that provide so much beyond books.
At the preview lecture I attended, presenter Michael Maldonado, who will also been the main instructor for FEASTS, took a light but practical tone. "I'm not going to lie to you," he began. "Selling food in this city can be very challenging." Nearly every aspect of running a food truck or restaurant is subject to regulation and requires licenses and permits spanning the federal, state, and local level.
How are you storing your apples? Will you be erecting a new awning? How much liquid carbon dioxide will you keep on hand for carbonating beverages? Will you allow dancing on the premises? In the space of two hours, Maldonado wasn't able to get into the nitty gritty of every such quandary a new food business might face, but he was able to point students in the direction of resources and help demystify the process. Program manager Morgan Earle hopes FEASTS will further embolden students. "People are often too scared to start their own business," she said, "So I think the value here is in promoting independence. As complicated as the process is, people need to know they can be successful."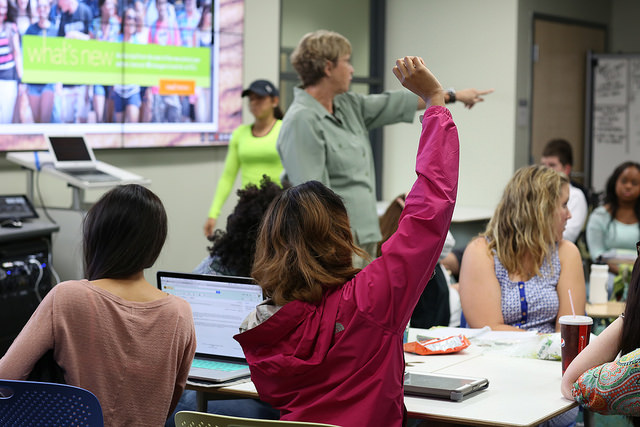 Photo by Molly B. Ransone CC BY-SA
There's red tape, and then there's cold hard cash. A NYC food truck comes with a potential startup price tag of $100,000. A small restaurant is closer to $300,000. When Maldonado asked if anyone in the class had begun saving money to open their business, only two hands went up. It is notoriously hard to get a bank loan to open a food business, so FEASTS will encourage students to look into alternatives like crowdfunding and no-interest Kiva zip loans. Maldonado also stressed the importance of researching business development grants that may be specific to a participant's neighborhood or ethnic, religious, or gender identity. "There's a lot of underutilized resources out there from different government agencies and organizations," he told the students. "You just have to look for them."
Money is one of the biggest concerns for Tress Walker, who has been attending the lecture series and will apply to be in the first FEASTS cohort. "I wanted to open my business ten years ago but life got in the way and I stopped," she told me. A longtime resident of St. Albans, Queens, Walker hopes to open a bakeshop in nearby Jamaica. She's already hard at work fine-tuning her menu, which includes nutty brownie bites and tamarind balls. Walker is especially looking forward to trying her recipes in the library's commercial kitchen. "I make fresh, quality foods," she said. "I want to contribute to the growth of my neighborhood."
As attendees filed out of the lecture, they took samples of Walker's nutty brownies and oatmeal cookies, as well as another participant's banana tartlets and fig bread. The brownie bites disappeared too quickly for me to try them, but this eater believes that the cookies and tartlets deserve a place in bakeries and grocery stores all over the city.
Applications for Jamaica FEASTS will open to the public on the Queens Library website during the first week of January. Maldonado's message to applicants is simple: "Come foodies, come entrepreneurs, come one, come all. We want to help people do what they do best — make food and make people happy."
Molly Jean Bennett is a writer and multimedia producer based in New York City. Her essays, poems, and strongly worded letters have appeared in McSweeney's Internet Tendency, Atlas Obscura, VICE, and elsewhere. Her chapbook Paper Apartment is out now from Essay Press. Follow her on Twitter at @MollyJeanBee.