Skip Your Wedding and Go On a Weddingcation: Greece
Part One: Athens, Mykonos and Santorini
Photos by Vicky Kuperman
Food
Features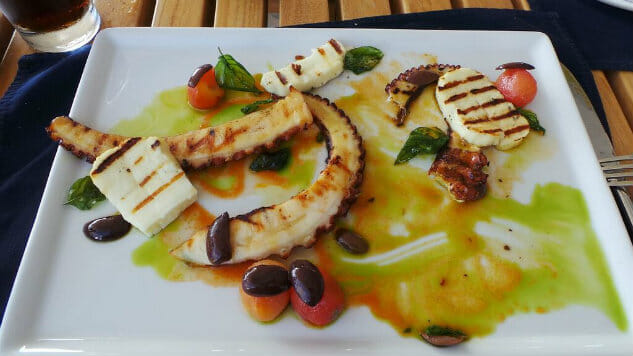 I was never the girl who dreamed of a white wedding. Starting in my teens, I traveled anywhere I could. I made money so I could travel. I made more money so I could travel. I saved money so I could … travel (and eat while traveling).
All of this was going on while my friends, acquaintances and colleagues were getting engaged, getting married, having babies, getting divorced, and getting remarried. Weddings? No problem! I saw them as excuses to travel and see new places.
By the time I turned 30, I'd probably been to 50 weddings all over the world. And every time I attended one, I always had the same thought: "Beautiful. Emotional. I wish them the best. But if it were me, I wouldn't spend money on this."
Everyone told me I'd change my mind once I met the right guy. And I did meet the right guy. He loved to travel too. Between us, we'd been to six continents and 50 countries.
After four years together, when he proposed, it shouldn't have surprised me that immediately after asking, "Will you marry me?" he mentioned, "Oh, and that marriage is happening in four weeks. We're eloping." My soulmate!
We got engaged on January 27, 2015 and married on February 21, 2015.
Here's what they don't always tell you about eloping: People. Still. Give. You Money. It's as though they are thanking you, with money, for saving them money, by not having them go to a wedding.
Due to the unexpected generosity of our family and friends, we found ourselves with enough money to either:
1. Have a fun party for 120 people.
2. Save it like two responsible adults.
3. Take a two-week luxurious honeymoon through Greece and Italy.
Which multiple choice answer do you think we chose? Of course, we chose the third option! If, like us, you're someone who chooses wanderlust over weddings, this one's for you.
Here's your sample guide to skipping the wedding — and eating and drinking your way through Greece and Italy instead.
Athens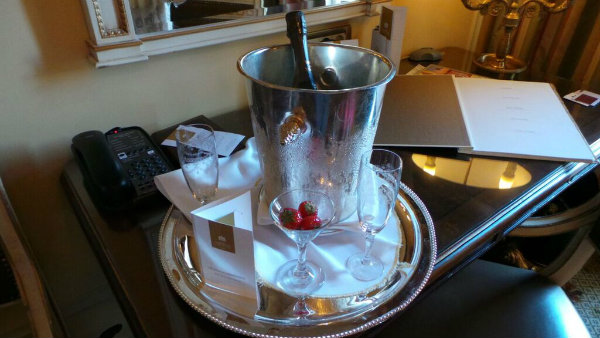 We arrived at the five-star Hotel Grande Bretagne, where a complimentary bottle of Champagne and strawberries awaited us, courtesy of the manager. Why is it as soon as you get to Europe, a simple thing like a strawberry tastes more luscious, juicy and sweet?
Luckily for us, our jet-lagged selves didn't have to go far for dinner. The Michelin-rated GB Garden Roof Restaurant and Bar is on the roof of the hotel. We enjoyed a magical three-course meal our first evening in Greece, all while overlooking the lit-up Parthenon.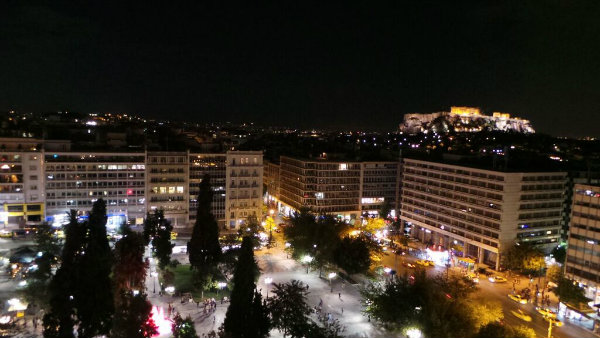 The best part of this gastronomic odyssey was the third-best tiramisu I've ever had. It tasted like a sweet, smooth, powdery cloud that, instead of melting in my mouth, expanded, widening its sweet, buttery self to touch every single one of my taste buds. Each bite of Chef Asterios Koustoudis' melt-in-your-mouth tiramisu was like its own satisfying meal, with a beginning, middle and end. (What are the second and first best tiramisu I've ever had, you ask? Keep reading to find out.)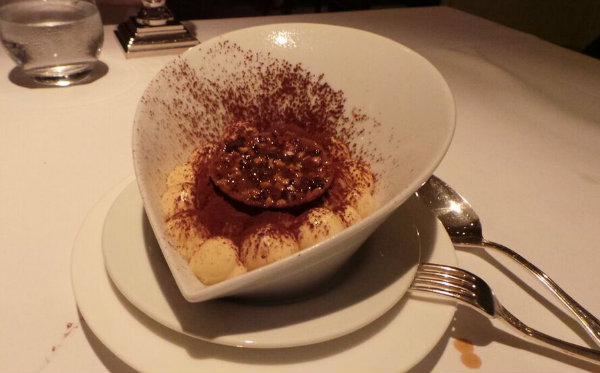 The next morning we shot right back up to the garden restaurant for an incredible Greek breakfast buffet, and a daytime view of the Acropolis.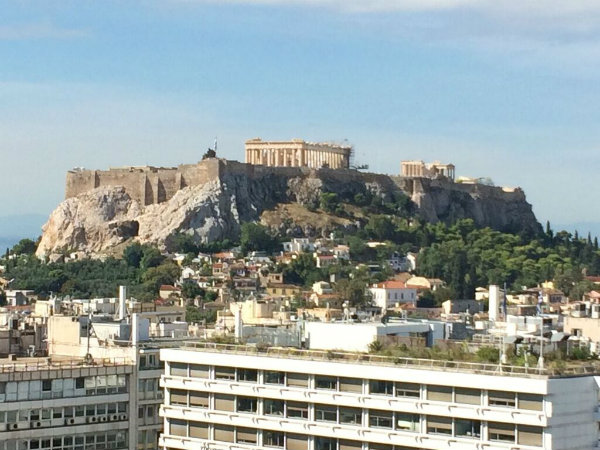 The cucumbers were bright, light green, juicy and perfectly crisp. The tomatoes were so, so sweet – dessert sweet. And the baked eggs were the perfect texture, not overly cooked and not undercooked, with a winning yolk that was just the right amount of runny. How did they do that? Oddly enough, pinto beans perfectly accompanied this gluttonous buffet plate.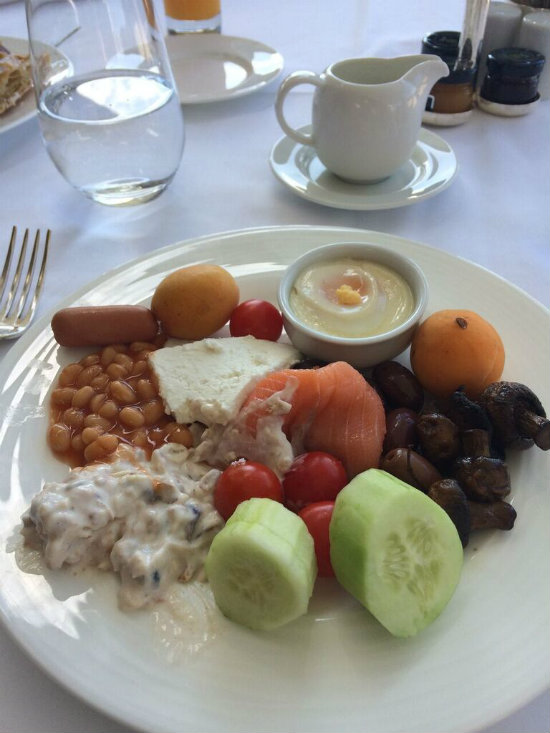 The next morning, we woke up bright and early and headed to the ferry terminal for our Greek island-island hopping journey. We boarded the Blue Star Ferry and got buzzed at 9 a.m. on the deck — the perfect prep for our first stop: the party island of Mykonos.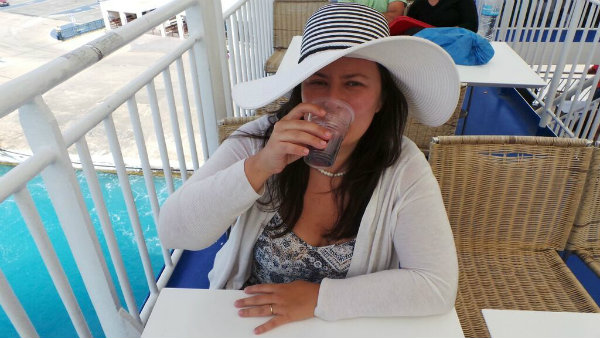 Mykonos
We made it to Mykonos. Drunk. But we made it.
Our five-star resort, the Mykonos Grand Hotel & Resort, picked us up at the terminal and put a sparkly, refreshing champagne glass in our hands before we could even step into the lobby.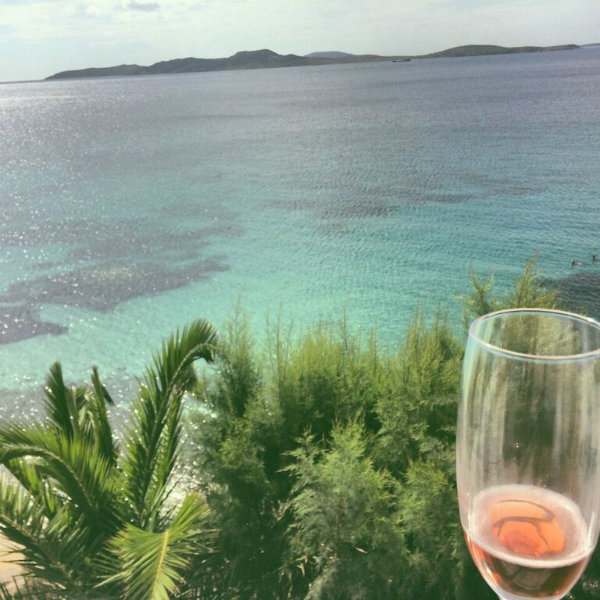 Then there was more champagne in our room, which was a deluxe suite with a balcony and an ocean view. We staggered down to Acqua and Sole to get our stomachs ready for dinner, courtesy of Executive Chef Ilias Tsikrikis.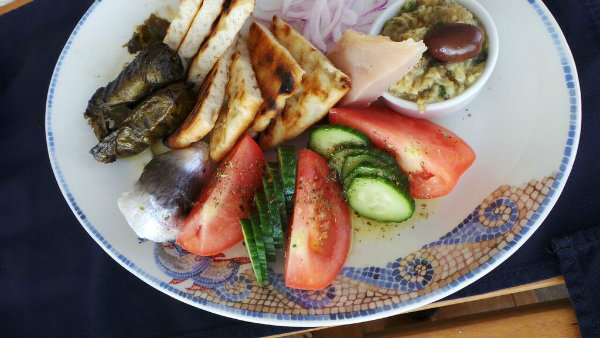 The fresh-out-of-the-oven pita bread tasted like the dough had been rolled that morning and it paired perfectly with the eggplant spread. It's so hard to get just the right amount of garlic in a dish. This place does it like it's no big deal.
The squid (pictured at top) was the best we'd ever tasted. The mild and sweet lime sauce definitely helped. And the tuna tartare melted like butter in our mouths.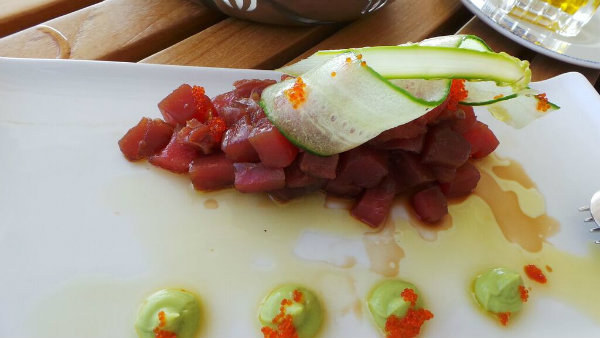 After some sun time and an unexpected poolside freebie of an orange-chocolate ice cream popsicle to cleanse the palate for dinner, we ventured out to the town of Mykonos to try the melt-in-your-mouth fresh fish at the famous Fish Tavern Kounelas, where you get to pick your own fish out of a fish locker.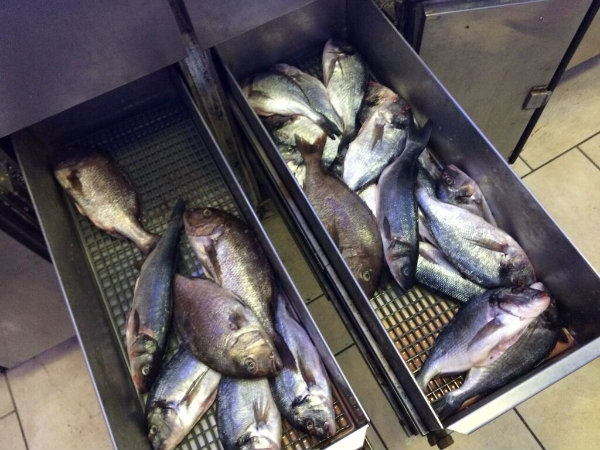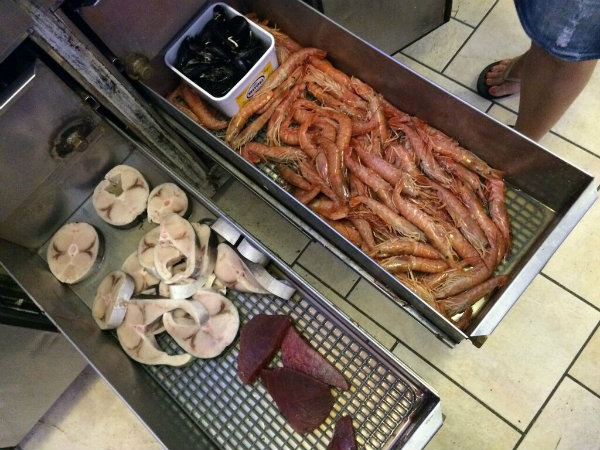 The kitchen cooked the tuna and the prawns perfectly, and presented them beautifully. We enjoyed our seafood with a selection of delicious white wines.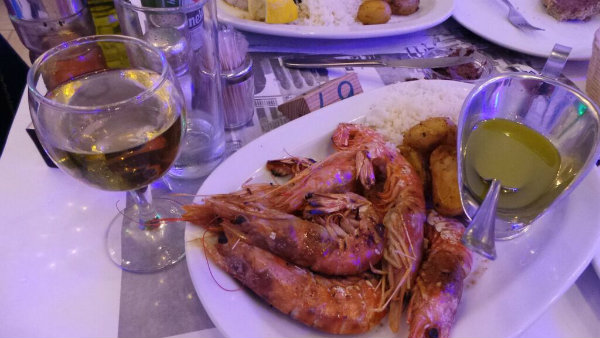 The next day, we rented an ATV and found our way to Agios Sostis, where, nestled between a tree, a rock, and a beach, sits Kiki's Tavern.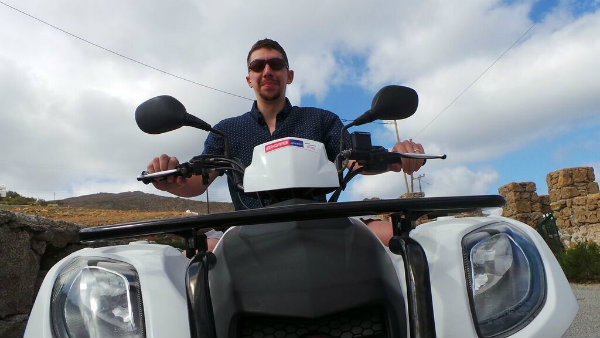 Kiki's is one of the three top restaurants in Mykonos and it's only open from noon to 6 p.m. Kiki's doesn't take reservations. They don't even have a phone number. If you get there after 12:30 p.m., I hope you like each other because you'll be waiting about an hour for this delectable and inexpensive barbecue. Otherwise, bring a book, or head down to the secluded beach for a swim.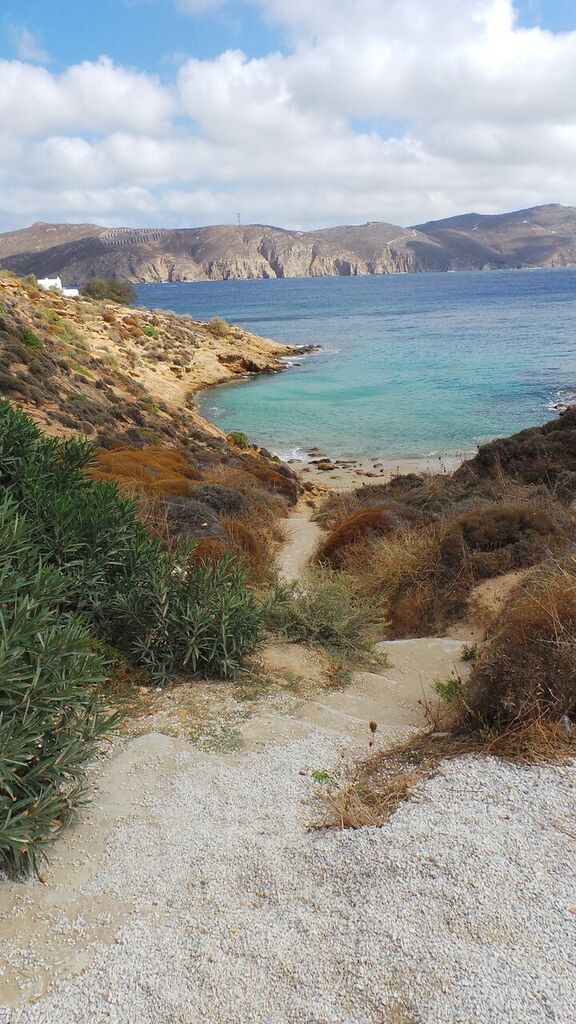 It will all be worth the wait once you get your food! The eggplant, peppered with greens and cashews, was grilled to perfection, giving it a soft yet solid consistency. The main course was a delectable and buttery baked potato and the most tender barbecue chicken I'd tried in a long time. Not one part of it was dry, and the braised taste seeped through the entire chicken, leaving us full, satisfied and yearning for even more.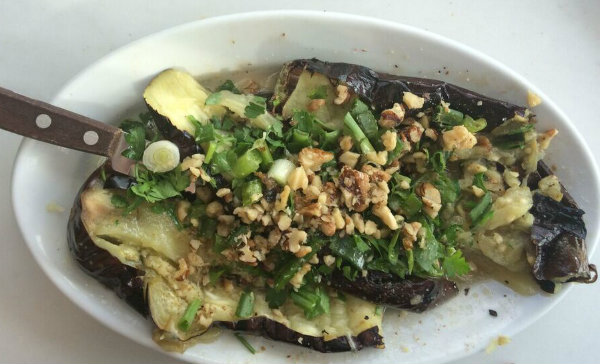 The next morning was our last one in Mykonos. We had time for one last stop at the gooey, natural, sweet honeycomb stand at the Mykonos Grand Hotel & Resort.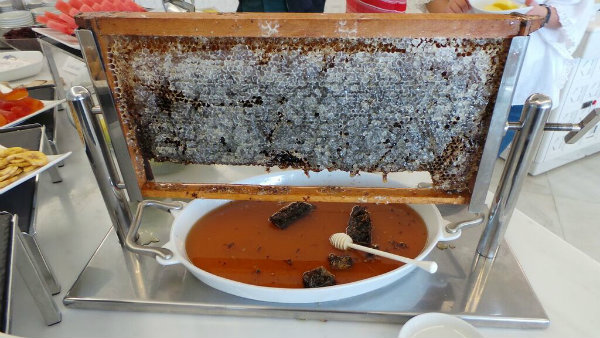 Onwards to Santorini!
Santorini
Greek hospitality lived on in Santorini, as we were greeted with honeymoon Prosecco in our room at the stunning Athermi Suites. Maria and Kosmas know how to treat a lady (and her husband). We were given the Honeymoon Suite.
We inhaled up Maria Kyriakou's famous and mouth-watering lamb, cheese, eggplant, tomato and potato moussaka while watching the sun set. She must have baked it for four months. The cheese was so gooey, the lamb so fresh, the potatoes so subtle and the eggplant was so, um, Greek. Greece has the best eggplant on the planet. How do they do that? What's their secret? No, really. I'm asking. You tell me and we'll both know.
The next day, we enjoyed some much-needed strong and aromatic coffee and homemade Greek pastries. That view never got old!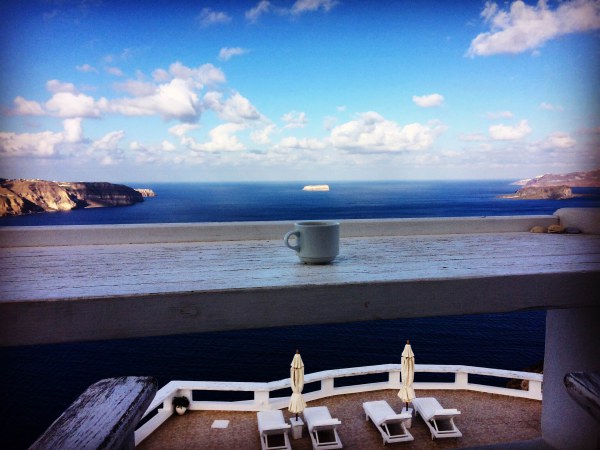 ATV rental number two was one of the highlights of the day, and a method of transportation.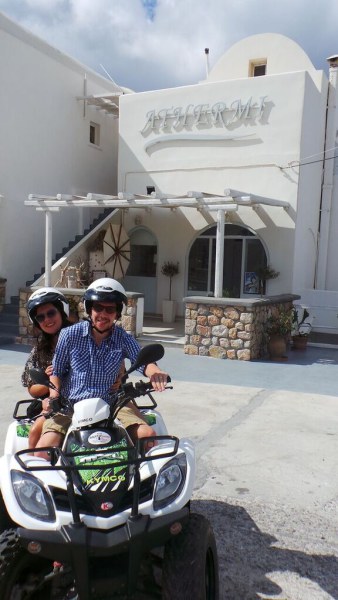 We found ourselves in the hilltop town of Pyrgos where we saw signs for Rosemary Restaurant. We parked our ATV and hiked up the winding streets. The lunch was exquisite, starting with a parmesan, fig and arugula salad.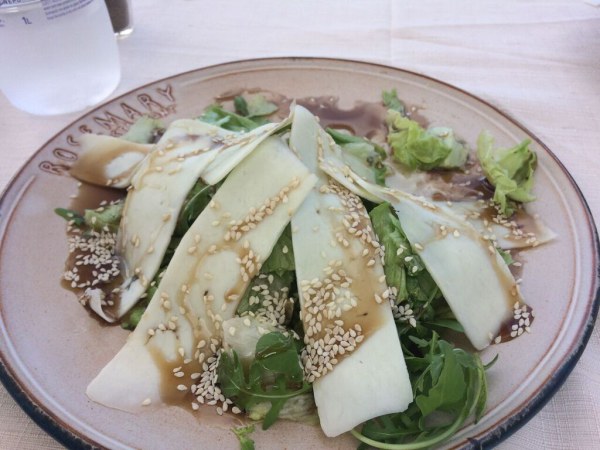 We also had delicioiusly savory eggplant rosemary balls with tzatziki dipping sauce.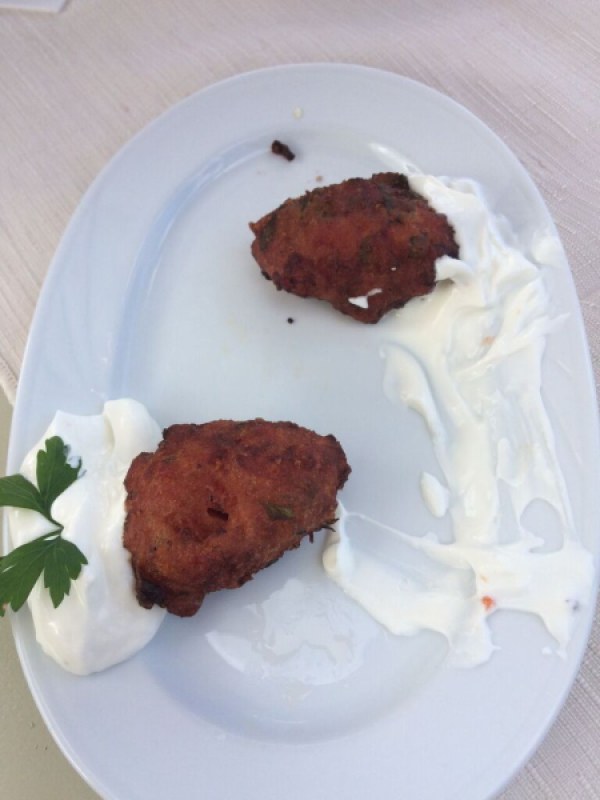 The view looked almost as good as the food tasted.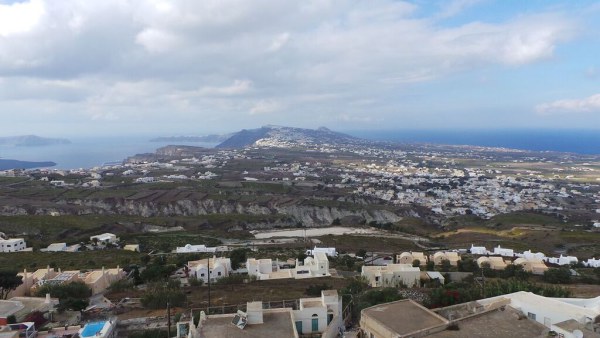 On our last day in Santorini, we headed out for an excursion with Barca Sailing to the local volcano. Captain Yiannis doesn't just know how to steer a ship: he's a chef! His all you can eat linguini was seasoned with butter, garlic, olive oil, marinara sauce and heaven. His prawns were grilled to a juicy finish and his rice was addictive. He even had warm bread for us. Must have been warmed by the sun.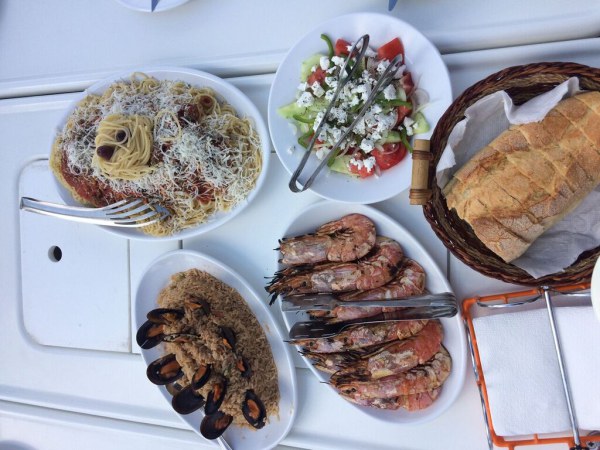 We were so full we almost fell overboard. After enjoying another wine-filled sunset and exploring the city of Thira that night, our time in Santorini came to a sad end.
But lucky for us, we were off to Italy, where the food was just going to get better and better! Stay tuned for part two of our trip tomorrow.
Vicky Kuperman is a stand-up comedian and author living in New York City. Her comedic dating book, The Russian Drop, is available on Amazon. Her album When I Could Feel is on iTunes. Her travel and food Instagram @coffeewineview is updated daily.