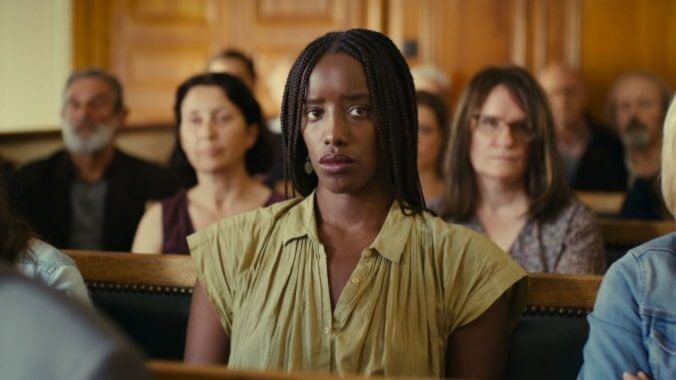 In the largely white seaside commune of Berck-sur-Mer, nestled in France's northernmost reaches, literature professor Rama (Kayije Kagame) stands out. This is primarily a matter of her skin color, a rich, flawless pecan in striking contrast to the town's oatmeal-hued locals. But there's also the fact of her dimension, her statuesque frame. When she first arrives in Berck, people turn their heads. In the best case scenario, Rama's steely beauty leaves them stunned. In the worst, they simply see her for her Blackness.
Rama's outsider status is central to her role in Saint Omer, Senegalese filmmaker Alice Diop's latest film and departure from her traditional mode as a documentarian. Like Frederick Wiseman's A Couple, Saint Omer welds fiction with fact; it's based on the awful case of Fabienne Kabou, who in 2016 was tried for leaving her 15-month-old child to her death on the beach at high tide. Diop attended the trial, and the experience clearly made an impression on her. Saint Omer views Kabou's crime and the story unfolding in its wake through the lenses of motherhood and daughterhood, arguing that neither can be disentwined from the other.
Like Diop, Rama travels to Berck to witness the trial of a woman accused of murdering her 15-month-old; here, that figure is Laurence Coly (Guslagie Malanga), a student and Senegalese immigrant. And like Diop, Rama intends to fashion Laurence's transgression into narrative fiction, as a retelling of the tale of Medea. (There's a brief aside at one point in the film where Rama, defending her choice in inspiration from the concerns of her peers, asserts that everyone knows about Medea, a minor moment of wry comedy in an otherwise somber plot.) But Rama shares plenty in common with Laurence, too. They both have roots in Senegal. They both have prickly relationships with their mothers. Both of their romantic partners are white Frenchmen. Most of all, Rama is four months pregnant, and feels misgivings about her impending maternity.
Saint Omer positions Laurence's trial to provide a mirror for Rama, who has difficulty stomaching Laurence's step-by-step recounting of the night she left her little girl, Elise, full of milk and happily snoozing, on the shore. This isn't an uncommon reaction. Diop, in a key moment, cuts from shot to shot of women in the courtroom, where most of Saint Omer takes place, capturing their reactions to the case's dark specifics; each can be summed up as "horrified," though horror is a spectrum so those reactions nonetheless vary. For Rama, Laurence's trial is a trigger for her own recollections of how she grew up with her mother, and her fears that she'll be the same kind of mother to her child as her mother was to her.
This is a prototypical perinatal anxiety expressed through Diop's subdued filmmaking as a slow-burning dread. If Kagame's career takes her down a path away from movies like Saint Omer and toward, say, genre cinema, she'd make an imposing, effective action hero. Diop recognizes what her appearance conveys at a glance, and has Kagame play against that appearance with aching vulnerability captured in small gestures: An eyebrow lowering by a mere half-inch, a nigh-imperceptible downturn of her lips, a sigh, a tilt of her head.
Rama looks tough, but in Saint Omer, looks are deceiving. Even Laurence is a challenge to read. Her eyes go liquid with emotion in one moment, and her mouth curls like she's about to breathe fire the next. She and Rama bear a measure of inscrutability in their comportment. It's Diop's responsibility to parse out truth through filmmaking: She blocks her images of the courtroom attendees such that Rama becomes merely one face in a crowd, and her images of Laurence such that she looks like the weight of the heavens is crushing down on her. DP Claire Mathon's camera keeps alienating space around Malanga. We see her in the frame with other actors only infrequently; she only interacts with Kagame once, when their characters' eyes lock from across the court and Laurence's mouth curls slowly into a smile of recognition.
She sees kin in Rama, a woman cursed by hesitance over her suitability for motherhood and who came all the way to Berck, all the way to Laurence's trial, for something like affirmation. Rama has a professional reason to be in Berck. But she has a personal reason, too: A chance to stare into the abyss. Not that Saint Omer treats Laurence as a monster, of course. Diop peels back layer after layer of humanity in the film, confronting Laurence's awful deed head-on and clear-eyed all while sparing her judgments made through blinders. There is a version of Saint Omer where the horror of the subject gives way to horror as a genre; Diop has instead gone for a straight ahead interpretation of a nauseating tragedy, where the only thing harder to swallow than infanticide is the realization that there's very little anyone burdened by Rama's doubts can do but learn to live with them.
Director: Alice Diop
Writers: Alice Diop, Amrita David, Marie NDiaye
Starring: Kayije Kagame, Guslagie Malanga, Valérie Dréville, Salimata Kamate, Aurélia Petit, Xavier Maly, Robert Canterella
Release Date: January 13, 2023
---
Bostonian culture journalist Andy Crump covers the movies, beer, music, and being a dad for way too many outlets, perhaps even yours. He has contributed to Paste since 2013. You can follow him on Twitter and find his collected work at his personal blog. He's composed of roughly 65% craft beer.