Watch the Eerie Teaser for Amy Adams-Starring Sci-Fi Thriller Arrival
Image via YouTube
Movies
Video
Arrival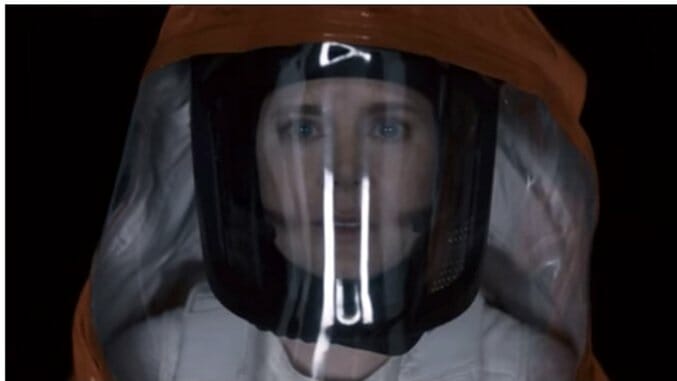 A first look at sci-fi thriller Arrival was released today. Starring Amy Adams, Forest Whitaker and Jeremy Renner, Arrival tells the story of a special team tasked with finding out the intentions of the alien beings that have landed shuttles around the world.
"Language is the first weapon drawn in a conflict," Ian Donnelly (Renner) says, reading aloud Dr. Louise Banks' words back to her in the teaser. Adams portrays the intellectual Dr. Banks, a linguist expert charged by the U.S. government to try to communicate with the "visitors." Donnelly, a physicist, and Colonel Weber (Whitaker) join Dr. Banks in entering one of the spacecrafts to wait for answers. Unraveling the mystery of their arrival becomes a race against the clock as the question of global war hangs in the balance.
The film is directed by Denis Villeneuve, who is becoming a thriller patriarch after making films like Prisoners and Sicaro, with the screenplay written by horror writer Eric Heisserer (The Thing, Lights Out). Arrival is based on a 1998 novella titled Story of Your Life by Ted Chiang, who won the Sturgeon Award and Best Novella Nebula Award for the short story.
Arrival will hit theaters on Nov. 11 after premiering at the Venice and Toronto Film Festivals, per Entertainment Weekly. Watch the teaser above, and read our 2014 interview with Villeneuve here.