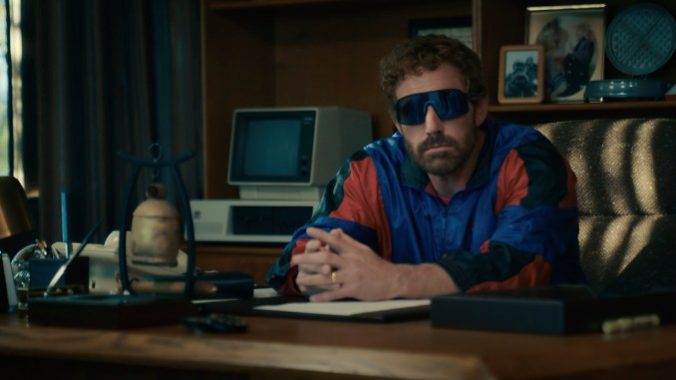 If someone had told me just two months ago that one of the most engrossing and adrenaline-pinching new films would center around a pair of sneakers, I simply wouldn't have believed you. But then Air—the latest directorial endeavor from Ben Affleck, who emerges every once in a while to helm an unexpected masterpiece like The Town, Gone Baby Gone or Argo—came along and proved me wrong. 
Air chronicles the true story of sports marketer Sonny Vaccaro (Matt Damon), and his bid to convince an 18-year-old Jordan to wear a pair of Nikes on the basketball court. Vaccaro's idea initially sounds conceivable enough–that is, until we learn that Nike was something of a laughingstock in the sneaker community at the time, and that Jordan was already dead-set on signing with the infinitely cooler Adidas. Thus commences a deft, nail-biting look into one of biggest deals in sports history.
Disclaimer: I'm not a fan of basketball. When I was a freshman in high school, I played for a season and didn't get the ball into the hoop once. And besides the games I played when I was a teenager (if you can call flailing my arms around aimlessly for 45 minutes "playing"), I don't think I've ever sat through an entire basketball game.
I only mention my pitiful history with the sport because I firmly believe that one of the greatest triumphs a filmmaker can achieve is making a viewer who doesn't care about a subject really care about it for 112 minutes. And that's exactly what Affleck does with Air. 
Much of this has to do with the fact that, like any good sports movie, Air isn't really about sports. It's a wholly relatable and surprisingly sharp tale of grandiose risk-taking and myth-making. Affleck isn't remotely afraid of interrogating the brutality of celebrity culture, cleverly going out of his way to avoid showing Jordan's face whenever he appears in a scene in an effort to emphasize the pedestal the basketball star has existed on since he was a teenager, as if to say that no mortal actor should dare portray such a God-like figure. Other subtle moments—such as the perfectly timed implementation of Bruce Springsteen's oft misinterpreted rock anthem "Born in the U.S.A."–have a similarly ironic effect.
Affleck's extraordinary grip on the challenging topics of fame and idolization also shines through in his framing of Air's dialogue. With a nimble script from Alex Convery, Affleck confidently allows his characters to mull over and pick these themes apart in protracted monologues, giving each fleeting thought ample room to breathe, whether it be the minutiae of a sports business deal, the implications of a being a teenage prodigy, or something as seemingly trivial as the real meaning behind a popular song. Nothing is too small for Air to explore, which breaks it into a genuinely thought-provoking space while never being overly expositional—not an easy feat for a sports biopic.
Long, contemplative monologues are tough to pull off well as a director, but perhaps equally so for their actors. Unsurprisingly, Damon is up for the challenge, the stellar actor and his longtime collaborator Affleck going together like bread and butter. Damon's performance is a masterclass in balance: He's optimistic without being overly earnest, schlubby without being pathetic, aggravating without being annoying. Most of all, he plays Vaccaro with such a focused vigor that, paired with cinematographer Robert Richardson's unflinching and almost disquieting close-ups, reminds us that this deal was never really about a pair of shoes.
Another easy standout, Jason Bateman flexes his comedic chops as Nike executive Rob Strasser, rattling off deadpan wisecrack after deadpan wisecrack like he could do it in his sleep. Bateman also manages to pull on your heartstrings at unexpected times throughout Air–a task which appears to be just as easy for the actor as nailing the one-liners. Chris Messina also successfully carries a bulk of the film's humor as foul-mouthed sports agent David Falk, shouting into the phone with intricate and absurd insults like the most delightfully vulgar stereotype of a businessman. Their comic relief is balanced by Viola Davis, who plays Jordan's mother, Deloris as the movie's emotional center–her softness consistently reminds us that the stakes are high for both sides of the deal.
Air brings together a dream team. It's a movie with heart, a movie that's not afraid to be saccharine and heartfelt about friendship and family values, and isn't overly trite with regards to topics that are usually cliched, such as the art of taking a chance and trusting your gut. Plus, it made me want to go watch basketball–at least for a few whimsical moments–and that, to me, constitutes a slam dunk.
Director: Ben Affleck
Writer: Alex Convery
Stars: Matt Damon, Ben Affleck, Jason Bateman, Marlon Wayans, Chris Messina, Chris Tucker, Viola Davis, Matthew Maher
Release Date: April 5, 2023
---
Aurora Amidon is a film journalist and passionate defender of Hostel: Part II. Follow her on Twitter for her latest questionable culture takes.