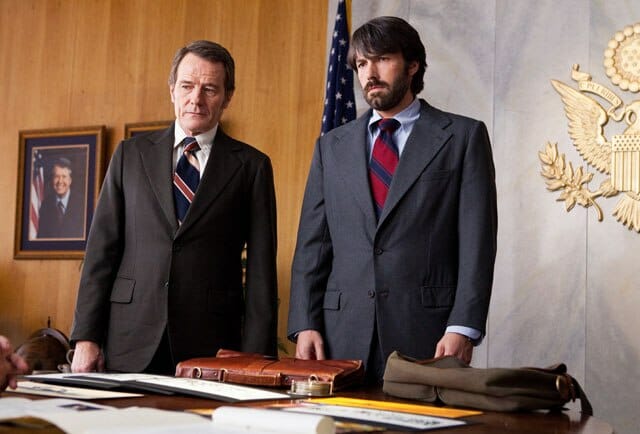 For those people with lingering questions about Ben Affleck's talents as a filmmaker, Argo should remove any doubt. The actor has now directed a trio of hard-working, blood-pumping dramas—his latest joins Gone Baby Gone and The Town—covering serious subjects like kidnapping and foreign affairs with a vitality that'd too often missing from Hollywood today. Argo, a precise blend of classic narrative genres, is the capper of Affleck's behind-the-camera work to date, a remarkably well-sculpted film built from a fairly basic, step-by-step framework. Argo looks like a smaller undertaking, plays like a big Hollywood movie and succeeds despite the hundreds of ways it could have failed.
So how does one turn the real-life takeover of a U.S. embassy into a tense, popcorn drama? Affleck shows he's capable of doing so and without sacrificing, or worse, ignoring, the issue's sensitivity. That's important considering the unanticipated symmetry with today's current political events and tensions, and the impact that can have on an audience.
The action begins in 1979 Tehran, as a militant group successfully (and infamously) storms the United States embassy, taking hostages and demanding that the American government return the deposed Shah to his home nation. The introduction, carefully written by Chris Terrio, offers no opinions and takes no sides. It even manages an empathetic view as to why Iranian citizens would have felt so strongly about the Shah.
After the brisk setup, we have a movie driven by two themes that audiences love: The Everyman as hero fit snugly into a CIA drama. The regular guy is Tony Mendez (Affleck), a quiet operative who specializes in extricating Americans from sticky political situations, and he's got a doozy on his hands. During the embassy takeover, a half-dozen Americans fled to the Canadian ambassador's residence, where they've been hiding, fearful they'll be found and executed. To get them out of Iran, Mendez turns to the movies, inventing the pre-production of a fake Hollywood film to convince the Iranians that the six people leaving their country are actually members of a Canadian crew scouting Middle East locations for a sci-fi thriller titled Argo.
The story carries all the intrigue you'd expect, and Terrio's script and Affleck's sense of timing result in an efficient, stripped down and polished effort. Argo has not a wasted word, not a figurative hair out of place on its well-coiffed head. The action flows simply, like chapters in a book: Mendez sells his cuckoo idea to the CIA, assembles his team, travels to Iran, preps his would-be escapees—yet this most familiar of templates does not work against the film; instead, it works in its favor, Argo brings the tension, it brings the fear, and it excells at the execution.
This said, one of Affleck's greatest accomplishments with Argo occurred before the first second of footage was filmed. With the casting of Alan Arkin and John Goodman as the movie producer and makeup expert who uphold the ruse back in Hollywood, Affleck applies a well measured dose of humor, effectively ensuring comic relief while all the scenes in Iran get to stay tough and serious. This lets the audience experience a gamut of emotions, with Arkin bringing his inimitable urban edge and Goodman acting as the compliant, lovable straight man. (You could almost spin these guys off into their own movie.)
In the long run, Affleck and Terrio would like Argo to be about protecting others, with family being the key reward, and it's the only element of the film that feels a bit forced. It's also easy to overlook given how good the rest of the film proves. Ben Affleck may very well be one of the best directors of solid Hollywood entertainment today, a confident, reliable and effective visual storyteller whose latest film may finally convince detractors that his early Academy Award (shared with Matt Damon for the screenplay of Good Will Hunting) was more harbinger than fluke.
Director: Ben Affleck
Writer: Chris Terrio
Starring: Ben Affleck, Bryan Cranston, Alan Arkin, John Goodman, Victor Garber, Tate Donovan, Clea DuVall
Release Date: Oct. 12, 2012