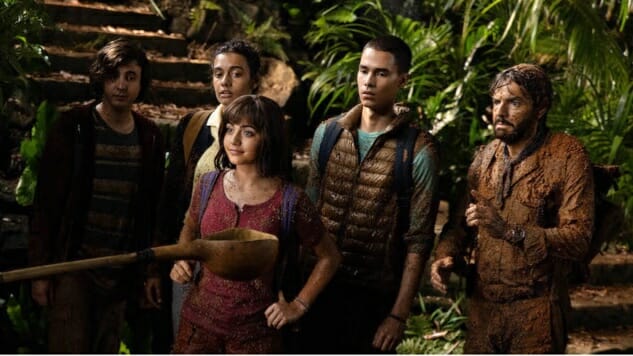 Even though it suffers from tonal and narrative inconsistencies, Dora and the Lost City of Gold deserves just enough praise for working as a gateway action/adventure exotic exploration movie for kids to eventually get into Indiana Jones, while sporting a central performance that's effortlessly charming and instantly lovable enough to almost carry the entire project.
For those who may have missed this particular pop culture pocket, Dora the Explorer, on which Dora and the Lost City of Gold is based, is an animated show geared toward very young children, its mission to teach basic language skills and geographical information through the always cheery protagonist and her cadre of anthropomorphized animals and inanimate objects. My daughter's only five, and she's already aged out of it, so the idea of giving this property a grittier and self-aware live-action polish obviously geared toward older kids is an original but risky gamble.
Director James Bobin previously helmed the excellent The Muppets and Muppets Most Wanted, so he obviously has a knack for family-friendly meta humor. Co-writer Nicholas Stoller wrote and directed Storks, an underrated feature-length cartoon with the zippy energy of Golden Age Looney Tunes. If there's a team that can celebrate the legacy of Dora while lovingly skewering its clichés, this is the one. The opening scene immediately presents the film's tonal thesis: It begins like the animated show, as Dora explores the jungle with her talking backpack and her talking map. Sharp cut to live-action reality, as it turns out that child Dora (Madelyn Miranda) was playing make-believe in the jungle with her cousin, Diego (Malachi Barton). Bobin and Stoller make it clear that this Dora takes place in a slightly more grounded, more adult universe than the show.
Dora's explorer parents (Eva Longoria and Michael Pena) live in the jungle, so Dora exists within a fairly unorthodox childhood filled with a comically nonchalant attitude towards poisonous amphibians and deadly predators. That is, until she turns fifteen (now played by Isabela Moner) and has to navigate the most dangerous place known to a teenager, an LA high school, after her parents go on an expedition to find a legendary city of gold. It's in these scenes where Dora tries to adjust to her out-of-the-jungle culture shock before the real Indy Jr. adventure begins, where Dora and the Lost City of Gold truly shines.
Isabela Moner's unrelentingly and genuinely cheerful energy is a gift to this movie. She's a talented actor and singer who's been around for a while, but I truly hope this performance is the one that propels her to stardom. Dora's natural inability to pick up on teenage sarcasm and mockery as she keeps on passionately teaching her peers about the exciting and wholly dangerous life in the jungle could have come across as cloying, but Moner's plucky presence turns it into comedy gold. Dora's struggle to fit into high school while also reconnecting with Diego (Jeff Wahlberg) is cut short when she's kidnapped by an evil mercenary (Temuera Morrison) and taken to the jungle. Accidentally ending up in the trap are Diego and a couple of high school movie archetypes—know-it-all mean girl Sammy (Madeleine Madden) and hypersensitive nerd Randy (Nicholas Coombe). Rescued by Alejandro (Eugenio Derbez), a friend of the family, Dora's tasked with reconnecting with her parents and warning them of the upcoming danger, while finding a way home for her friends.
The addition of Dora's classmates is used as easy character arcs for Dora to learn to ease up on her jungle obsession, while the other teenagers gradually come to terms with her eccentricities and embrace her as a friend. A lot of comedy mileage, some hacky and some quite inventive, is drawn out of them freaking out over the many challenges of the jungle. There's also a lot of meta humor that skewers the clichés of adventure/exploration movies, though considered from a child's perspective, one wonders why we couldn't allow kids to enjoy six or seven years of being in awe of such cheesy adventures before being asked to deconstruct their tropes?
The main nagging issue with Dora and the Lost City of Gold is its inconsistency in tone. On one end, the film is obviously geared toward older children since it contains some scenes of real peril, with many plot points delivered through subtitled dialogue. Yet the film is also riddled with direct references to the show, which puncture this more serious take to deliver shout-outs to the original preschool entertainment. For example, the talking map and backpack are too unrealistic and childish for this world, yet somehow Swiper (Benicio Del Toro), a talking cartoon fox antagonist from the show, just … exists. There are various points where the narrative flow comes to a halt so the movie can finds excuses to bring up Dora's talking monkey friend Boots (Danny Trejo) and other beloved items from the show. It all makes for an uneven experience where younger children could be intimidated even as the show's preschool roots might bore older kids. My guess is that Bobin and Stoller's vision was more unified toward the more adult live-action approach, but the studio kept cramming in stuff from the show in the name of brand recognition. (The opposite could be true, but my money's on the studio messing this up.)
Still, there's enough fun in Dora and the Lost City of Gold, especially thanks to Moner's performance, to turns it into a fun family time at the movies. Especially for die-hard Indy fans with young kids, it's the perfect way of eventually easing them into their first screening of Raiders of the Lost Ark.
Director: James Bobin
Writers: Matthew Robinson, Nicholas Stoller
Starring: Isabela Moner, Eva Longoria, Michael Pena, Eugenio Derbez, Temuera Morrison, Benicio Del Toro, Danny Trejo, Jeff Wahlberg, Madeleine Madden, Nicholas Coombe
Release Date: August 9, 2019
---
Oktay Ege Kozak is a screenwriter, script coach and film critic. He lives near Portland, Ore., with his wife, daughter, and two King Charles Spaniels.