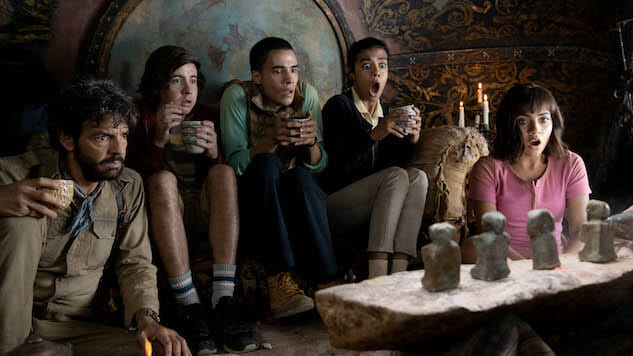 You know Dora the Explorer, right? The animated, jungle-trotting kid on Nickelodeon who has a monkey as a best friend and parents who are horrible at keeping track of their child? Well, she's all grown up and in high school now, and she's getting her own live-action movie, Dora and the Lost City of Gold.
In the latest trailer for the film, Dora deals with the reality of high school, but things get interesting when Dora's family, as well as her newly made friends, go in search of a lost city of gold. Between Dora pulling out a big knife in the jungle, bobby-trapped levers and fart jokes in quicksand, the trailer is a bit ridiculous. It's like if Lara Croft meshed with the The Rock's Jumanji, but then the two were soaked in a vat of dull jokes and family-friendly banter so Paramount could slap a PG rating on it all. Bottom line: It's weird, and nothing like the Nick show we either loved or loathed throughout the 2000s.
Nonetheless, the film has quite the star-studded cast with Eva Longoria, Michael Peña and Eugenio Derbez. The film will also star none other than Benicio Del Toro as the sly fox Swiper and Danny Trejo (!) as Dora's monkey sidekick Boots. (And, yes, you read that correctly. Machete, of all people, is playing an animated monkey in a Dora movie, though he doesn't actually speak in today's trailer.)
Transformers: The Last Knight star Isabela Moner will play the titular character, with newcomer Jeffrey Wahlberg playing Dora's cousin Diego. Madeleine Madden and Nicholas Coombe will be portraying their high school classmates.
The film is directed by James Bobin (Muppets Most Wanted) from a script written by Nicholas Stoller, Tom Wheeler and Matthew Robinson, which is based on the Nick series created by Chris Gifford, Valeria Walsh and Eric Weiner.
With the film set for release on Aug. 9, the only question is, will audiences get to hear the famous tag-lines and bits from the jungle-dwelling kid? Will Swiper swipe? Will the audience speak Spanish with the characters in the film? We don't know. But we do know that this trailer is completely bonkers, and we love the film for that, at least.
Watch the trailer for Paramount's Dora and the Lost City of Gold below.