Joaquin Phoenix Calls for More Diversity in Hollywood in BAFTA Acceptance Speech
"I think that it is the obligation of the people that have created and perpetuate and benefit from a system of oppression to be the ones that dismantle it," says the Joker star
Image via Tristan Fewings/Getty
Movies
News
joaquin phoenix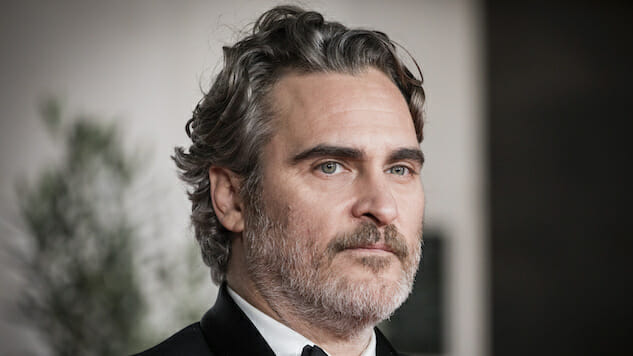 Joaquin Phoenix called out the film industry's lack of diversity at the 73rd British Academy Film Awards in his Leading Actor acceptance speech for Todd Phillips' Joker.
Phoenix took the stage at the Feb. 2 ceremony and thanked the BAFTAs for the recognition, but expressed conflicting emotions, saying, "Because so many of my fellow actors that are deserving don't have that same privilege."
The actor, who recently won a Golden Globe and SAG award for his performance, said, "This is not a self-righteous condemnation because I'm ashamed to say that I'm part of the problem. I have not done everything in my power to ensure that the sets I work on are inclusive."
Phoenix concluded his speech by saying, "It's more than just having sets that are multicultural, I think that we have to really do the hard work to truly understand systemic racism. I think that it is the obligation of the people that have created and perpetuate and benefit from a system of oppression to be the ones that dismantle it, so that's on us." On that final note, the Royal Albert Hall erupted in applause.
Phoenix beat out Adam Driver (Marriage Story), Leonardo DiCaprio (Once Upon a Time in Hollywood), Taron Egerton (Rocketman) and Jonathan Pryce (The Two Popes) for the award.
Check out the full list of British Academy Film Awards winners and nominees below.
Best Film
Winner: 1917 – Sam Mendes
Nominees:
The Irishman – Martin Scorsese
Joker -Todd Phillips
Once Upon a Time in Hollywood – Quentin Tarantino
Parasite – Bong Joon Ho
Outstanding British Film
Winner: 1917 – Sam Mendes
Nominees:
Bait – Mark Jenkin
For Sama – Waad Al-Kateab and Edward Watts
Rocketman – Dexter Fletcher
Sorry We Missed You – Ken Loach
Outstanding Debut by a British Writer, Director or Producer
Winner: Bait – Mark Jenkin
Nominees:
For Sama – Waad Al-Kateab and Edward Watts
Maiden – Alex Holmes
Only You – Harry Wootliff
Retablo – Álvaro Delgado-Aparicio
Film Not in the English Language
Winner: Parasite – Bong Joon Ho
Nominees:
The Farewell – Lulu Wang
For Sama – Waad Al-Kateab and Edward Watts
Pain and Glory – Pedro Almodóvar
Portrait of a Lady on Fire – Céline Sciamma
Documentary
Winner: For Sama – Waad Al-Kateab and Edward Watts
Nominees:
American Factory – Steven Bognar and Julia Reichert
Apollo 11 – Todd Douglas Miller
Diego Maradona – Asif Kapadia
The Great Hack – Karim Amer and Jehane Noujaim
Animated Film
Winner: Klaus – Sergio Pablos
Nominees:
Frozen 2 – Jennifer Lee and Chris Buck
A Shaun the Sheep Movie: Farmageddon – Will Becher and Richard Phelan
Toy Story 4 – Josh Cooley
Director
Winner: 1917 – Sam Mendes
Nominees:
The Irishman – Martin Scorsese
Joker – Todd Phillips
Once Upon a Time in Hollywood – Quentin Tarantino
Parasite – Bong Joon Ho
Original Screenplay
Winner: Parasite – Bong Joon Ho
Nominees:
Booksmart – Olivia Wilde
Knives Out – Rian Johnson
Marriage Story – Noah Baumbach
Once Upon a Time in Hollywood – Quentin Tarantino
Adapted Screenplay
Winner: Jojo Rabbit – Taika Waititi
Nominees:
The Irishman – Martin Scorsese
Joker – Todd Phillips
Little Women – Greta Gerwig
The Two Popes – Fernando Meirelles
Leading Actress
Winner: Judy – Renée Zellweger
Nominees:
Wild Rose – Jessie Buckley
Marriage Story – Scarlett Johansson
Little Women – Saorise Ronan
Bombshell – Charlize Theron
Leading Actor
Winner: Joker – Joaquin Phoenix
Nominees:
Once Upon a Time in Hollywood – Leonardo DiCaprio
Marriage Story – Adam Driver
Rocketman – Taron Egerton
The Two Popes – Jonathan Pryce
Supporting Actress
Winner: Marriage Story, Laura Dern
Nominees:
Jojo Rabbit – Scarlett Johansson
Little Women – Florence Pugh
Bombshell – Margot Robbie
Once Upon a Time in Hollywood – Margot Robbie
Supporting Actor
Winner: Once Upon a Time in Hollywood – Brad Pitt
Nominees:
A Beautiful Day in the Neighborhood – Tom Hanks
The Two Popes – Anthony Hopkins
The Irishman – Al Pacino
The Irishman – Joe Pesci
Original Score
Winner: Joker -Todd Phillips
Nominees:
1917 – Sam Mendes
Jojo Rabbit – Taika Waititi
Little Women – Greta Gerwig
Star Wars: The Rise of Skywalker – J.J. Abrams
Casting
Winner: Joker – Todd Phillips
Nominees:
Marriage Story – Noah Baumbach
Once Upon a Time in Hollywood – Quentin Tarantino
The Personal History of David Copperfield – Armando Ianucci
The Two Popes – Fernando Meirelles
Cinematography
Winner: 1917 – Sam Mendes
Nominees:
The Irishman – Martin Scorsese
Joker – Todd Phillipps
Le Mans '66 – James Mangold
The Lighthouse – Robert Eggers
Editing
Winner: Le Mans '66 – James Mangold
Nominees:
The Irishman – Martin Scorsese
Jojo Rabbit -Taika Waititi
Joker -Todd Phillips
Once Upon a Time in Hollywood – Quentin Tarantino
Production Design
Winner: 1917 – Sam Mendes
Nominees:
The Irishman – Martin Scorsese
Jojo Rabbit – Taika Waititi
Joker – Todd Phillips
Once Upon a Time in Hollywood – Quentin Tarantino
Costume Design
Winner: Little Women – Greta Gerwig
Nominees:
The Irishman – Martin Scorsese
Jojo Rabbit – Taika Waititi
Judy – Rupert Goold
Once Upon a Time in Hollywood – Quentin Tarantino
Make Up and Hair
Winner: Bombshell – Jay Roach
Nominees:
1917 – Sam Mendes
Joker – Todd Phillips
Judy – Rupert Goold
Rocketman – Dexter Fletcher
Sound
Winner: 1917 – Sam Mendes
Nominees:
Joker – Todd Phillips
Le Mans '66 – James Mangold
Rocketman – Dexter Fletcher
Star Wars: The Rise of Skywalker – J.J. Abrams
Special Visual Effects
Winner: 1917 – Sam Mendes
Nominees:
Avengers: Endgame – Anthony Russo and Joe Russo
The Irishman – Martin Scorsese
The Lion King – Jon Favreau
Star Wars: The Rise of Skywalker – J.J. Abrams
British Short Animation
Winner: Grandad Was a Romantic – Maryam Mohajer
Nominees:
In Her Boots – Kathrin Steinbacher
The Magic Boat – Naaman Azhari
British Short Film
Winner: Learning to Skateboard in a Warzone (If You're a Girl) – Carol Dysinger
Nominees:
Azaar – Myriam Raja
Goldfish – Joe Wein
Kamali – Sasha Rainbow
The Trap – Lena Headey
EE Rising Star Award
Winner: Michael Ward
Nominees:
Awkwafina
Kaitlyn Dever
Kelvin Harrison Jr.
Jack Lowden