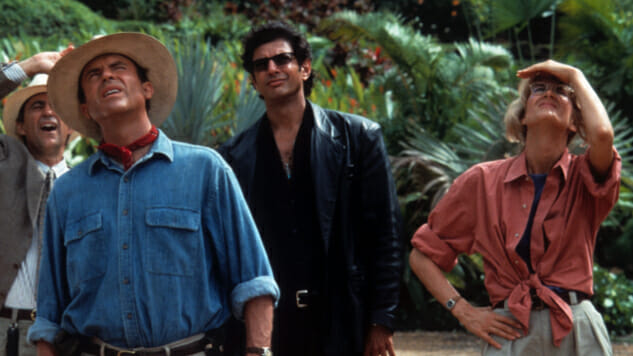 The original cast of Jurassic Park is returning for the latest installment of the franchise, Jurassic World 3.
Jeff Goldblum, Sam Neill and Laura Dern will all feature prominently, reprising their roles from the original Jurassic Park films. Goldblum will once again play chaos theorist Dr. Ian Malcom, with Dern returning as paleobotanist Dr. Ellie Sattler and Neill as paleontologist Dr. Alan Grant. Jurassic World 3 director Colin Trevorrow broke the news at a screening of Jurassic World held at the Arclight Los Angeles on Tuesday, per THR, and it has since been confirmed by the films' official Twitter account:
They're back. Welcome to Jurassic World Alan Grant, Ellie Sattler & Ian Malcom. #2021 pic.twitter.com/28jjkq7Y5P

— Jurassic World (@JurassicWorld) September 25, 2019
Since the 2015 reboot, Jurassic World, the three have remained largely absent from the franchise. After leading 2001's Jurassic Park III, in which Dern had a cameo, Neill has had no part in the movies, while most recently, Goldblum had a small role in 2018's Jurassic World: Fallen Kingdom.
Jurassic World 3 is due to be released on June 11, 2021. Universal, meanwhile, recently released a surprise, Trevorrow-directed Jurassic short film titled Battle of Big Rock—you can watch it right here.