Amazon Hosts First Trailer for Late Night Starring Emma Thompson, Mindy Kaling
Photo courtesy of Amazon Studios
Movies
News
late night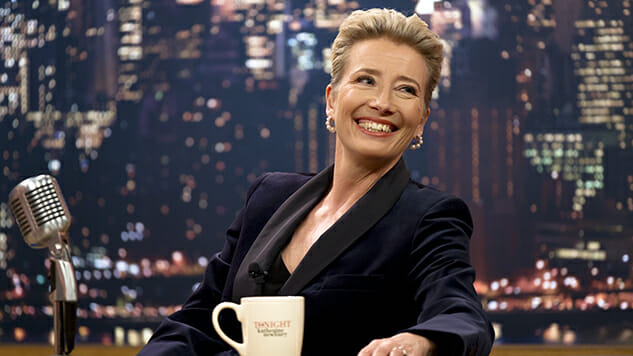 Amazon Studios has welcomed a new guest to its roster of feature films with the forthcoming comedy Late Night, directed by Nisha Ganatra, and starring Emma Thompson and Mindy Kaling.
In addition to co-starring alongside Thompson, Kaling also wrote and produced the new film for Amazon.
The film's official synopsis reads:
Katherine Newbury (Thompson) is a pioneer and legendary host on the late-night talk-show circuit. When she's accused of being a "woman who hates women," she puts affirmative action on the to-do list, and—presto!—Molly (Kaling) is hired as the one woman in Katherine's all-male writers' room. But Molly might be too little too late, as the formidable Katherine also faces the reality of low ratings and a network that wants to replace her. Molly, wanting to prove she's not simply a diversity hire who's disrupting the comfort of the brotherhood, is determined to help Katherine by revitalizing her show and career—and possibly effect even bigger change at the same time.
Late Night also stars Max Casella, Hugh Dancy, John Lithgow, Denis O'Hare, Reid Scott and Amy Ryan.
Ahead of its theatrical release on June 7, please welcome the full trailer below.