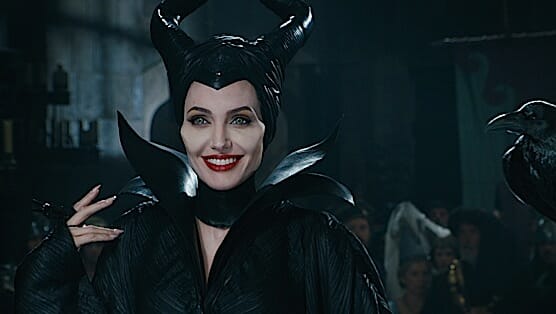 It's a killer pitch: Angelina Jolie is Maleficent. Often cited as one of Disney's all-time great villains, the iconic baddie from the studio's 1959 classic Sleeping Beauty surely merits a movie all her own and an equally iconic movie star to do her justice. Add to that the arresting visuals of Oscar-winning Avatar production designer Robert Stromberg in his directorial debut and you have the foundation for an offbeat summer movie spectacle.
But revisionist fairy tales are rarely everything they're cracked up to be, as Disney's recent Alice in Wonderland and Oz: The Great and Powerful (as well as rival efforts Snow White and the Huntsman, Mirror, Mirror and that dreadful Hansel & Gretel: Witch Hunters) have already proven. While they're often commercial hits, they're almost always creative duds, and Maleficent is no exception. It's a beautiful-looking film full of dubious narrative choices and no surprises for anyone familiar with the elements of contemporary fantasy filmmaking.
The influence that both Peter Jackson's Lord of the Rings trilogy and James Cameron's Avatar currently have on the genre is immediately apparent in the opening scenes establishing Maleficent's fairy kingdom full of colorful creatures. That's where the young Maleficent (Isobelle Molloy), a shy orphaned fairy who can take flight whenever she pleases via a marvelous pair of wings, meets and instantly feels a connection with a human boy her age, Stefan (Michael Higgins). Also an orphan but thoroughly earthbound, Stefan plans to become king one day but finds himself falling in love with Maleficent as they grow into teenagers, innocently bestowing her with "true love's kiss" on her sixteenth birthday.
Unfortunately, the long-standing rivalry between humans and fairy-folk leads to a tragic twist in their relationship—and some gratuitously epic Rings-style CGI battle scenes—setting the stage for adult Maleficent (Jolie) to seek her revenge on Stefan (Sharlto Copley) by cursing his newborn daughter, Aurora. On her own sixteenth birthday, Aurora will prick her finger on a spinning wheel and lapse into a permanent sleep from which she can only be awakened by true love's kiss—something Maleficent insists doesn't even exist.
Stefan sends Aurora into hiding with the protection of a trio of bumbling pixies (Imelda Staunton, Juno Temple and Lesley Manville, squandering their considerable talents on inane comic relief), and plots to hunt down Maleficent. It's from here that the story begins to converge with and just as quickly wildly depart from Sleeping Beauty, and any hopes of Maleficent providing a clever twist on a classic tale start to fade away. In this version, Maleficent watches over Aurora like a hawk, gradually forming a secret relationship with the girl (played briefly as a child by Jolie's own daughter, Vivienne Jolie-Pitt, and primarily as a teen by the luminous but under-served Elle Fanning) and becoming something of a surrogate mother.
That's right: It turns out that Maleficent isn't bad, she was just drawn that way. In the process of trying to make Maleficent ""relatable" and "misunderstood," Stromberg, Jolie and screenwriter Linda Woolverton soften any and all of the character's intriguing edges. It's a wobbly approach that seems all the more misguided because Jolie is at her best in the handful of moments when Maleficent is allowed to (in the parlance of Disney's most recent mega-hit) let it go.
Any expectations that casting Jolie as Maleficent would result in a full-blown camp turn from the Oscar-winning actress—perhaps something in line with Johnny Depp as Jack Sparrow in the first Pirates of the Caribbean—are sadly not to be. The potential is there in a few scenes: most significantly when Maleficent curses Aurora, but also in a few fleeting moments like when she tosses off an amusingly acidic "I hate you!" to the baby girl in private. But that's not what Maleficent is after, and Jolie doesn't deliver a performance so much as a series of poses.
Not that she can be blamed when she has so little to work with. It turns out that emphasizing Maleficent's tragic backstory robs the character of any sense of mystery or personality. She's transformed into a singularly uninteresting brokenhearted do-gooder, and yet she's also the only person the movie spends much time with, ensuring that the relatively modest 90-or-so-minutes of screen time (before the closing credits) go by at a snail's pace.
What little curiosity value Maleficent provides arrives mostly in the extravagant visual design. It's not a patch on the landmark work in Disney's Sleeping Beauty—still one of the most striking animated films ever made—but something to behold nevertheless. Consider it both a strength and a weakness that Stromberg clearly put so much effort into the film's visual design (largely, it seems, at the expense of story), and his top-notch collaborators include makeup whiz Rick Baker (who designed Jolie's witchy nose, horns and severe cheekbones), costume designer Anna B. Sheppard and production designers Gary Freeman and Dylan Cole. Their efforts vividly bring the fairy tale settings to life (although there's no need to see the film in 3D).
Still, it's hard to believe anyone will remember much of anything about Maleficent by the time the summer movie season comes to an end. This is one idea that would've been better left alone as a promising pitch, unsullied by unimaginative execution.
Director: Robert Stromberg
Writer: Linda Woolverton
Starring: Angelina Jolie, Elle Fanning, Sharlto Copley, Sam Riley, Imelda Staunton, Juno Temple, Lesley Manville, Brenton Thwaites
Release Date: May 30, 2014