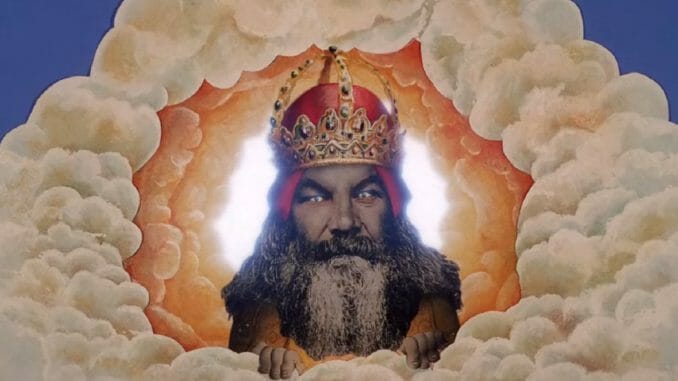 Netflix lists a paltry 23 movies from the 1970s—the decade of the emergence of the great American blockbuster, of a revolution in independent cinema, of more than 23 films being made. So you can't really go to Netflix for a comprehensive primer in the decade's best, but you can check out the streaming service for a few solid entries, like Sylvester Stallone's iconic boxing movie or a couple of classic Monty Python comedies.
Not to be pessimistic or anything, but: These probably won't be around for long, given Netflix's penchant for drastic turnover—especially when it comes to anything made before 1980—so check these out while you can. Also check out all of the best movies on Netflix (and elsewhere) lists we've got stacking our archives.
Here are the six best '70s movies on Netflix.
1. Monty Python and the Holy GrailYear: 1975
Directors: Terry Gilliam, Terry Jones
Stars: Graham Chapman, John Cleese, Eric Idle, Terry Jones, Connie Booth
Rating: PG
It sucks that some of the shine has been taken off Holy Grail by its own overwhelming ubiquity. Nowadays, when we hear a "flesh wound," a "ni!" or a "huge tracts of land," our first thoughts are often of having full scenes repeated to us by clueless, obsessive nerds. Or, in my case, of repeating full scenes to people as a clueless, obsessive nerd. But, if you try and distance yourself from the over-saturation factor, and revisit the film after a few years, you'll find new jokes that feel as fresh and hysterical as the ones we all know. Holy Grail is, indeed, the most densely packed comedy in the Python canon. There are so many jokes in this movie, and it's surprising how easily we forget that, considering its reputation. If you're truly and irreversibly burnt out from this movie, watch it again with commentary, and discover the second level of appreciation that comes from the inventiveness with which it was made. It certainly doesn't look like a $400,000 movie, and it's delightful to discover which of the gags (like the coconut halves) were born from a need for low-budget workarounds. The first-time co-direction from onscreen performer Terry Jones (who only sporadically directed after Python broke up) and lone American Terry Gilliam (who prolifically bent Python's cinematic style into his own unique brand of nightmarish fantasy) moves with a surreal efficiency. —Graham Techler
---
2. Monty Python's Life of BrianYear: 1979
Director: Terry Jones
Stars: Graham Chapman, John Cleese, Terry Gilliam, Eric Idle, Terry Jones, Michael Palin
Rating: R
Pretty much made on George Harrison's dime and considered, even if apocryphally, by the legendary comedy troupe to be their best film (probably because it's the closest they've come to a three-act narrative with obvious "thematic concerns"), Life of Brian got banned by a lot of countries at the butt-end of the '70s. As a Christ story, the telling of how squealy mama's boy, Brian (Graham Chapman) mistakenly finds himself as one of many messiah figures rising in Judea under the shadow of Roman occupation (around 33 AD, on a Saturday afternoon-ish), Monty Python's follow-up to Holy Grail may be the most political film of its ilk. As such, the British comedy group stripped all romanticism and nobility from the story's bones, lampooning everything from radical revolutionaries to religious institutions to government bureaucracy while never stooping to pick on the figure of Jesus or his empathetic teachings. Of course, Life of Brian isn't the first film about Jesus (or: Jesus adjacent) to focus on the human side of the so-called savior—Martin Scorsese's take popularly did so less than a decade later—but it feels like the first to leverage human weakness against the absurdity of the Divine's expectations. Steeped in satire fixing on everything from Spartacus to Franco Zeffirelli's Jesus of Nazareth, and buttressed by as many iconic lines as there are crucifixes holding up the film's frames (as Brian's equally squealy mother hollers to the swarming masses, "He's not the messiah. He's a very naughty boy!"), the film explores Jesus's life by obsessing over the context around it. Maybe a "virgin birth" was really just called that to cover up a Roman centurion's sexual crimes. Maybe coincidence (and also class struggle) is reality's only guiding force. Maybe the standard of what makes a miracle should be a little higher. And maybe the one true through line of history is that stupid people will always follow stupid people, whistling on the way to our meaningless, futile deaths. —Dom Sinacola
---
3. The JerkYear: 1979
Director: Carl Reiner
Stars: Steve Martin, Bernadette Peters, Catlin Adams, Mabel King, Richard Ward, Dick Anthony Williams, Jackie Mason, Bill Macy, M. Emmet Walsh
Rating: R
From the first couple of lines, co-writer/star Steve Martin and director Carl Reiner establish how much they're willing to sidestep any traditional narrative norm in favor of whatever joke pushes the limits of irreverence and extreme silliness. Here is the pale image of Steve Martin's face, about to invite us into a melodramatic series of flashbacks concerning his character's tragic life, and he begins the story with, "I was born a poor black child." From there, whatever episodic shenanigans that Nevan—Martin's ode to painfully self-unaware idiots everywhere—finds himself in, these plot points are used only as excuses to string together as many dumb jokes as possible. It's hard to call The Jerk a parody, since it's not necessarily lampooning a specific genre or a popular movie (Martin and Reiner left that to Dead Men Don't Wear Plaid and The Man with Two Brains), but its manic addiction to extract as many chuckles out of any random situation, pushing the boundaries of exaggeration and then pushing it some more, places its tone squarely into the Zucker, Abrams, Zucker camp, who were on their way to perfect that approach with Airplane at the time of The Jerk's release. Just look at the scene where Nevan storms out of his house, taking random belongings out of spite. It reaches an extreme point of comedic exaggeration, and then pushes it even further, finding a spot beyond mere parody. —Oktay Ege Kozak
---
4. RockyYear: 1975
Director: John G. Avildsen
Stars: Sylvester Stallone, Talia Shire, Burt Young, Carl Weathers, Burgess Meredith
Rating: PG


Obvious as it may now be, Sylvester Stallone's role as Rocky Balboa must be one of the most enduring performances of the '70s. A look back at the original film is a reminder of the series' humble and lo-fi origins, but also of the economic and spiritual funk Americans felt in the post-Vietnam moment. Stallone's lovable, dopey bum with no real prospects who is suddenly thrown into a million-dollar fight with the superstar champion of the world was an uplifting movie hero in a downbeat decade. Brilliant supporting turns from Burt Young, Carl Weathers and Talia Shire give fresh dimensions to the old stereotypes of trainer, opponent and ring girlfriend—offering bruising insecurity, tenderness and the underside of egotism beyond any stock characterization. It's not a stretch to say that Rocky's glorious failure in the ring could, at the time, be writ large as an expression of American greatness in the face of dispiriting defeat. —Christina Newland
---
5. American GraffitiYear: 1973
Director: George Lucas
Stars: Richard Dreyfuss, Ron Howard, Paul Le Mat, Charles Martin Smith, Cindy Williams
Rating: PG
American Graffiti, George Lucas' second feature film released four years before he made Star Wars, is a coming-of-age tale that takes place in 1962 in Modesto, California—a 112-minute depiction of six friends' last night of summer before Steve (Ron Howard) and Curt (Richard Dreyfuss) are set to head east for college. Two years prior to making American Graffiti, Lucas made THX-1138—but the film failed to reach broader audiences, only bringing in $2.4 million at the box office. It was when Francis Ford Coppola dared Lucas to write a screenplay with a wider reach and more domestic appeal that American Graffiti was born—and Coppola would later serve as the movie's producer. The blueprint that Lucas had created paved the way for films like Fast Times at Ridgemont High, Dazed and Confused and Almost Famous—films that examined teenagerdom through an emphasis on era-contingent music and the societal forecasts of young people at the time. For American Graffiti, that theme centered around masculinity and the expectations that are thrown at 18-year-old men. Some folks argue that nothing happens in the film, but I argue that the it is one of the greatest depictions of three juxtaposing paths that confronted men at the time: Enlisting in suburban rebellion by never letting go of your youth, getting drafted into the soon-to-be Vietnam War, and the capitalistic pressures of finding a life's purpose through a soul-sucking job. American Graffiti has everything: drag races, theft, gangs, rock 'n' roll, fooling around in cars, puking, a burger called a "chubby chuck," melting popsicles, a very famous disc jockey, pinball machines, junkyards, roller-skating waitresses, scholarships, a freshman hop, cigarette smoking, and, most importantly, cruising, cruising, and more cruising. —Matt Mitchell
---
6. Slap Shot Year: 1977
Director: George Roy Hill
Stars: Paul Newman, Michael Ontkean, Lindsay Crouse, Strother Martin, Jennifer Warren, M. Emmet Walsh, Swoosie Kurts, Melinda Dillon
Rating: R
Believe it or not, there was a time before sports movies were required to be bland monoliths preaching banal virtues and imparting a moral lesson. Slap Shot, starring Paul Newman as a washed-up player-coach on a minor league hockey team, makes no effort to be anything but gritty and funny. The Charlestown Chiefs stink, and they're in a depressed town where a closing mill is about to put 10,000 people out of work. When the Hanson Brothers arrive, Reggie Dunlop (Newman) discovers that he can win games, sell tickets, and unite the town by embracing a thug mentality that puts violence above sportsmanship. This is the opposite of the cliched, feel-good story we're used to from sports movies, and it never stops being hilarious.—Shane Ryan