New Oppenheimer Trailer Goes Deep on the A-Bomb's Creation
Photos via Universal Pictures
Movies
News
Oppenheimer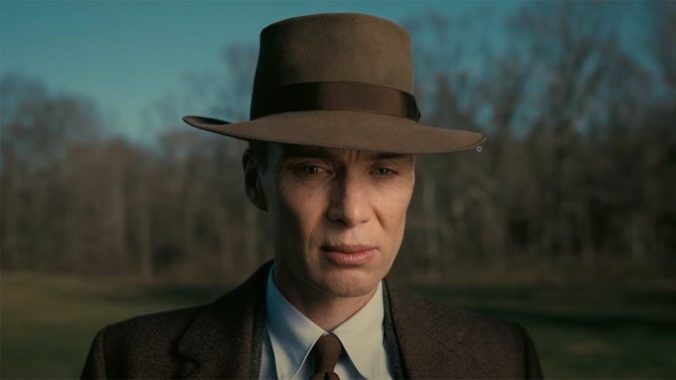 A Christopher Nolan feature hitting theaters in wide release, playing on the big screen, always feels like a cinematic red letter day, and so it will surely be with his upcoming biopic Oppenheimer, due out in theaters on July 21, 2023. Following the life of theoretical physicist J. Robert Oppenheimer, the "father of the atomic bomb," as his team at the Los Alamos Laboratory unlocks the mysteries of nuclear energy, the film will capture what proved to be some of the most pivotal scientific moments in human history. It's also an opportunity for Nolan to reward frequent collaborator Cillian Murphy with the kind of weighty, Oscar-worthy leading role that we've all known he deserved since the days of Danny Boyle's 28 Days Later. In short, there are few films coming out in 2023 that get cinema geeks more excited.
But film geeks can't be the only market for a movie with a $100 million budget, so Nolan has to get some average audience members into those theater seats as well, and the new trailer for Oppenheimer looks to be pitched squarely at this demographic. Where the earlier teasers and trailers for the film held any idea of literal plot at a distance, instead favoring ephemeral, mood-setting music and fiery imagery, creating a certain sense of momentous dread, the new trailer for Oppenheimer goes about the business of actually explaining to the viewer why this task was so very important. The Manhattan Project is depicted as a race against disaster, with Oppenheimer and his crew of scientists pitched in a battle of good and evil against the expanding Nazi empire, who are also probing the secrets of the atom, looking to unlock their own atomic bomb. Suffice to say, it's easy to imagine how differently (and disastrously) WWII history might have been altered if Hitler's scientists had succeeded.
The film feels pitched here as a sprawling historical epic, though we have a feeling it will be somewhat more intimate in reality, albeit considerably more straightforward than the time-bending navel gazing of Tenet in particular. One thing that is undeniably epic is the film's cast, which includes not only Murphy but the likes of Emily Blunt, Matt Damon, Robert Downey Jr., Florence Pugh, Rami Malek, Kenneth Branagh, Jack Quaid and literally too many other familiar faces to list. It's little wonder that so many of Hollywood's best and brightest are eager to line up for a Christopher Nolan period piece, given the acclaim afforded to past efforts like Dunkirk.
Check out the grandiose, story-driven trailer for Oppenheimer below. The film hits theaters on July 21, where it will pair off with Barbie in one of the summer's oddest must-see tandems.