Daniel Day-Lewis and Vicky Krieps Have a Staring Contest in Intimate New Phantom Thread Clip
Images via Focus Features
Movies
News
Phantom Thread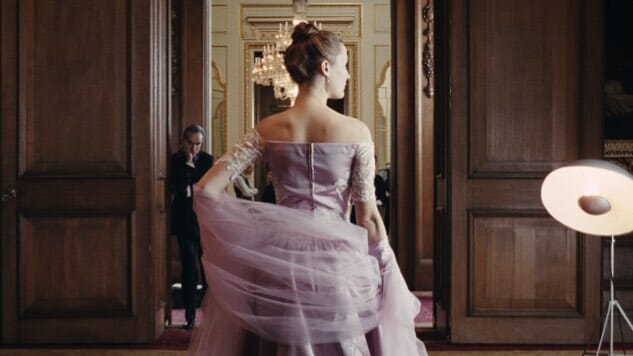 We don't have to explain why you should be excited about Phantom Thread, do we? It's the final film ever to star Daniel Day-Lewis, the most exceptional actor of this (or possibly any) generation. It's written and directed by Paul Thomas Anderson, one of our greatest living filmmakers. Do we really need a third reason?
You should be excited about Phantom Thread, is what we're saying, and knowing that many feel this way, the good people at Focus Features have released a new clip from the film, along with a handful of new stills. The clip, included below, showcases an intimate conversation between famed dressmaker Reynolds Woodcock (Day-Lewis) and his muse and lover Alma (Vicky Krieps). Lit by a flickering fire, the two have a romantically charged staring contest before Alma touches a nerve, asking Woodcock, "Why aren't you married?" His telling reply? "I make dresses."
Day-Lewis recently revealed that he had been "overwhelmed by a sense of sadness" while filming Phantom Thread, attributing his decision to retire from film acting altogether to "the sadness" that "came to stay … during the telling of the story." The actor has said he does not plan to see Phantom Thread, though he has seen many of his other films.
Phantom Thread opens in select theaters on Monday, Dec. 25 before going wide on Jan. 19, 2018. Watch the new clip below and further down, see the new stills from the film, which prominently feature Woodcock's sister Cyril (Lesley Manville). While you're at it, revisit the film's trailer here and its masterpiece of a poster here.