Humanity Makes Its Last Stand in Intense First Trailer for War for the Planet of the Apes
Image via 20th Century Fox/YouTube
Movies
Video
Planet of the Apes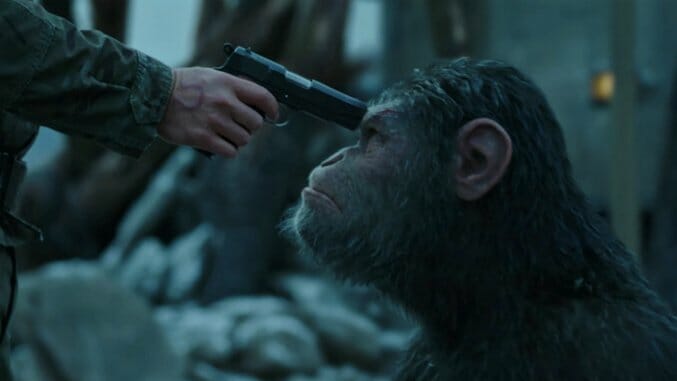 Things look pretty dire in the first trailer for War for the Planet of the Apes. In the trailer, we see the promise of war made at the end of 2014's Dawn of the Planet of Apes fulfilled, as the final battle between apes and humans begins.
Directed by Matt Reeves, who also directed Dawn, War for the Planet of the Apes once again stars Andy Serkis as Caesar, the ape leader who seems to be fighting against his darker instincts in the trailer. Opposite him is a villainous Woody Harrelson, who promises that this will be humanity's last stand.
The trailer gives us a glimpse of the sheer scale the film promises, complete with plenty of horses and tanks. While the first two installments in this Planet of the Apes reboot series have had plenty of action set pieces, this third installment promises to deliver them in even greater doses.
Reeves co-wrote the script alongside Mark Bomback. The cast also includes Steve Zahn, Amiah Miller, Karin Konoval and Terry Notary. War for the Planet of the Apes hits theaters on July 14, 2017. Until then, you can check out the first trailer above and revisit the unnerving first teaser here.