Alison Brie and Aubrey Plaza are Foul-Mouthed Nuns in the Crazy Red-Band Trailer for The Little Hours
Image via Gunpowder & Sky
Movies
Video
The Little Hours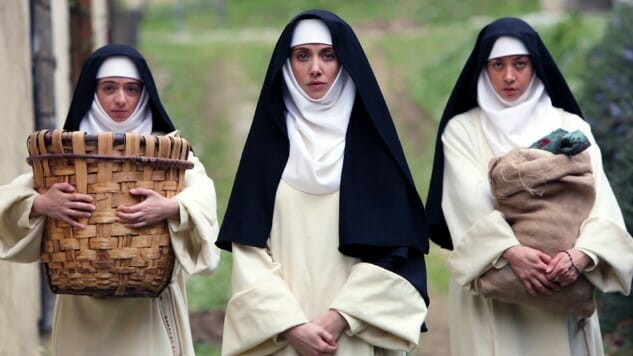 The Little Hours, an official selection of the 2017 Sundance Film Festival, finally has a trailer, and it's absolutely bonkers. The film stars Alison Brie, Aubrey Plaza and Kate Micucci as a triad of foul-mouthed nuns who constantly berate each other and seemingly the rest of the cast, which includes Dave Franco, John C. Reilly, Molly Shannon, Fred Armisen, Jemima Kirke, Adam Pally and Nick Offerman, sporting a sweet hairdo.
Based on The Decameron by Giovanni Boccaccio, and written and directed by Jeff Baena, The Little Hours follows a servant on the run taking refuge at a convent, which also happens to house the triad of nuns, and they're super crazy. This leads to explicit confessional meetings, witchcraft and drugs. Honestly, though, the funniest part of this trailer is the excerpt of a real-life review of this film from the Catholic League, saying, "It is trash. Pure trash." Classic.
The Little Hours comes to select theaters on June 30 before rolling out nationally. See the pretty NSFW trailer above, and find the film's official synopsis below.
Medieval nuns Alessandra (Alison Brie), Fernanda (Aubrey Plaza), and Ginevra (Kate Micucci) lead a simple life in their convent. Their days are spent chafing at monastic routine, spying on one another, and berating the estate's day laborer. After a particularly vicious insult session drives the peasant away, Father Tommasso (John C. Reilly) brings on new hired hand Massetto (Dave Franco), a virile young servant forced into hiding by his angry lord. Introduced to the sisters as a deaf-mute to discourage temptation, Massetto struggles to maintain his cover as the repressed nunnery erupts in a whirlwind of pansexual horniness, substance abuse, and wicked revelry.