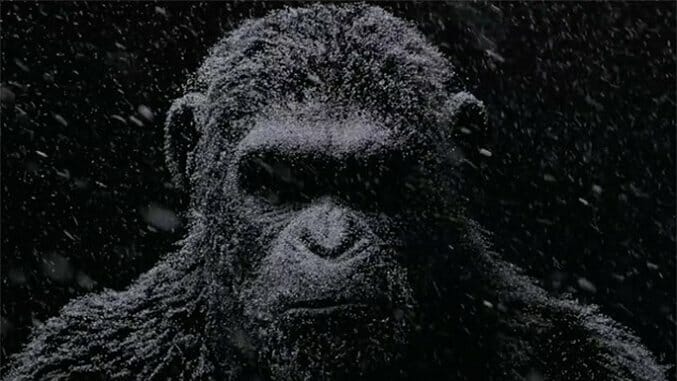 War is on the horizon in the first teaser for (and title of) War of the Planet of the Apes. Although this first look, a "digital billboard" out of New York Comic-Con, doesn't reveal any footage from the film, it does give us an image of Andy Serkis' Caesar appearing and dissolving in snow, accompanied by some ominous dialogue from the Dawn of the Planet of the Apes.
"You must go before the fighting begins. I'm sorry. War has begun," Caesar warns, promising the greater conflict to come. According to the official synopsis for the film:
In War for the Planet of the Apes, the third chapter of the critically acclaimed blockbuster franchise, Caesar and his apes are forced into a deadly conflict with an army of humans led by a ruthless Colonel. After the apes suffer unimaginable losses, Caesar wrestles with his darker instincts and begins his own mythic quest to avenge his kind. As the journey finally brings them face to face, Caesar and the Colonel are pitted against each other in an epic battle that will determine the fate of both their species and the future of the planet.
Matt Reeves is set to return to the director's chair for this installment, alongside Andy Serkis as Caesar. Woody Harrelson, Steve Zahn, Judy Greer, Amiah Miller and Terry Notary also star.
War of the Planet of the Apes is set to drop its first full trailer tonight. Until then, check out the teaser above. The battle begins in theaters on July 14, 2017.