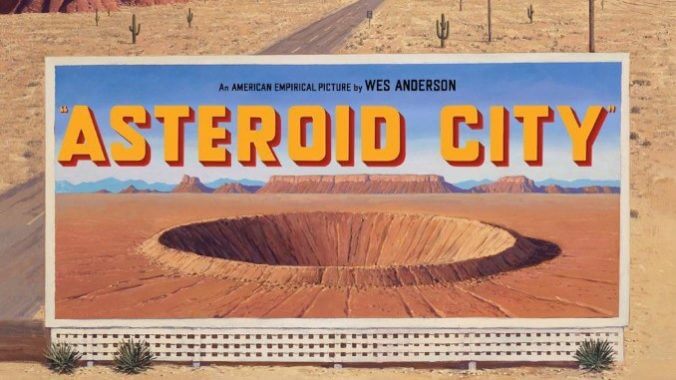 After Wes Anderson, is there another film director on Earth who has the connections and goodwill necessary to put together a cast that requires 21 bolded names on a movie poster? Quentin Tarantino, perhaps, but even at his most indulgent, Tarantino has never quite gone as hard on sheer scale of an ensemble as fellow auteur Anderson. Most viewers probably would have assumed that The French Dispatch took this particular quirk to its logical zenith, but the newly released poster for the director's upcoming Asteroid City makes it clear that Anderson can still go further. The film, which will screen at Cannes before dropping in limited release on June 16, 2023 (wide on June 23), has arguably one of the most stacked casts of any film ever assembled. On the poster alone, we get the following:
— Jason Schwartzman
— Scarlett Johansson
— Tom Hanks
— Jeffrey Wright
— Tilda Swinton
— Bryan Cranston
— Edward Norton
— Adrien Brody
— Liev Schreiber
— Hope Davis
— Stephen Park
— Rupert Friend
— Maya Hawke
— Steve Carell
— Matt Dillon
— Hong Chau
— Willem Dafoe
— Margot Robbie
— Tony Revolori
— Jake Ryan
— Jeff Goldblum
But wait, that's only the actors who made the poster! Asteroid City also includes the likes of It stand-out Sophia Lillis, along with Fisher Stevens, Rita Wilson and Pulp musician Jarvis Cocker. This cast is truly a well without a bottom, feeling like a parody of Anderson's own style.
With that said, how can you not be excited to see such an ensemble in action? There are some regular Anderson players here of course, in the likes of Ed Norton, Adrien Brody, Tilda Swinton or Jeff Goldblum, but we'll be especially excited to see some of the newcomers. Who doesn't want to see Tom Hanks get back to his 1980s comedic roots with the help of Wes Anderson? Or Bryan Cranston displaying the kooky energy of Malcolm in the Middle one more time? It sounds like a dream come true.
What is Asteroid City actually about, you're no doubt wondering? The film is reportedly a period piece set in a fictional American desert town–presumably in the Southwest–in 1955. The origins of the Space Race clearly hang heavy over the proceedings, though the mysterious premise almost seems to suggest something not of this world:
The itinerary of a Junior Stargazer/Space Cadet convention (organized to bring together students and parents from across the country for fellowship and scholarly competition) is spectacularly disrupted by world-changing events.
World-changing events, you say? Are we talking about the launch of a satellite, or all-out alien invasion? Is this Close Encounters of the Third Kind meets Moonrise Kingdom? Are we ready to see that entire cast listed above, running around the desert in a panic? The first trailer for Asteroid City drops soon, so we'll have a better idea in the near future. In the meantime, check out the full poster below.