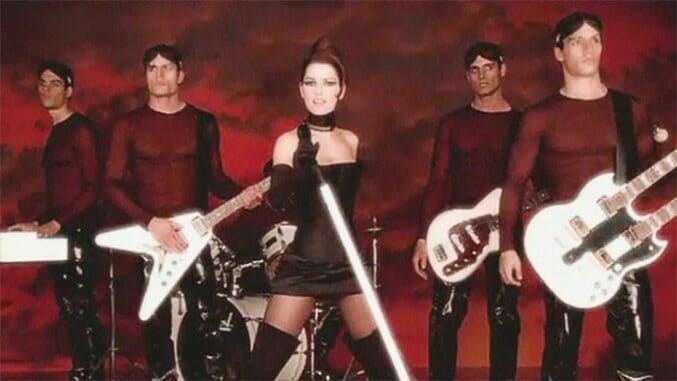 Long before Bro-Country urged ladies to save horses and ride cowboys, before the recent surge in thought pieces surrounding feminism in a male dominated field, women in country music were rolling their eyes at the genre's rodeo seats and recording anthems by women for women. This spring, Mary Chapin Carpenter and Martina McBride are set to release new records; two country music all stars that reigned during a decade of underrated feminist prowess. While the airways have always been saturated with machismo, the women of the '90s country class recorded countless mantras that proved not all damsels are in distress.
Last year, Nashville radio consultant, Keith Hill warned against spinning too many songs by female artists in country music
http://www.cmt.com/news/1754800/men-are-lettuce-women-are-tomatoes/, claiming male artists were what people wanted to hear, "Trust me, I play great female records and we've got some right now; they're just not the lettuce in our salad," Hill said. "The lettuce is Luke Bryan and Blake Shelton, Keith Urban and artists like that. The tomatoes of our salad are the females."
Some heavier in honky-tonk, some filled with heartache, here is a list of songs that showcase country music's Caprese salad of the '90s.
1. Deana Carter, "Did I Shave My Legs For This"
In 1996, Deana Carter wrote an anthem so many women can appreciate—a song that comically details the disappointment that comes with competing for affection in a me-first marriage, which highlights a laborious task any woman can relate to, whether married or single. An understated songwriter, Carter penned Kenny Chesney's "You and Tequila" featuring Grace Potter back in 2011, when it was nominated for song of the year at both the CMAs and a Grammy. In 2013, she started her own record label, Little Nugget Records, and in February she released a video for "That's Just Me."
2. Suzy Bogguss, "Hey Cinderella"
Suzy Bogguss forces a hard look at the adolescent expectations of a Prince Charming here, chronicling the harsh realities of the fairy tale fantasy post-matrimony. After the promises of the fable don't come to fruition, she looks to the Disney princess for answers, "Through the years and the kids and the jobs / and the dreams that lost their way. / Do you ever stop and wonder? / Do you ever just wanna say, 'hey hey, Cinderella, what's the story all about?' / I got a funny feeling we missed a page or two somehow."
3. Reba McEntire, "Is There Life Out There"
Contrary to the common theme of a loveless relationship, Reba sings about a woman who loves her family, but questions if there is still an opportunity to juggle marriage and motherhood and keep her identity intact. That same year she recorded "Take It Back" a jazzy, growling ode to a cheating lover she kicks to the curb. Remaining one of the most important faces in country music for more than 30 years, she's still choosing songs that encourage women to take charge. In fact, last year she recorded "Ain't Goin Out Like That" about moving on from a relationship with pride.
4. Martina McBride, "A Broken Wing"
Martina McBride has recorded so many songs on the behalf abused and demoralized women and young girls that it's hard to pick just one. Others include: "Concrete Angel" "Independence Day" and "This One's For The Girls." In '98, she recorded "A Broken Wing," an inspiring ballad about emotional manipulation and the crushed spirit of a woman constantly put down by her husband until she eventually finds the strength to break the cycle. If Shania Twain invites women to get loud and happy, Martina McBride allows them to get so sad they get pissed off enough to fight back. Her attention to degradation of women and children doesn't stop with her music; In addition to her many charitable contributions, she was a spokeswoman for The National Domestic Abuse Hotline as well as The National Teen Dating Abuse Hotline. She will release her 13th studio album, Reckless, on April 29.
5. Mary Chapin Carpenter, "He Thinks He'll Keep Her"
A forerunner in the '90s feminist movement in country music, Mary Chapin Carpenter's "He Thinks He'll Keep Her" is about fulfilling the societal mold of what it means to be a wife and a mother and the inner vacancy that a woman is left with when she's only recognized for the roles she plays. The song goes on to detail the woman's escape from a suffocating, monotonous marriage, and comments on the gender struggles she faces even after she finds refuge. She sings, "For 15 years she had a job and not one raise in pay / Now she's in the typing pool at minimum wage." Carpenter will release her 13th studio album on May 6.
6. Mindy McCready, "Guys Do It All the Time"
Nearly all of Mindy McCready's songs on her debut album Ten Thousand Angels—but most notably the title track, "A Girl's Gotta Do (What a Girl's Gotta Do) and "Maybe He'll Notice Her Now"—pay homage to the dynamic range of difficulties facing women. Her tributes to women span both sarcasm and sadness. Most notably, her biggest hit "Guys Do It All The Time" mocks the often accepted excuses men use to avoid intimacy and distract from their responsibilities in a relationship. After a lifelong battle with addiction and depression, McCready passed away in 2013.
7. Lorrie Morgan, "What Part of No"
In 1992, Lorrie Morgan echoed what women have been saying since the beginning of time—NO. Refreshingly condescending, and highlighting her matter-of fact-twang, she recounts the efforts a man makes to get her attention throughout the course of an evening. Despite her best attempts to ward him off, she sings, "I'll be glad to explain it if it's too hard to comprehend / What part of no don't you understand?" Morgan has been throwing shade at men for decades with hits like, "Watch Me" "Go Away" and "I Didn't Know My Own Strength."
8. Shania Twain, "Man! I Feel Like a Woman"
Any song that kicks of with "Let's go girls" is headed in the right direction. Like much of her writing, Twain invites women to rise up and rebel against the outdated feminine prescription, while encouraging women to embrace their autonomy and their sexuality. With over 85 million albums sold, it's especially important to note that much of Twain's reach and catalogue is dedicated to female empowerment with hits like "That Don't Impress Me Much," "Honey, I'm Home" and "Any Man of Mine." After the country icon recently completed her farewell tour, she told the media she is finally working on her first record since the release of UP more than a decade ago.
9. Iris DeMent, "Letter to Mom"
Iris Dement sings a powerfully perceptive message of encouragement to victims of sexual abuse in this song from 1996 . Through piercing vocals and a traditional folk sound, she recounts the heavy shame that washes over a woman carrying secrets for far too long. In 2015, she released her seventh studio album, Trackless Woods, based on the poems of Russian writer Anna Akhmatova.
10. Dixie Chicks, "Goodbye Earl"
Although, originally recorded by Sons of The Desert, it was the brazen, fun, girl power of the Dixie Chicks that made "Goodbye Earl" an empowerment anthem in 1999. A satirical approach to combating domestic abuse, it tells the story of two women who kill Earl, an oafish and relentlessly abusive husband. Starring, Jane Krakowski and Lauren Holly, the video was controversial, as it appeared to casualize violent retribution, but it was simply a commentary on the power of women coming together and taking back power (and they even included a disclaimer about it in their liner notes). Coming up, the trio is reissuing four albums on vinyl in April and will kick off a 40-stop North American tour in June.
11. Wynonna Judd, "Girls With Guitars"
Written by Mary Chapin Carpenter, if the title doesn't say it already, sung through Wynonna's growling howl, here is a fun, rebel yell about the taboo nature of a young girl with an affinity for a six-string. Bored by the expectancy to fulfill her gender roles, she hollers, "Boys as a species were all a bunch of zeroes." She doesn't want to try out for the squad, but she's "lookin' at Hendrix like a love sick pup." A country music heavyweight, Wynonna is a longtime supporter of women in music, dubbing her mentors "sheroes."
12. Patty Loveless, "Blame It On Your Heart"
In this sassy, honky-tonk farewell from 1993, country queen Patty Loveless warns a cheating lover of the impeding heartache that's about to wreak havoc on his ego upon her leaving. But before he gets any ideas about feeling sorry for himself, she encourages him to place the blame inward.
13. Jo Dee Messina, "Bye Bye"
No stranger to feminine anthems, Jo Dee Messina recorded "Bye Bye" back in 1998. A proverbial middle finger to too many excuses and an exhausted relationship, the song was actually penned by two men—Roury Michael Bourke and Phil Vasser. Yet, it encouraged women to walk out of a bad situation with their pride intact. Even over time, it's clear that masculine charm still doesn't faze her; In 2005 she released "My Give Damn's Busted" waving off a codependent partner, and in 2014 she penned, "A Woman's Rant" about juggling motherhood and identity. Messina's sixth LP, Masquerade, is set for release later this year.
14. Trisha Yearwood, "XXX's and OOO's (An American Girl)"
Written by Matraca Berg and Alice Randall, the lyrics, "She's trying to make it in her daddy's world" make it clear that this isn't a love song. Yearwood sings the story of a young girl looking up at her mother, taking stock of the battle scars of womanhood, hoping to flip the script for herself. As mentioned in the song, it's a struggle best equipped with some Aretha Franklin and Patsy Cline cheering in the background. Exemplifying strength in both her personal and professional life, in 2009, Yearwood participated in "National Women Build Week" where she and 200 other women learned to build homes in and around Atlanta and Oklahoma. She's released two cookbooks, taken on small acting roles and is currently on a major tour with husband and fellow megastar, Garth Brooks.
15. Faith Hill, "Wild One"
Faith Hill recorded "Wild One" in 1992, giving a voice to adventurous, progressive girls. She combats strict conservatism in the song, as well as the idea that young ladies aren't allowed to dream too big or draw outside the lines. In her own career, Hill is set to become the executive producer for a new daytime talk show that is slated to air later this year or next.
16. SHeDAISY: "Little Goodbyes"
In "Little Good-Byes," the sisters of SHeDAISY send a cheeky farewell to a lethargic man in their lives. Taking a comedic approach, the song recounts all the "little good-byes" they leave behind—taking the television and the things that blocked attention in the first place. Emotional abandonment is a common theme for SHeDAISY and in a far more serious approach, they address the need to be seen and valued in 1999's "This Woman Needs."
17. LeAnn Rimes, "One Way Ticket (Because I Can)"
A song about reawakening to life after the letdown of a relationship, LeAnn Rimes reminds women of their capacity to recover, with a one-way ticket and an open opportunity to start again. Shortly after the release of "One Way Ticket," she the following single was "Commitment," which reminded women to demand returns on their emotional investments.
18. Terri Clark, "Better Things To Do"
Terri Clark makes it clear in this anthem of constant eye rolling that she has better things to do than cry over some lousy relationship. In the same metaphorical tune, songs like "Emotional Girl" and "Girls Lie Too" embrace the dynamic nature of being a woman, and in 1996, she had success with Linda Rondstat's "Poor, Poor Pitiful Me." Clark is currently the only female Canadian member of the Grand Ole Opry.
19. Chely Wright, "She Went Out For Cigarettes"
There will never be enough songs encouraging women to leave unfulfilling relationships. Painting a painful scene of emotional neglect, Chely Wright tells the story of a woman who went out for a pack and never looked back. Named Woman of The Year by the American Legion Auxiliary, Wright is an avid activist through and outside her music. In addition to her advocacy for adolescent music education, in 2010, she was named the National Spokesperson for the Gay, Lesbian, & Straight Education Network).
20. Kathy Mattea, "Walking Away a Winner"
Chronicling the emotional seesaw that ensues when it's time to leave a relationship, Kathy Mattea sings about the triumphant feeling that flows when a woman knows she's made a decision that honors herself. Though this track came out in 1994, Mattea's last studio album, Calling Me Home, was released in 2010.
21. Kelly Willis, "What I Deserve"
Kelly Willis released this moody, earnest and thoughtful song back in 1999. "What I Deserve" serves as an ode to what she owes herself after a life of struggle, not limited to a thankless recording contract. In 2013, she released Cheaters Game.