The State of Modern Jazz: Allison Miller, Jenny Scheinman & Anat Cohen Lead the Way
A Curmudgeon Column
Photo by Shervin Lainez
Music
Features
Allison Miller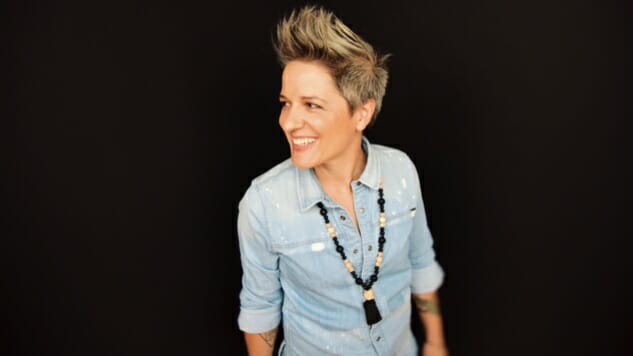 As we enter a new decade, there is no more important figure in jazz than Allison Miller. This short, wiry drummer with the signature rising-wedge haircut is a powerful percussionist, a creative composer and an assertive bandleader.
In all three of these roles, she has found the sweet spot between the jazz tradition and the experimental vanguard. The music she plays, the music she writes and the music she draws out of her bandmates has enough melody and swing to pleasure the listener and enough unexpected left turns to surprise that same hearer.
All of this was obvious on the best jazz album of 2019: Glitter Wolf by Allison Miller's Boom Tic Boom. This sextet is made up of Miller, violinist Jenny Scheinman, pianist Myra Melford, cornetist Kirk Knuffke, bassist Todd Sickafoose and clarinetist Ben Goldberg, and Miller was clearly in charge. She wrote all 10 tunes and shaped all of them with her drumming—pushing the energy here, pulling back there, locking in with the band here, rubbing against it there. The results are never predictable but always gratifying.
This was obvious when Boom Tic Boom delivered the best set of the Winter Jazzfest on Jan. 13. The set began, like the album, with "Congratulations and Condolences," the title a clear reference to half-sad, half-happy New Orleans funeral parades that inspired the music. Like those processions, this music shuffled along in sorrow in some passages and kicked up its heels in joy in others.
Miller had her drum kit set up sideways at the left-hand end of the stage so she could have eye contact with everyone in her band. She choked up on her left stick, cradling it like a soup spoon, while she held her right stick at the end as if it were a flagpole. Presenting her profile to the audience as if she were an American Indian on a buffalo nickel, she soon had people dancing, even though the music was dense and complicated.
With the darker sounding cornet and lighter sounding clarinet taking over the roles usually given to the trumpet and saxophone, the connection to the New Orleans roots of jazz was further emphasized. But whenever the music began to seem a bit comfortable, Miller or Melford would throw in a curveball to keep the other musicians—and the audience—on their toes.
A lot of jazz performances present a brief statement of a theme and then a parade of individualist solos. Miller's music hearkens back to the genre's collectivist past. Back then a composer/arranger would fill a piece with events—solos, duos, trios, ensemble sections, rhythm shifts, quiet passages, new melodies—that would make it easier to the band members to improvise in connection to one another.
This is clear on the new album's title track, which begins with a trio of Miller, Melford and Scheinman playing a march figure before the horns enter, only to have the drummer introduce a new Latin rhythm pattern underneath a piano solo. The cornet introduces an offbeat theme against a singing violin/clarinet line; there's a pause and the rhythm goes into double time with the horns improvising simultaneously and ecstatically. All of this in six minutes.
Scheinman, who has played with everyone from Bill Frisell to Rodney Crowell, was the wild card in the deck. Playing her instrument at times with the precision of a concert-hall violin and at other times with the abandon of barn-dance fiddle, sometimes tucking away her bow and plucking the strings like a jazz bassist, she injected unusual colors and textures into every piece.
One of the other best jazz albums of 2019 was the eponymous Jenny Scheinman & Allison Miller's Parlour Game, a quartet that also included pianist Carmen Staaf and bassist Tony Scherr. The violinist wrote eight of the 11 tunes herself, and her roots in Americana and gypsy jazz lent a different flavor to her collaboration with Miller.
During this Winter Jazzfest showcase at Le Poisson Rouge, Boom Tic Boom was followed by the piano/guitar duo the Evans Eubanks Experience, and then Miller returned to the stage as the drummer for Artemis, the all-female sextet that normally includes three of the best composers in jazz: Miller, clarinetist Anat Cohen and tenor saxophonist Melissa Aldana. On this night, however, Aldana was replaced by Nicole Glover, a promising but not as accomplished horn player.
Aldana's album Visions, which she introduced at last year's Winter Jazzfest, is a remarkable record. She's smart enough to know that melody is an essential starting point but only a starting point; the tune has to keep surprising from beginning to end. The Chilean saxophonist, now based in New York, does that by articulating the theme crisply and then twisting it with each repetition. It helps that she boasts a muscular tenor sound buzzing with overtones.
Pianist Renee Rosnes is the bandleader of Artemis, but Miller's irresistible force as a drummer left its mark on this ensemble as well. The set's first tune was a Miller composition, "Goddess of the Hunt," a straight-ahead romp powered by thundering drums. All the soloists seemed to enjoy surfing that wave, but no one ever looks happier on stage than the Israeli-born, New York-based Cohen.
With her dark, frizzy bouncing and her feet dancing in place, she lights up when she solos, and that radiance comes through in her note choices, always a celebration of life whatever its difficulties. Cohen's "Nocturnal" was a ballad that was more a savoring of existence rather than a party in its honor, but the clarinetist's long, legato lines over Miller's mallets—then her brushes, then sticks—were transporting.
Triple Helix by the Anat Cohen Tentet was another of 2019's best jazz albums. Cohen takes advantage of the four horns, cello and vibes to deepen her harmonies, and that gives her lead lines an extra resonance. The South American strain in her music is reflected Astor Piazzolla's tango standard, "Milonga del Angel," and in the folk song "La Llorona," both beautifully arranged by her musical director Obed Lev-Ari.
The classical current in her sound is emphasized on the title piece, a three-movement Concerto for Clarinet and Ensemble by Lev-Ari. The sheer lyricism of Cohen's melodies is the focus of her three originals, including the self-descriptive "Footsteps & Smiles."
Other women were featured prominently at the Winter Jazzfest. Susan Alcorn has had to fight for recognition in jazz not only as a woman but also as the player of an instrument rarely used in jazz: the pedal steel guitar. The success of that struggle is evident by the jazz stars who have volunteered for her new quintet: guitarist Mary Halvorson, violinist Mark Feldman and bassist Michael Formanek. The still-coalescing group introduced the material from their yet to be released album.
For decades, women were mostly limited to vocal duties in jazz bands, and it's thrilling to see them finally getting opportunities on every instrument in the jazz tradition—and even on some, like pedal steel, that aren't in the tradition. Nonetheless, they still dominate the vocal field in jazz.
At the Winter Jazzfest, singers Catherine Russell and Kat Edmondson put a dizzying new spin on old styles, while Portugal's Sara Serpa plowed new ground by singing in sounds that resembled words even though they aren't. With her precision pitch and broad range, she made those non-words say what she wanted to say.
The Winter Jazzfest, as with many other jazz institutions, deserves credit for making a conscious effort to open more doors for women at the professional level. But, really, how hard can it be to book artists as obviously gifted as Allison Miller and Anat Cohen? The real battle for bringing women and other excluded minorities into jazz—or into any musical field—is not at the professional level; it's at the middle-school, high-school and dive-bar levels that the real battles continue to be fought.
Think about it: To get to the level of a Miller or Cohen today, a musician must get good teachers (in or out of school), put in the hours on their instrument, find sympathetic bands and endure the years of hard work with little money or fame. It's a difficult road for any musician, but it's even harder when you're not taken seriously by teachers or bandmates and you're preyed upon by horny men. It's easy to be discouraged somewhere along the line and drop out.
The current wave of successful female musicians is the result more of changes at schools and in local nightclubs in the '90s and '00s than of decisions being made today. If the conditions for young female musicians continued to improve in the '10s, we'll see more and more triumphant women as we near parity in music.
Just sticking with the music from your early teens to your early 30s is no guarantee of success, of course. As more women stick with their art, the result will be more mediocre, more pretty good and more really good female musicians. The Winter Jazzfest presented examples of all three categories, but of course it's the great artists that we remember. And Miller is the greatest of them all right now.
Here are my favorite jazz albums of 2019:
Allison Miller's Boom Tic Boom: Glitter Wolf (Royal Potato)
Bill Frisell Thomas Morgan: Epistrophy (ECM)
Melissa Aldana: Visions (Motema)
Anat Cohen: Tentet Triple Helix (Anzic)
Lafayette Gilchrist: Dark Matter (Gilchrist)
Branford Marsalis Quartet: The Secret Between the Shadow and the Soul
(Marsalis/Okeh)
Todd Marcus: Trio + (Stricker Street)
Dave Douglas Uri Caine Andrew Cyrille: Engage (Greenleaf)
SFJazz Collective: The Music of Antonio Carlos Jobim & Original Compositions (SFJazz)
Vijay Iyer Craig Taborn: The Transitory Poems (ECM)
Jenny Scheinman & Allison Miller's Parlour Game: Jenny Scheinman & Allison Miller's Parlour Game (Royal Potato)
Guillermo Klein y los Gauchos: Cristal (Sunnyside)
Miles Ozaki: The Sky Below (Pi)
Matthew Shipp Trio: Signature (ESP)
Julian Lage: Love Hurts (Mack Avenue)
Fabian Almazan Trio: This Land Abounds with Life (Biophilia)
Abdullah Ibrahim: The Balance (Gearbox)
Joshua Redman Quartet: Come What May (Nonesuch)
Cyrille Aimee: Move On: A Sondheim Adventure (Mack Avenue)
In Common: In Common: Walter Smith III, Matthew Stevens, Joel Ross, Harish Raghavan, Marcus Gilmore (Whirlwind)
Chick Corea: Trio Trilogy 2 (Concord Jazz)
Johnathan Blake: Trion (Giant Steps)
Ben Monder: Day by Day (Sunnyside)
Evan Parker Barry Guy Paul Lytton: Concert in Vilnius (NoBusiness)