Apple TV+ Acquires Spike Jonze-Directed Beastie Boys Documentary
Photo by Atiba Jefferson/courtesy of Apple, background image by Glen E. Friedman
Music
News
Beastie Boys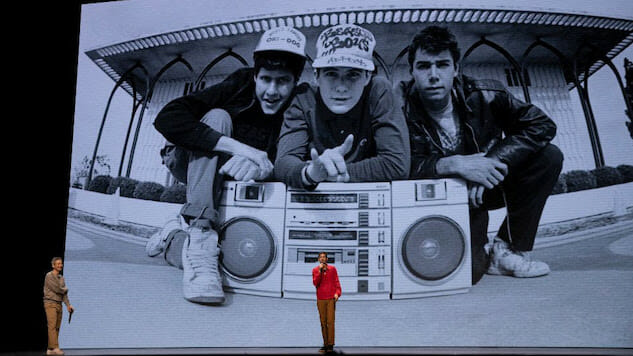 Long-time friends and collaborators Spike Jonze (Her, Being John Malkovich) and the Beastie Boys are reuniting 25 years after Jonze shot the music video for "Sabotage" from their top-charting 1994 album Ill Communication.
"I owe Beastie Boys a lot," said Jonze in a statement. "One time, they pulled me out of a burning ship, and another time they helped me cheat on my college exam to get into Florida State. So, it was a real privilege to get to reunite with them and help them tell their story."
The Apple TV+ documentary, titled Beastie Boys Story, will chronicle the history of the rap group, with Mike Diamond (Mike D) and Adam Horovitz (Ad-Rock) telling the story of how the Beastie Boys came to be while also exploring the various accolades and difficulties that emerged from the group. But the project will have a glaring absence: One of the founding members of the Beastie Boys, Adam Yauch (MCA), died of cancer in 2012.
A substantial portion of the film is billed as a "live" documentary shot at the Kings Theater in Brooklyn while Diamond and Horovitz were touring behind their autobiography Beastie Boys Book.
"There are some friends you have lunch with so many times over the years, you know their order," said Diamond and Horovitz in a joint statement. "Spike is one of those friends. And even when you don't recognize anything on the menu, he comes up with something good for the whole table. Like when we wondered what to do when our book comes out … then Spike placed his order: You will put on a show for the children."
The film will premiere about one month before the 26th anniversary of Ill Communication, with a limited special cut IMAX release April 3 before premiering on Apple TV+ on April 24.