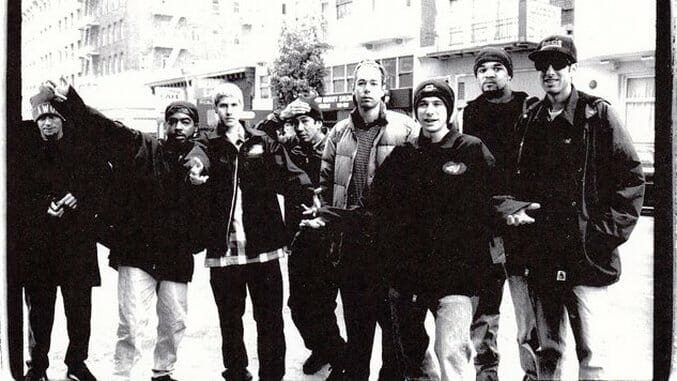 A good pithy line and a good turn of phrase, some syntactically pleasant word play—these are a few of hip-hop's favorite things. If a masterful musical line in music can stand alone lyrically, then it adds a whole other dimension to the original composition. The Beastie Boys, for example, exemplify that lyrical prowess with a canon full of clever quips and serious political statements. The group's fourth LP Ill Communication, which skews genre lines with punk rock and experimental influences, was released on May 31, 1994. So today, on its 23rd anniversary, we take a look at 10 of the smoothest, realest, pithiest one-liners on Ill Communication.
1. "Alright Hear This"
Line: "As we learn to breed love for one another / in these times of melding cultures / I give respect for what's been borrowed and lent / I know this music comes down from African descent"
Sandwiched in-between lewd statements of bombastic proportions are these powerful, yet sincere lines. "Alright Hear This" shows the three Jews from Brooklyn honoring the true roots of hip-hop and the Beastie Boys.
2. "Root Down"
Line: "You know we come to get down / because I've got the flow where I grab my dick"
Funky, effervescent, smooth and somehow dirty, "Root Down" is perfect to pump adrenaline into the brain. The song packs a perfectly mixed sample of Jimmy Smith's "Root Down." While the track has a candid, sincere line about the Beasties' love of music ("It feels good to play a little music / tears running down my face 'cause love to do it") Ad-Rock's grimy contribution that wins here for its inconclusive boasting/mockery.
3. Sure Shot
Line: "Well, I'm like Lee Perry, I'm very on / Rock the microphone and then I'm gone"
"Sure Shot" opens Ill Communication with that mellifluously silky flute riff, which is a sample from jazz flautist Jeremy Steig "Howlin' For Judy." And for sure, this song has its share of lyrical gold. It's hard to forget the clever line "I've got more action than my man, John Woo," or MCA's heartfelt line, "To all the mothers and the sisters and the wives and friends / I want to offer my love and respect to the end," a lovely, powerful shout out to women.
Still, it's this line in particular that is braggadociously outstanding. Lee "Scratch" Perry was famed Jamaican music producer who worked with Bob Marley and was famous for burning down his studio down. While the Beastie Boys didn't literally burn down their Glendale studio after making this song, the track is a figurative burner for sure.
4. "Tough Guy"
Line: "Now you're poking me in the eye / Bill Laimbeer motherfucker, it's time for you to die" and "You've got a tombstone hanging over your dick / cause a minor earthquake when you throw a moving pick"
Ill Communication contains a straight-up punk song because the Beastie Boys did whatever they wanted throughout their career. "Tough Guy" is a perfect mix of drivey, thumping drums and lightning fast power chords set to fit on a hip-hop record. The aggressive lyrics are written with the perfect amount of intimidating snarl, and of course, some basketball references.
5. "B-Boys Making It With The Freak Freak"
Line: "Got fat bass lines like Russell Simmons steals money"
There is nothing better than a diss in rap song. That's why this line from "B-Boys Making It With The Freak Freak" is the perfect twisted metaphor. Not only are the Beasties bragging that they have the sickest bass lines, they're also shitting on Def Jam's CEO Russell Simmons, too (yes, the guy who recently re-invented himself as a self-help guru) for stealing millions from the Beasties. Now that's greatness.
6. "Sabotage"
Line: "I can't stand it, I know you planned it / But I'm gonna set it straight, this Watergate"
Although, not the most verbose track on the album, "Sabotage" is definitely the most iconic song on Ill Communication. However, the most baller line has to be the opener. There is nothing more synonymous with sabotage than the Watergate scandal, that's for sure.
7. "The Update"
Line: "Race against race, such a foolish waste / It's like cuttin' off your nose to spite your face"
This track features MCA rapping solo, spitting his signature style of socially conscious, lyrically edifying rap. He turns a cliché into a well-intentioned metaphor that equates the race war with self-destruction.
8. "The Scoop"
Line: "You can't diss me, it ain't worth it, B / You put yourself down and you don't even see,"
With its jammy hook, "The Scoop" grips you like gravity and brings you down into the Beastie's world. MCA's line "I took a sledgehammer and I broke my nine" delivers blunt evisceration, but it's this one by Ad-Rock that scoops him, so to speak, with the takedown. Ad doesn't have to lift a finger to diss you because he knows you're going to do it yourself.
9. "Resolution Time"
Line: "Sprouting threats is insecure"
The last song off Ill Communication, "Resolution Time" is the Beasties demand for a better world. With critical commentary on society that still applies today, "The world leaders were terrified of losing their pride / Their spoiled children telling wack lies," and "Actin' like the last generation on earth / You're gonna fuck up a place for new birth" are realities that hit hard. Still, the best line has to be this one because it's right to the point, disarming any comeback right away.
10. "Get It Together"
Line: "I eat the fuckin' pineapple Now and Laters / Listen to me now, don't listen to me later / Fuck it, 'cause I know I didn't make it fuckin' rhyme for real / But, yo, technically I'm as hard as steel"
One the most underrated songs off Ill, "Get It Together" features Q-Tip at his most salacious, with references to '70s porn star John Holmes. But the best is this pseudo-humble line in which he acknowledges that his rhyme of "later" and "Laters" was not quite right and then goes on to say that he is still hard because of his technical knowledge.