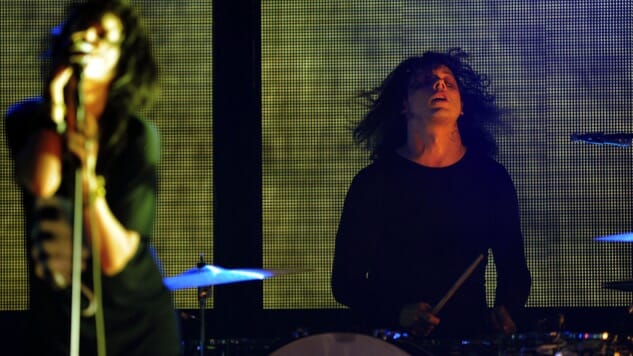 The term "supergroup" was coined in the 1960s to describe bands made up of members that were previously well-known for their work as solo artists or with other groups. The word, possibly inspired by the 1968 album Super Sessions (Al Kooper, Stephen Stills, Michael Bloomfield), has been used to describe such acts as Cream, Humble Pie and The Travelling Wilburys. In music today, supergroups are a dime a dozen, but we've selected a few of the best acts to form in the 21st century.
1. Middle Brother
Members: J. McCauley III (Deer Tick), Taylor Goldsmith (Dawes) and Matt Vasquez (Delta Spirit)
Formed: 2011
Middle Brother came together last year, playing their first set at SXSW as "MG&V." Made up of members from some of today's best folk-rock/Americana music, Middle Brother is one of the best bands of the genre. Their self-titled debut was released earlier this month.
———————-
Fans of Middle Brother should check out Paste's Middle Brother Album Giveaway.
2. Monsters of Folk
Members: Jim James (My Morning Jacket), Conor Oberst (Bright Eyes, The Mystic Valley Band), M. Ward (She & Him) and Mike Mogis (Bright Eyes)
Formed: 2004
The stellar guitar work of My Morning Jacket combined with the lyrical content and multi-instrumentalism of Bright Eyes, not to mention contributions from M. Ward, what could be better?
3. The Dead Weather
Members: Alison Mosshart (The Kills, Discount), Jack White (The White Stripes, The Raconteurs), Dean Fertita (Queens of the Stone Age) and Jack Lawrence (The Raconteurs, The Greenhornes)
Formed: 2009
Jack White must be a glutton for punishment because The Dead Weather was initially formed after he lost his voice and brought on The Kills' Alison Mosshart to filll in on vocals for The Raconteurs. The result is one of the dirtiest, grittiest hard rock bands around. Despite having formed in 2009, the band has already released two albums.
Members:Jack White (The White Stripes, The Dead Weather), Brendan Benson, Jack Lawrence (The Greenhornes, Blanche, The Dead Weather) and Patrick Keeler (The Greenhornes).
Formed: 2005
Serving as Jack White's first adventure away from candy-coated duo The White Stripes, The Raconteurs showed everyone that they weren't just a side project to be taken lightly with the release of their debut album Broken Boy Soldiers. However, their second album Consolers of the Lonely and 2008 Bonnaroo performance was what solidified them as one the best powerhouse groups in music today.
5. Them Crooked Vultures
Members: John Paul Jones (Led Zeppelin), Dave Grohl (Foo Fighters, Nirvana) and Josh Homme (Queens of the Stone Age, Kyuss)
Formed:2009
A member of Led Zeppelin back in action with a new band? Need we say more?
6. Atoms for Peace
Members: Thom Yorke (Radiohead), Flea (Red Hot Chili Peppers), Nigel Godrich (Radiohead-producer) and Joey Waronker
Formed: 2009
Named after a song from Thom Yorke's solo album The Eraser, Atoms for Peace performed their first show in October 2009 where they played the entirety of Yorke's solo effort. Despite having played several shows, the band has yet to release any recorded material.
7. Broken Bells
Members: Danger Mouse (Gnarls Barkley) and James Mercer (The Shins)
Formed: 2009
When not producing acclaimed albums, working with Gnarls Barkley or creating music for an unfilmed spaghetti western, Danger Mouse (Brian Burton) collaborates with The Shins' James Mercer to form Broken Bells. Look for the band's Meyrin Fields EP later this month.
8. How to Destroy Angels
Members: Trent Reznor (Nine Inch Nails), Atticus Ross (Nine Inch Nails Producer) and Mariqueen Maandig Reznor
Formed:2010
Made up of Oscar-winning composers Trent Reznor and Atticus Ross, along with Reznor's wife, the band has produced one self-titled EP so far, but Reznor has said the band intends to release another one later this year.
9. Gnarls Barkley
Members: Danger Mouse (Broken Bells), Cee-Lo Green (Goodie Mob)
Formed:2006
Producing one of the best hits of the year in 2006 with "Crazy," Gnarls Barkley has gone on to make two full-length records with St. Elsewhere and The Odd Couple.
10. OFF!
Members: Keith Morris (Circle Jerks, Black Flag), Dimitri Coats (Burning Brides), Steven Shane McDonald (Redd Kross) and Mario Rubalcaba (Rocket From The Crypt, Hot Snakes)
Formed: 2009
OFF! made their live debut at last year's SXSW. So far, they have only released First Four EPs, an appropriate name for an album that collects their first four EPs.
11. The Baseball Project
Members: Peter Buck (R.E.M.), Scott McCaughey (The Young Fresh Fellows, The Minus 5), Steve Wynn (The Dream Syndicate, Gutterball) and Linda Pitmon (Steve Wynn & the Miracle 3)
Formed:2007
Conceived from discussions between McCaughey and Wynn at R.E.M.'s Rock and Roll Hall of Fame induction, The Baseball Project released their first album Volume 1: Frozen Ropes and Dying Quails in 2008. Their second album Volume 2: High and Inside was released earlier this month.