BTS and the Shunning of Asian Pop Stars in America
The K-pop record-breakers can't get a foothold in the U.S. Do they even want to?
Music
Features
BTS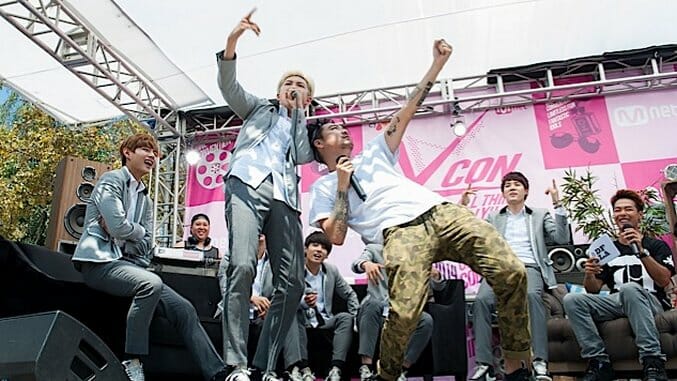 On May 21, viewers around the world watched with mostly disbelief as Justin Bieber, Ariana Grande, Selena Gomez and Shawn Mendes had to concede the Top Social Artist award at the 2017 Billboard Music Awards to BTS, the winners in a landslide. The South Korean pop group garnered more than 313 million votes—75 percent of the total tally—to halt a six-year winning streak by Bieber, who got 23 million votes this time around.
The reaction—"Who are these Asians?"—swiftly ballooned on social media.
kpop is still irrelevant, nobody in te states is gonna listen to a korean song just because bts won an award https://t.co/xTtKRVlGXK

— leo (@roIIingdice) May 22, 2017
how did these asians wearing makeup beat ACTUAL FAMOUS PEOPLE

— kaley (@bieberzmahone) May 22, 2017
Buzzfeed reported that another (now deleted) tweet read, "Not trying to be racist, but you don't see any American singer or band participating in a Korean award show so, like, BTS please just go back to Korea."
Of course, the two Canadian nominees in the category (Bieber and Mendes) have eluded this knee-jerk outrage and xenophobia, as has just about every Brit in American pop history from the Beatles to One Direction. It's the type of blowback that ensues whenever a person of color upsets the cultural status quo—as when Barack Obama first ran for the presidency, when Jeremy Lin first played for the Knicks, or when Takuma Sato won this year's Indianapolis 500 and prompted the now-fired Denver Post sports writer Terry Frei to tweet how that made him "uncomfortable." Indeed, the American soundscape has proven to be a final frontier for Asians and Asian-Americans to find their footing.
Far from an overnight sensation, BTS have earned success that even ardent K-pop fans couldn't have fathomed when the group debuted in 2013. Steadily amassing a following on both sides of the Pacific, the septet first earned Stateside exposure at the 2014 KCON in Los Angeles. Last October, their third album, "Wings," moved 16,000 units in the U.S. in its first week of release and entered the Billboard 200 at No. 26—the highest chart position ever for a K-pop album. This spring, they sold out several American arenas on their The Wings tour. But despite their meteoric rise and Billboard Awards win, BTS has received virtually zero airplay and very little press in the U.S.
"How did these asians wearing makeup beat ACTUAL FAMOUS PEOPLE?," wrote one outraged fan on Twitter.
Angela Killoren, chief operating officer at the American branch of Korean entertainment and marketing empire CJ E&M, said K-pop suffers the stigma of pop music in general. "It's this cultural sense of superiority, you know, the true musician versus the pop artist," Killoren said. "Music critics probably are begrudgingly covering Taylor Swift to begin with. It's about authenticity in our industry. For them to cover pop music from another culture, I think it's just a bridge too far."
Susan Rosenbluth, senior vice president at Goldenvoice/AEG Presents, asked, "Is the major media operated mostly by people who are ethnocentric, or they are of an age where it just doesn't hit their radar?" Her firm has served as the U.S. concert promoter for about 2,000 shows annually by both domestic and foreign acts, BTS's "Wings Tour" included.
"Quite frankly, BTS is getting noticed because the social media is so strong for them," said Rosenbluth, referring to BTS's 4.7 million Facebook followers and 6.5 million Twitter followers. "I think it's bigger than any general-market artist right now around the world. So it's like, wow, wait a minute. We weren't paying attention. Let's pay attention. Media starts paying attention — except that the politics is so interesting right now. So the media starts paying attention, and then the marketplace follows."
No single by an Asian act has topped the Billboard Hot 100 since Kyu Sakamoto's "Sukiyaki" in 1963. Don Ho and Yoko Ono seem to have been the token Asians on the American pop scene for decades, and Ono isn't primarily known for her musical work. Asians haven't fared better elsewhere in American pop culture; yellowface persists in Hollywood ("Aloha," "Doctor Strange," "Ghost in the Shell" are among the recent films criticized for putting white actors in "Asian" roles), and only one Asian-American-themed TV series, 1994's "All-American Girl," existed before 2015's "Fresh Off the Boat."
Even with Japanese behemoths Sony and Matsushita buying their way into the American entertainment landscape in the late 1980s and early 1990s, Asian and Asian-American representation continued to lag. Sony introduced Japanese pop icon Seiko Matzuda to the U.S. market in 1990 with "The Right Combination," her duet with New Kid on the Block Donnie Wahlberg. It peaked at No. 54 on the Billboard charts, but her subsequent English-language offerings foundered.
Matzuda's diminishing returns on crossing over perhaps discouraged other prominent Asian pop stars from entering the U.S market. Indeed, the next wave wouldn't hit American shores until a decade later, when Asian-Americans Coco Lee and Utada leveraged their immense overseas popularity in coming home.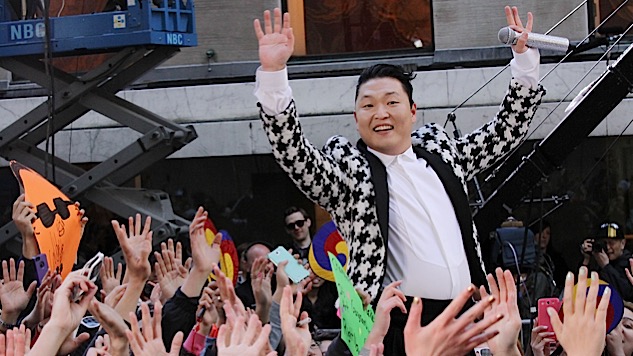 Korean pop star Psy couldn't gain traction in the U.S. market after his 2012 smash, "Gangnam Style."
"You have to have a lot of factors work in your favor for something to happen even when you have a good song, because the marketplace is so crowded," Rosenbluth said of the chilly reception for K-pop icon BoA's eponymous 2009 English-language debut. "U.S. radio has never embraced any of these songs."
In fact, many Asian-American artists have fled the U.S. and found stardom in Asia—though not without some unintended consequences. Since the 1990s, several K-pop groups have included token Asian-American members, due in part to the same America-worshipping that has fostered an immigration wave here. But U.S. citizens are exempt from South Korea's career-stalling compulsory military service for men, and they can often speak accent-free English, which is useful if and when the acts do enter the global market. The American members of Girls' Generation, the Korean girl group with more than 50 million records sold, certainly made an impression on Kelly Ripa while performing on "Live With Kelly" in 2012. "I've never seen such audience participation in my life," exclaimed Ripa. Added co-host Howie Mandel, "Your English is very good."
In addition to enlisting American performers, K-pop has through the years commissioned American producers, songwriters, choreographers and music-video directors. Many Americans who have given a serious listen have wound up embracing the genre. The Los Angeles KCON has seen its attendance explode from 12,000 in 2012 to 73,000 in 2016. An additional 40,000 were present at the Newark KCON last year.
"For K-pop shows, which I've been doing for a few years now, I would say maybe half the audience is Asian-American or some part from that part of the world their families were, their ancestors were," Rosenbluth said. "They are definitely people who are born in the U.S.A. for the most part."
In addition to Los Angeles and Newark, CJ E&M has produced KCON in Paris, Abu Dhabi, Mexico and Japan. It was K-pop's burgeoning popularity in other parts of the world over the last decade that prompted many of its biggest stars to dip their toes in the U.S. market, including Rain (appearing on The Colbert Report in 2008), Wonder Girls (touring with Jonas Brothers in 2009) and Girls' Generation (performing on "The Late Show with David Letterman" in 2012), Crayon Pop (opening for Lady Gaga in 2014).
"The shelf life for Korean K-pop stars is a little bit short, so that's been a very, very big risk. It's a huge opportunity cost in terms of the amount of time they spent in the U.S. for not much upside, versus all what they could have been doing in Asia to maintain their position."
"None of those guys really hit until they committed to doing English-language songs, English-language media, everything here, just really decamping to the U.S. to focus on that completely," Killoren said. "The one group that probably thus far has really made a big effort on that was probably The Wonder Girls, and that did not go well for them. And the shelf life for Korean K-pop stars is a little bit short, so that's been a very, very big risk. It's a huge opportunity cost in terms of the amount of time they spent in the U.S. for not much upside, versus all what they could have been doing in Asia to maintain their position … They had all the right moves. They got on the tour. They slogged through being an opening act. They lived here. They trained. They made their music here. They did everything right, which is somewhat disheartening."
While well regarded and hugely popular in South Korea, Psy's claim to American fame has been one viral music video. Despite that, many had hoped 2012's "Gangnam Style" would finally help break K-pop into the American mainstream. But it's perceived as little more than a novelty song five years later. Even the management acumen of Scooter Braun—the man instrumental in the careers of Bieber, Grande and Carly Rae Jepsen—hasn't been able to help Psy advance in the U.S.
Perhaps that helps explain why, at the Billboard Awards, members of BTS dismissed the idea of fully entering the U.S. market. All the barriers broken and records shattered might still not be enough to alter the apathy toward Asians on the American soundscape.
"They are terrific and the most popular K-pop band in the world right now," Rosenbluth said. of BTS. "I think if they wanted to cross over and do more, they will… I think it will take certain things like winning awards, being in the general-market eye, so to speak, by marketing their brand in the U.S. more, in Mexico more, in other parts of the world more than just on the Internet, and by virtue of the music that they put out in the future. [If] they wanted to sing more in English, they could."