Buck Meek Shares New Song "Halo Light," Announces Tour Dates with Jeff Tweedy
Photo by Emma McIntyre/Getty
Music
News
Buck Meek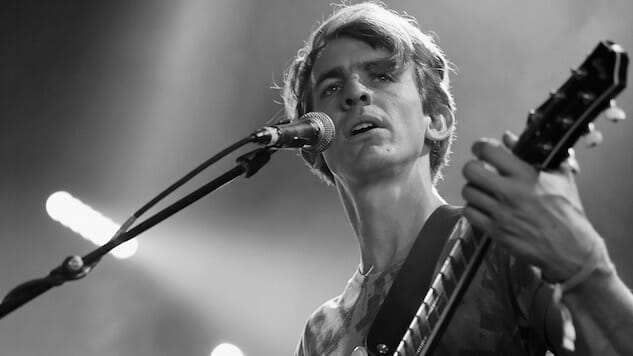 Songwriter and guitarist Buck Meek has released his first bit of new music since putting out his self-titled solo debut on Keeled Scales last year. The song, titled "Halo Light," is a sweet, folky rumination on eternal love and loss that finds Meek moving in a softer, more contemplative direction, recalling the slow, measured cadence of early Leonard Cohen and the pastoral quality of Harvest-era Neil Young.
Before releasing his debut album last year, Meek put out a solo EP in 2015 called Heart Was Beat. He is also the lead guitarist and backup vocalist in Big Thief, and he released a pair of collaborative records with bandmate Adrianne Lenker in 2014 titled a-sides and b-sides.
In addition to the release of "Halo Light," Meek has announced a series of new tour dates for this spring, both as a headliner alongside Twain and as direct support for Jeff Tweedy on his solo tour. He's also making a quick stop at South by Southwest in March in between tour dates with Tweedy.
Listen to "Halo Light" and check out Meek's 2018 Paste Studio session below. Scroll down for his full list of tour dates.
Buck Meek Tour Dates:
February
20 – Baltimore, Md. @ Joe Squared*
21 – Oxford, N.C. @ Thornton Library*
22 – Durham, N.C. @ Arcana*
23 – Asheville, N.C. @ Mothlight*
24 – Lexington, Ky. @ The Burl*
25 – Bloomington, Ind. @ The Bishop*
26 – Chicago, Ill. @ Schubas*
27 – Iowa City, Iowa @ Englert Theatre^
28 – St. Louis, Mo. @ The Pageant^
March
01 – Oklahoma City, Okla. @ The Auditorium at the Douglass^
03 – Dallas, Texas @ Majestic Theatre^
04 – Austin, Texas @ Paramount Theatre^
07 – Germantown, Tenn @ Germantown Performing Arts Center^
80 – Birmingham, Ala. @ Lyric Theatre^
09 – Macon, Ga. @ Hargray Capitol Theatre^
16 – Austin, Texas @ Batch Craft Beer + Kolaches
31 – Columbus, Ohio @ Davidson Theatre^
April
01 – Ann Arbor, Mich. @ Michiagen Theater^
03 – Toronto, Ont. @ Queen Elizabeth Theatre^
04 – Pittsburgh, Pa. @ Carnegie Lecture Hall of Oakland^
06 – Boston, Mass. @ Berklee Performance Center^
(* – with Twain)
(^ – with Jeff Tweedy)