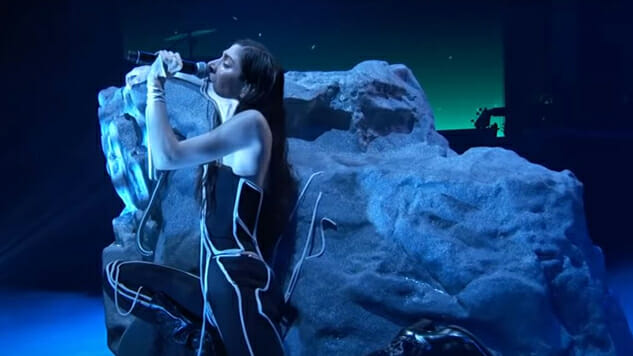 Indie darling-turned-certified future-pop diva Caroline Polachek appeared on Jimmy Kimmel Live! Thursday night, and she brought her very own cliffside. Performing her '80s-tinged, amorous single "So Hot You're Hurting My Feelings," Polachek spun around on a boulder and offered some of her subtle choreography. She looked a bit like Nancy Sinatra meets Annabel Lee, complete with nautical-looking ropes hanging from her black jumpsuit, dewy hair and cowboy boots.
Midway through the performance, she emphatically hits a button, cuing the vocals-turned-guitar-solo bridge. You can almost imagine waves crashing as Polachek crawls about the rock and beckons a potential lover to "show [her] the banana." When you remember, "oh, this song is about having a crush," you're already fully pulled into the drama of the production, the mythologized approach Polachek takes to embellishing love's commonalities.
Polachek's debut solo album (sort of—she's released music under two aliases, Ramona Lisa and CEP) received widespread acclaim last year for its clever blend of current pop sounds, PC Music sensibility and baroque singer-songwriter composition. It's an excellent album, and a powerful, original sound even among the retinue of offbeat pop stars like Charli XCX, Kim Petras and Hannah Diamond.
Her album, Pang, was one of our favorite pop albums of last year. You can read our review of Pang here. Check out her Kimmel performance below, plus a 2010 Chairlift performance from the Paste archives.