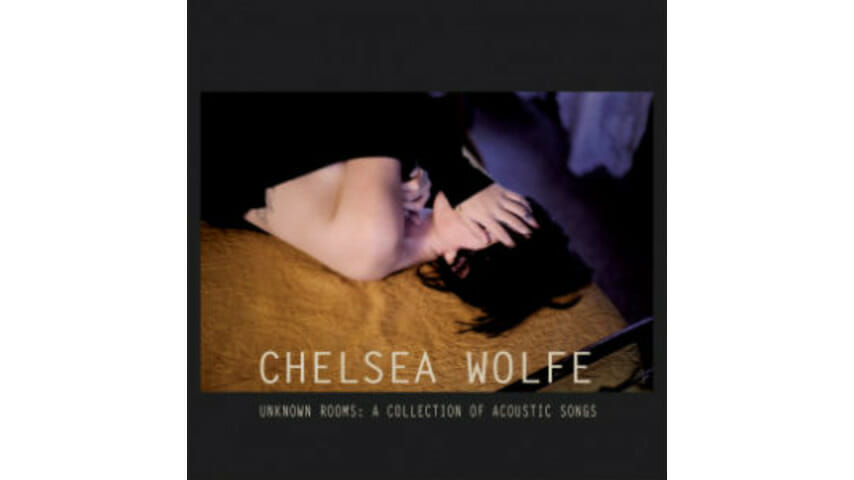 Unknown Rooms: A Collection of Acoustic Songs, Chelsea Wolfe's third album, is such a vast departure from the scuzzy, lo-fi and downright demonic goth-folk we've come to expect from the northern California native that a clarifying subtitle was necessary.
"Acoustic" is not a word that would be used to describe either of her first two albums. 2010's The Grime and the Glow is filled with faraway spectral transmissions, some with traditional pop song formats and some comprised of plodding, droning distortion and Wolfe's moaning vocals. Her second release, Apokalypsis, is far more polished, but almost less accessible. Filled with more droning to go along with primal incantations and sporadic, often aggressive instrumentation, it paints Wolfe as a woman possessed, crossing the line from haunting to borderline frightening.
"Flatlands," the first track off Unknown Rooms, features nothing other than a sparsely plucked acoustic guitar and Wolfe's weary voice laid bare, unobscured by fuzz or distortion. The rest of the album is similarly stripped down, with an acoustic guitar and Wolfe's vocals serving as the principal operating agents in all nine tracks. Some forlorn effects are layered in here and there to give the album a melancholy weightiness, but other than that, the album shines a spotlight on the merits of Wolfe's voice alone, which we can connect with and appreciate on a far more intimate level.
Unknown Rooms also veers away from the sense of the occult that pervaded her past two releases, especially Apokalypsis. It is certainly still haunting, but in a much more subtle, innocuous and emotionally effective way. The somber tone feels as if it's coming from a more relatable place, a place of heartbreak, and we are left to be swept away by the ebbs and flows of Wolfe's awe-inspiring voice without fear of subscribing to anything sinister.
While The Grime and the Glow and Apokalypsis varied within themselves, covering a lot of sonic and emotional territory, Unknown Rooms is relatively uniform throughout. The tone and pace of Wolfe's voice don't really vary that much, and there isn't enough happening with the instrumentation to give the album any real sense of dynamism. Tracks like "Flatlands," "Applalacia" and "Our Work Was Good" still stand out, however, and, ultimately, Wolfe's bold, drastic break from character on Unknown Rooms is a successful one. The subtitle makes you think that she might be back to her old hellraising self on her next effort, but hopefully she'll find a way to reconcile the old with the new.