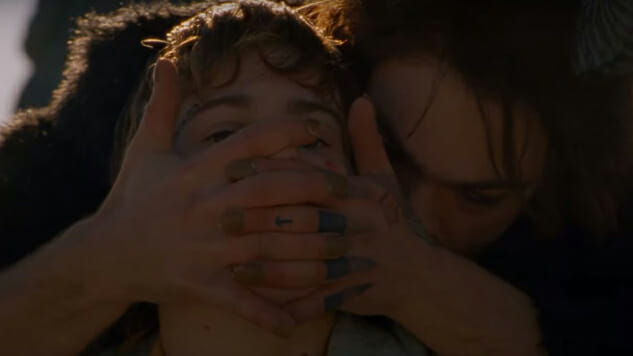 Thursday afternoon, Christine and the Queens released a surprise EP with an accompanying short film titled La vita nuova. The film was shot by Colin Solal Cardo at the Palais Garnier and features Caroline Polachek, who appears on one of the EP's tracks. Choreography for the film was handled by Ryan Heffington, known for his work with Maddie Ziegler for Sia's "Chandelier" video, as well as Arcade Fire's "We Exist." "People, I've been sad," shared by the band earlier this month, appears as the EP's first track.
The film has a luscious, glittery sheen and bodily, primeval dancing reminiscent of Luca Guadagnino's recent Suspiria remake. Chris (or Héloïse Letissier) struggles with her feelings for a horned creature credited as "The Fauna" (Félix Maritaud). There's several gorgeous shots of the famed Parisian opera house, with styling that reflects the eclectic blend of baroque, classic and renaissance architecture present within the building.
You can check out the film and the details of the EP below. La vita nuova is available now on all streaming services_ via Because Music.
La vita nuova Tracklist:
1. People, I've been sad
2. Je disparais dans tes bras
3. Mountains (we met)
4. Nada
5. La vita nuova (feat. Caroline Polachek)
6. I disappear in your arms (bonus)
La vita nuova EP Art: