Watch CHVRCHES' Animated Video for "Bury It" Featuring Hayley Williams
Image via Jamie McKelvie
Music
Video
CHVRCHES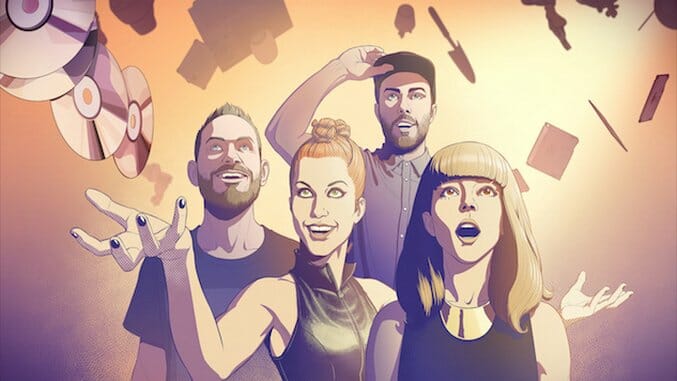 Scottish electropop outfit CHVRCHES released the video for their song "Bury It" off of their second album, 2015's Every Open Eye. The video contains a rerecorded version of the song featuring Hayley Williams of Paramore.
The video sees the band practicing telekinesis and other superpowers throughout an island city. Longtime artistic collaborator of the band Jamie McKelvie made the video along with animation specialist Mighty Nice.
CHVRCHES' Iain Cook said in a press release that McKelvie is one of the most interesting artists, considering his work with comics including Young Avengers and The Wicked + The Divine. "Ever since Jamie McKelvie began working with us on CHVRCHES poster designs, we have been discussing ways in which we could further our creative relationship," said Cook.
McKelvie was equally honored to be a part of the project, stating:
Music has always had a big influence on my work, and making a music video seemed like a natural progression of that. Getting the opportunity to work on this video with such great collaborators—CHVRCHES, Hayley Williams, and Mighty Nice—meant the reality turned out even better than I'd imagined.
The video version of the song will be featured on the extended edition of Every Open Eye, along with two bonus tracks and remixes of album cuts, out July 29.
Check out the video above.