10 Country Artists to Watch in 2020
Photos by Harper Smith, Alan Greyeyes & Erika Goldring
Music
Lists
Country Music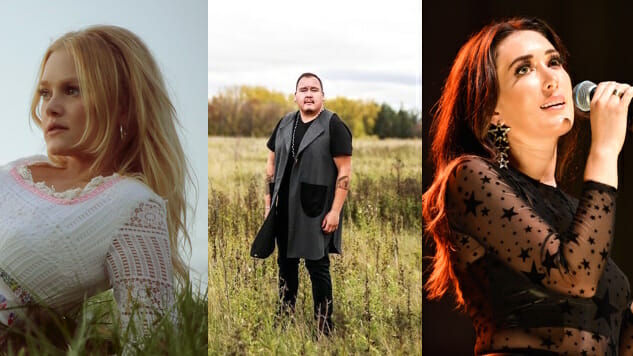 Have you ever heard of Harlan Howard? If you don't recognize the now-deceased songwriter's name, you've probably still heard his most famous quote about country music: It's just "three chords and the truth." That's obviously an overly simplified statement, but Howard was on to something there: Times may change, studios may get fancier and artists may experiment more, but country music will always be country music. It's the music where everyday life feels monumental, because it is. It's music that doesn't hide from reality. The country music community has plenty of strong ties that run deep, but it's also famously home to some toxic practices—like ignoring female artists on the radio. According to a 2019 study, only 11% of artists on the year-end airplay reports were women. That is a shameful statistic, and it's a systematic issue. So what can you do to support women country artists? Stream their music, buy their merchandise and go to their shows. A good place to start could be with some of the women on this list, who are all up-and-coming country artists with a lot to say. Here, we've selected 10 promising acts—both men and women—who have albums on the way or new music in the works in 2020. They all have a little bit of "truth" to share.
Listen to our Rising Country Artists of 2020 playlist on Spotify right here.
1. Aubrie Sellers
Who's the Nashville starlet who can cover Dwight Yoakam, jam with Steve Earle and sing her way right into your heart without skipping a beat? That's Aubrie Sellers, a Nashville singer/songwriter who's been around country music for more than a minute (since birth, actually—she's Lee Ann Womack's daughter), but 2020 is bound to be her take-off year. Her sophomore LP, Far From Home, is due out in February, and so far the singles have been very impressive. Her roots run deep, but Sellers isn't just another Music City wannabe: She's an honest storyteller with a singular personality. She can both float in on a cloud of love songs and crank out existential country-rock, like on album single "Worried Mind": "I can see people laughing and drinking / All I can think is they're not thinking / With a worried mind," she sings.
2. Caitlyn Smith
Following her 2018 debut Starfire, Caitlyn Smith is back with her Supernova (out March 13 on Monument Records). Like so many Nashville troubadours, Smith has made a great career out of writing for others—Dolly Parton, John Legend and Meghan Trainor, among them. But Smith shines the brightest when she's singing her own music, something that became abundantly clear on Starfire, which we named one of the best country albums of 2018. Supernova is Starfire's cool older sister—a little wiser, a little more world-weary (though no less hopeful) and wearing a little more eyeshadow.
3. Hailey Whitters
Hailey Whitters is one of the most exciting voices in country music now. The Iowa-born, Nashville-based singer/songwriter released one of the best country songs of 2019 in "Ten Year Town," a gospel for the geographically-restrained. She has written songs for the likes of Alan Jackson and Martina McBride, but she has also done plenty of hustling outside of the industry: waiting tables and saving up money the good ol' fashioned way, enough to fund her next album all on her own. This year could be her well-deserved big break. Her clever songwriting shines through on songs like "Red Wine & Blue," "Heartland" and "Dream, Girl," and some of the industry's best (including Lori McKenna and Brandy Clark) collaborated with Whitters on her song "Loose Strings." Whitters is an intelligent, creative artist who's just about ready for her ship to come in. If you're smart, you'll join me and watch from the harbor when it does.
4. John Moreland
You probably already know John Moreland, the Oklahoma singer/songwriter who has been on the receiving end of considerable press buzz for the better part of five years now. This year, on Feb. 7, he'll release LP5, his—you guessed it—fifth full-length album. But while Moreland has been steadily gaining popularity over the last few years, it really feels like he may break out even bigger in 2020. For his new record, he recruited producer Matt Pence (Jason Isbell, The Breeders) to gussy up his mostly stripped-back sound, and the results have so far been striking. But his lyrics are just as straightforward and understandable as ever: On the techy "Harder Dreams," Moreland maps out the complicated desires of adulthood and the struggles of finding joy in a media-crowded landscape.
5. Lauren Morrow
Lauren Morrow mostly sings about home and the people who inhabit it. With a slate of singles under her belt about various characters (including her own mother "Viki Lynn" and "Barbara Jean"), it's only a matter of time before this Georgia native releases a full phone book's worth. Last August, she charmed a Portland audience at Pickathon with her down-home Southern tales and humongous smile. Whenever she drops her first full-length album (hopefully this year!), country audiences will fall in love with her wry rhymes and wisdom.
6. Letitia VanSant
Letitia VanSant is set to release her second solo album Circadian late next month, and her gentle singsong may strike you as sweet, but listen a little closer, and you'll realize she's spitting fire. The first song on the album, a recount of VanSant's survival of sexual assault, is literally called "You Can't Put My Fire Out," and its mandolin-boosted sonics harken back to the dusty days when The Civil Wars were controlling the Americana charts. But the main difference between The Civil Wars and VanSant is that she's a solo act, and rightfully so: Her voice is charismatic and fierce, and she doesn't need anyone else's help.
7. Rachel Wammack
It's no wonder Rachel Wammack's songs are so vivid and affecting—the rising country star has a degree in writing from The University of North Alabama, not far from her native Muscle Shoals. Her sweeping 2018 single "Damage" would be enough to get any heartbroken country fan's attention, and she followed it with an equally stunning 2019 track called "Something People Say." It seems like there may be more where those came from: Just last week, Wammack tweeted that new music is coming "soon." Her debut LP, perhaps? We can only hope. For now, you can cozy up to her warm slate of singles.
8. Tenille Arts
If you're after that massive country-pop radio sound but you're looking for a little more soul than what's currently on the airwaves, look no further than Tenille Arts (not to be confused with fellow country up-and-comer Tenille Townes, who is also incredible). Weirdly enough, the Canadian singer is the only artist to have performed on The Bachelor more than once (including Monday night's Season 24 premiere), but don't let her proximity to that romantic chaos scare you away. Her sophomore record, Love, Heartbreak & Everything In Between, is seemingly more about the "in between," at least based on the tracklist. She has songs about life's transient times, not just the highs and lows. But her love songs are great, too—they're sung from the perspective of someone who's been through a lot and thusly knows exactly what she wants.
9. Tiera
Alabama-born, Nashville-based country singer Tiera joins Hailey Whitters as one of 11 women chosen for CMT's 2020 Next Women roster. Both artists will join legend Tanya Tucker on the Next Women of Country Tour early this year, and Tiera is certainly not one to miss. It's unclear whether or not the 22-year-old has yet ordered her debut full-length album, but you can follow her on Instagram for new songs posted regularly. On her 2018 single "Wake Up Call," she spouts the lyric "I don't take orders from nobody but myself" right off the bat—confirming Tiera as another country artist who refuses to conform to the industry's more outdated aspects. If she has more fiery one-liners like that in her pocket, there's no telling what a full-length album might consist of. Chances are we'll find out soon enough.
10. William Prince
Not to be confused with a certain heir to the English monarchy, the husky-voiced Wiliam Prince seems destined to sit atop another throne: King of Canadian Country Music. The Winnipeg-based artist will follow his 2018 album Earthly Days with his Glassnote Records debut, Reliever, on Feb. 7. With a voice like Kris Kristofferson's and a heart like John Prine's, Prince is a modern Highwayman. He made a splash at last year's AmericanaFest and is sure to have a great year ahead of him. His recently-released song "The Spark" showcases his emotional breadth in terms of songwriting, as well as the comfortable warmth that spreads over all his music.
Listen to our Rising Country Artists of 2020 playlist on Spotify right here.