Dave Grohl Pretends to Rebreak Leg Onstage to Swedish Audience's Collective Horror
Photos by Chung Sung-Jun/Getty, Justin Sullivan/Getty
Music
News
Dave Grohl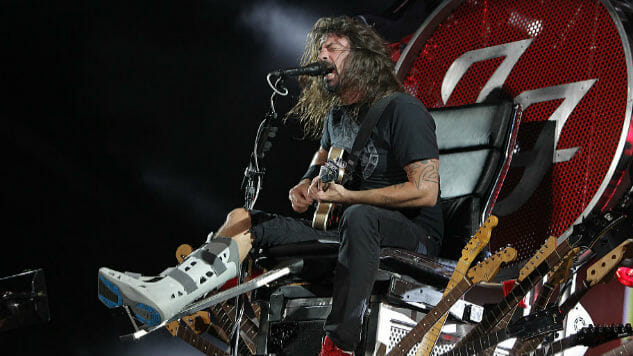 Let's take a moment to rewind to simpler times. It's June of 2015, and former Nirvana member, current Foo Fighters frontman and future Pantene model (please?) Dave Grohl is performing in Gothenburg, Sweden.
Two songs in, Grohl flies too close to the sun. After running to the edge of the stage "to shred some tasty licks for the kids up front," Grohl careens off the stage, falling 12 feet and "dislocating my ankle and snapping my fibula like an old pair of take out chopsticks," as Grohl later described his injury in an open letter to fans. Grohl had his leg set on stage and finished the show, officially transcending all previous hard-rock lore. After he was hospitalized, a morphine-stoned Grohl drew out the design for the light-up throne (the blueprint seriously says "lasers and shit") that he would continue the tour from.
And, yes, the video from that show is just about as outrageous as you'd expect it to be.
Fast forward three years, and the Foo Fighters have returned to Gothenburg. On Tuesday night, after the band took the stage, Grohl enlisted a wigged stunt double to run out on stage and recreate the fall as the band played an epic drumroll. Grohl ran out quickly afterwards to greet the crowd (and to quell their rising anxiety that another show would be cut short). There is currently no word on the well-being of the stuntman's legs.
Watch Grohl's prank below and listen to a 1995 Foo Fighters performance from the Paste archives further down.