Deeper Announce Sophomore Album Auto-Pain, Release First Single "This Heat"
Images via Jacob Pesci, Tyler Bengsten/Fire Talk Records
Music
News
Deeper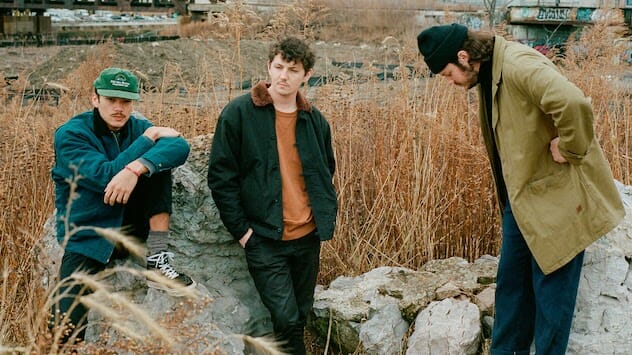 Chicago post-punk band Deeper have announced their second LP Auto-Pain, set for release on March 27 via Fire Talk Records. The band shares the first single, "This Heat," along with an accompanying music video.
Leaning into a synthier approach than the band's previous LP, 2018's self-titled album Deeper, "This Heat" is a rumination on personal and political anxieties. Decked out in hazmat suits, the band begin the music video plucking flora from the outside of a brutalist building, sealing them away in ziplock bags that warn of their radioactive contents. Instead of quarantining the items, the band instead list them for sale online—where they are ravenously bought by a flurry of consumers.
While the video is evocative of Don Delillo's White Noise, "This Heat" appears to play into the desperate need to overcome personal maladies, even if the cure is worse than the symptoms.
"In the dead of Chicago winter, there's a particular withdrawal from sun exposure that presents a deep contrast to the color and excitement of the city in the summer," say the band in a statement. "In 'This Heat' we explore this lack of sun and the seasonal depression that sometimes accompanies it. It's a metaphor for how we cope with particular low points and how euphoric it can feel when the feeling passes—even if momentarily."
Watch the music video for "This Heat" below, then check out Deeper's upcoming tour dates and the details of Auto-Pain. You can also read Paste's new feature on Deeper here.
Auto-Pain Tracklist:
01. Esoteric
02. Run
03. This Heat
04. Willing
05. Lake Song
06. Untitled
07. Spray Paint
08. 4U
09. VMC
10. Helena's Flowers
11. The Knife
12. Warm
Auto-Pain Album Art: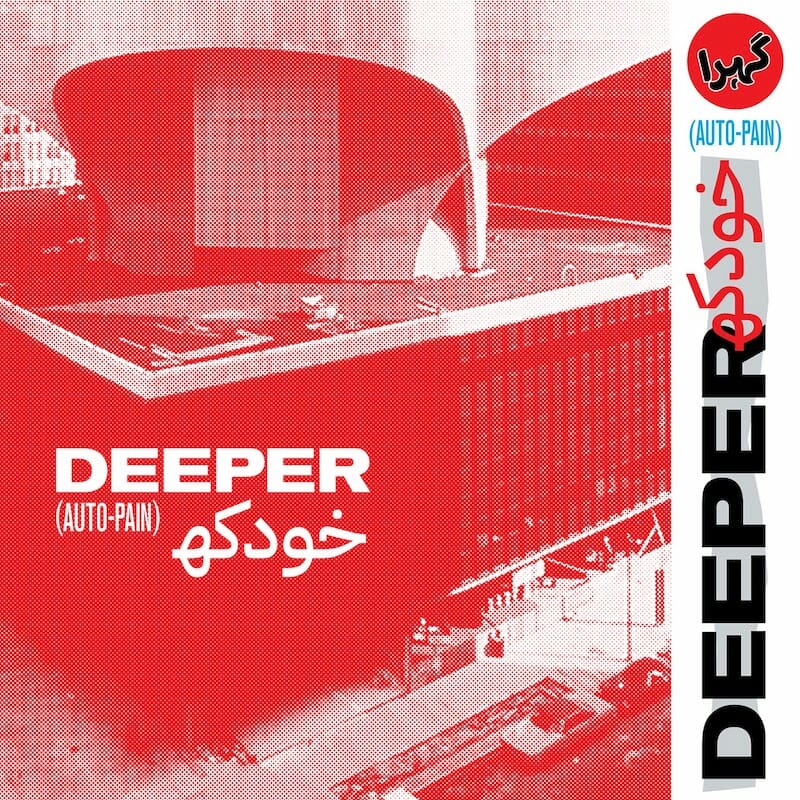 Deeper Tour Dates:
February
10 – Brussels, Belgium @ Ancienne Belgique *
11 – Paris, France @ La Maroquinerie *
12 – Tourcoing, France @ La Grand Mix *
14 – Groningen, Netherlands @ Vera *
15 – Den Haag, Netherlands @ Paard van Troje *
17 – Bristol, U.K. @ Thekia *
18 – Manchester, U.K. @ Gorilla *
19 – Dublin, Ireland @ Whelan's *
21 – Birmingham, U.K. @ Hare And Hounds *
22 – Glasgow, U.K. @ King Tut's Wah Wah Hut *
24 – Nottingham, U.K. @ Rescue Rooms *
25 – Brighton, U.K. @ CHALK *
26 – London, U.K. @ Electric Brixton *
27 – Salford, U.K. @ BBC6 Session
March
04 – Brooklyn, N.Y. @ Rough Trade NYC #
06 – Savannah, Ga. @ Savannah Stopover #
07 – Orlando, Fla. @ Will's Pub #
08 – Tampa, Fla. @ Hooch & Hive #
09 – Miami, Fla. @ Gramps #
13 – San Antonio, Texas @ Paper Tiger #
14 – Houston, Texas @ Satellite Bar #
15 – 20 – Austin, Texas @ SXSW
22 – Hot Springs, Ark. @ Valley of the Vapors #
23 – Nashville, Tenn. @ DRKMTTR #
24 – Atlanta, Ga. @ 529 #
26 – Richmond, Va. @ Poor Richards #
April
02 – Chicago, Ill. @ Lincoln Hall (Album Release)
17 – Rotterdam, Netherlands @ Motel Mozaique
18 – Utrecht, Netherlands @ Slathe
20 – Cologne, Germany @ Hangende Garten
21 – Hamburg, Germany @ Hafenklang
22 – Berling, Germany @ Schokoladen
23 – Prague, Czech Republic @ Rock Cafe
24 – Zurich, Switzerland @ Gonzo
25 – Luxembourg, Luxembourg @ Out Of The Crowds %
(* w/ Twin Peaks)
(# w/ Corridor)
(% w/ Holy Fuck)