Listen to Dirty Projectors' New Acoustic Stomp Song, "That's A Lifestyle"
Photo by Jason Frank Rothenberg
Music
News
Dirty Projectors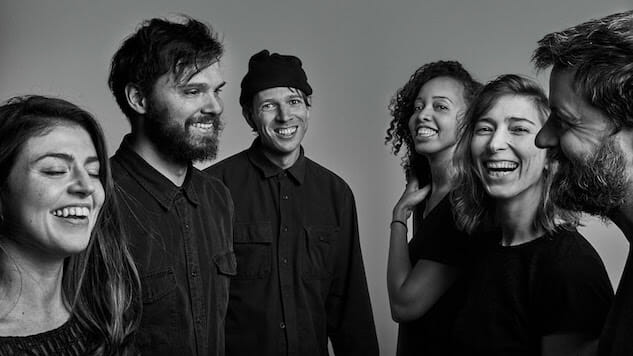 The forthcoming new Dirty Projectors album is rife with starry guest appearances: Rostam, Robin Pecknold of Fleet Foxes, Dear Nora and The Internet's Syd are all confirmed collaborators, and rumors of a Haim appearance are circulating. The LP, titled Lamp Lit Prose, is out later this summer (July 13 via Domino Records), but the Brooklyn-based band have shared two very colorful singles to tide us over while we wait for what's sure to be a memorable album. The melodic protest track "That's A Lifestyle," which came out Thursday, follows the previously released "Break-Thru," an exploratory pop tune. "That's A Lifestyle" arrives with an accompanying video, which you can check out below.
The video, an eye-catching compliment to the song's acoustic magic, pulls from ancient Greek mythology to depict a series of animated vignettes created by Kitty Faingold. Dave Longstreth, who's been at the helm of the Dirty Projectors throughout the years and over the course of several lineup changes, talks to Faingold about the video and its creation in an interview, which you can read at the band's website.
Dirty Projectors aren't known for sticking to one sound, and "That's A Lifestyle" even plays with aspects of stomp and holler. But Dirty Projectors' signature fusing skills chime in at full blast, incorporating elements of electronica into the 12-string acoustic fare. The song is a playful, yet irresistible romp.
The band is currently on a world tour, their first in five years, and three new vocalists/instrumentalists are joining the squadron: Felicia Douglass on percussion, Maia Friedman on guitar and Kristin Slipp on keyboards. Find all their dates below.
Former Projectors member (and Longstreth's ex-girlfriend) Amber Coffman notably left the band prior to their most recent release, a self-titled LP released in February of 2017. Coffman released her own solo album shortly after, a springy collection of love songs and break-up anthems called City of No Reply. In that same season, Longstreth talked to Paste about the band's evolutions—read that 2017 interview right here.
Again, you can listen to "That's A Lifestyle" below and find the band's tour dates further down. Dirty Projectors also played at Daytrotter more than 10 years ago and you can listen to the 2007 session below, too.
Dirty Projectors Tour Dates:
June
15 – San Francisco, Calif. @ The Chapel
16 – San Francisco, Calif. @ The Chapel
17 – San Francisco, Calif @The Chapel
19 – Portland, Ore. @ Wonder Ballroom
21 – Seattle, Wash. @ The Crocodile
22 – Vancouver, B.C. @ Vogue (TD Vancouver International Jazz Festival)
23 – Calgary, Alberta @ Sled Island Music & Arts Festival
25- Salt Lake City, Utah @ Urban Lounge
26 – Denver, Colo. @ Bluebird Theater
28 – Santa Fe, N.M. @ Meow Wolf
29 – Dallas, Texas @ Trees
30 – Houston, Texas @ White Oak Music Hall
July
29 – Niigata Prefecture, Japan @ Fuji Rock Festival
August
09 – Haldern, Germany @ Haldern Pop Festival – Main Stage
09-11 – Gothenberg, Sweden @ Way Out West Festival
10 – Copenhagen, Denmark @ HAVEN Festival – Main Stage
14 – Berlin, Germany @ Heimathafen
15 – Amsterdam, Netherlands @ Paradiso Noord (Tolhuistuin)
16- 'T Hasselt, Belgium @ Pukkelpop
16 -19 – Brecon Beacons, U.K. @ Green Man Festival
19 – Glasgow, U.K. @ The Art School
20 – Leeds, U.K. @ Riley Smith Hall (Leeds Uni)
21 – London, U.K. @ Village Underground
22 – London, U.K. @ Village Underground (2nd night)
24 – Boulogne Billancourt, France @ Rock En Seine