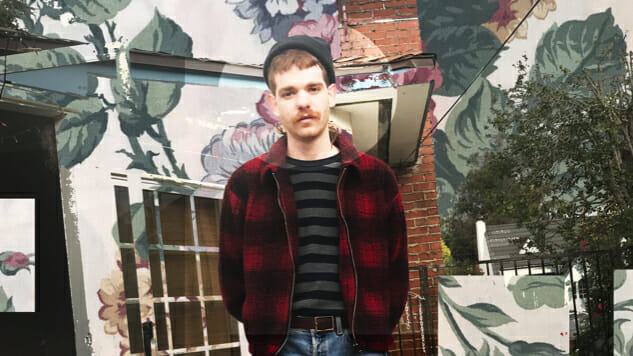 Field Medic, aka L.A.-based indie-folk singer-songwriter Kevin Patrick Sullivan, has released the opening track from his forthcoming Run For Cover Records full-length debut, Fade Into the Dawn, due April 19. Sullivan has also announced a May tour in support of the album, with stops in Chicago, D.C., Philadelphia and Brooklyn.
"Used 2 Be a Romantic" is the second advance track from Fade Into the Dawn, following its stellar lead single "Henna Tattoo," which we highlighted as our Daily Dose upon its release. Where "Henna Tattoo" was concerned with the anxiety and uncertainty surrounding a tenuous romantic connection, "Used 2 Be a Romantic" finds Sullivan coping with other problems: the everyday stresses of being a touring musician. "I used to be a romantic / now I'm a dude in a laminate," he laments, looking back on a show gone wrong ("Those fuckers talked over my whole set"). The singer-songwriter resolved to quit drinking while recording his new album, only to return to it halfway through a particularly grueling run of shows, an uphill battle manifested by lines from "Used 2 Be a Romantic" like, "I can't see shit, I'm blinded by the light / I swore that I quit but I need a drink tonight." It's an honest look at how hard and dehumanizing the daily grind can be—a reminder that artists are also just people.
Listen to "Used 2 Be a Romantic" below, watch Field Medic debut new songs from Fade Into the Dawn live in the Paste Studio further down and keep on scrolling for his tour dates.
Field Medic Tour Dates:
March
14 – Austin, Texas @ Cheer Up Charlies (SXSW)
15 – Austin, Texas @ Pearl Steet Co-Op (SXSW)
May
01 – Minneapolis, Minn. @ Bryant Lake Bowl
03 – Chicago, Ill. @ Downstairs at Subterranean
04 – Cleveland, Ohio @ Agora Theater & Ballroom
05 – Pittsburgh, Pa. @ The Mr. Roboto Project
07 – Washington, D.C. @ Songbyrd
08 – Philadelphia, Pa. @ Everybody Hits
09 – Allston, Mass. @ O'Briens
10 – Middletown, Conn. @ Mac650
11 – Brooklyn, N.Y. @ Alphaville