Happy Birthday, Peter Green! Here's Fleetwood Mac Performing His Song "Oh Well" in 1975
Photo by Hulton Archive/Getty
Music
Features
Fleetwood Mac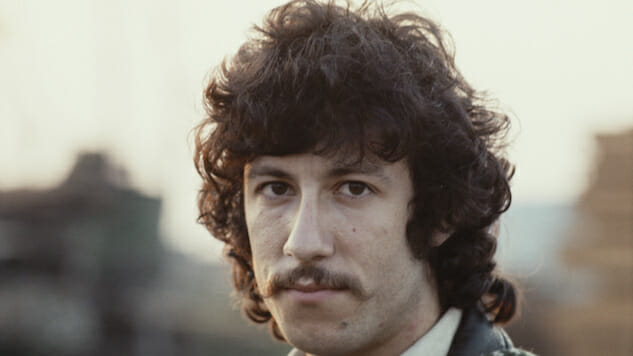 Fleetwood Mac guitarist and co-founder Peter Green turns 72 years old today. In 1967, he formed Fleetwood Mac after leaving his band, John Mayall & the Bluesbreakers. After the departure of drummer Aynsley Dunbar, Green suggested that Mick Fleetwood join The Bluesbreakers. Eventually, the Bluesbreakers consisted of Green, Fleetwood, John McVie and Mayall.
Mayall gave Fleetwood, McVie and Green free recording time and the trio recorded five songs—one of which was titled, "Fleetwood Mac." Shortly after, Green came up with the idea to form a new band, and they invited McVie to join them, but he declined to stay with Mayall. Green and Fleetwood then brought guitarist Jeremy Spencer and bassist Bob Brunning onboard, until McVie was finally convinced to join and replaced Brunning.
Green stayed with Fleetwood Mac until 1970 and he played on their first four studio albums (apart from occasional later cameos)—1968's Fleetwood Mac and Mr. Wonderful and 1969's English Rose and Then Play On. Green was a fundamental part of the band's early blues sound, and despite his short career with Fleetwood Mac, he penned hits like "Albatross," "Black Magic Woman," "Oh Well" and "Man of the World." He recorded seven solo albums, and in 1998, he was inducted into the Rock and Roll Hall of Fame as the founder of Fleetwood Mac.
"Oh Well" was written and recorded as two parts and released as a single in 1969. Then, it was released as a nine-minute version for their album, Then Play On. Part one of the track is characterized by Green's speedy blues riff and part two features Green on a wide variety of instruments—classical guitar, electric guitar, bass guitar, cello, timpani and clash cymbals.
Watch Fleetwood Mac perform "Oh Well" live in 1975.