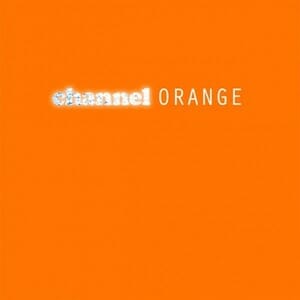 As a guest voice on Watch the Throne or a modest presence in the rabble-rousing rap group Odd Future, Frank Ocean tends to leave a calming effect on everything he touches. It's interesting, then, that he seems at his most comfortable when he's making big statements, like the one he made with that letter he posted to his Tumblr on July 4, a response to a music critic who asked about gender pronouns on his new album. The letter, originally intended to be liner notes for the physical copy of Channel Orange, told the story of Frank's first love, who happened to be a male. It was a soft, lovelorn thing that reached for understanding, rejecting labels. "Whoever you are, wherever you are, I'm starting to think we're a lot alike," the letter began. "Human beings spinning on blackness, all wanting to be seen, touched, heard, paid attention to."
That right there, that compassionate understanding of human nature, is the guiding ethos behind Channel Orange, a very beautiful album about not-so-beautiful people. Prostitutes and pimps, drug mules and drug lords, rich kids with too much money to be happy, and at moments, the narrator himself—these are the cast of alienated, paralyzed SoCal misfits swirling around in Frank Ocean's moral imagination.
Restraint is key to the execution ofChannel Orange, a neo-R&B album that, for all its layered beauty, never overwhelms. Ocean's not one to shout his words, so his well-wrought stories reveal themselves as organic, integrated parts of the mix. From "Start" to "End," Channel Orange is a narrative album meant to be heard in the traditional manner. It sounds best when taken in that way.
The whispy "Thinkin Bout You" makes a case for Ocean as an R&B revivalist, while the sunny, Motown-inspired choruses of "Sweet Life" and "Forrest Gump" recall Stevie Wonder for all the right reasons. On "Sweet Life," Ocean has one foot in the water at Ladera Heights ("the black Beverly Hills"), the stomping grounds of a privileged lover with no need to see the world, because he's "got the beach." On "Super Rich Kids," Ocean takes a fun little left-turn into hip-hop, tag-teaming with Odd Future bandmate Earl Sweatshirt. On that track, he's got an eye on class tensions, an awareness highlighted by references to the maids who "come around too much" and "just walk by/ they must don't care" when the kids light up on weed in front of them. One great thing about that track is that Earl's low verses push Ocean way up into his vocal range. Sometimes, Frank Ocean sings. Other times, he saangs. It's safe to say he's saanging on "Super Rich Kids."
The best in a series of quite a few songs about characters trapped in all sorts of addictions, "Pilot Jones" is just gorgeous, an a-capella, spacious grower. The dealer on "Crack Rock" is forbidden from attending all his family functions, discovering how "little he matters" when he winds up in the middle of Arkansas with nothing to his name but his crack pipe.
That's precisely the thing, though. In Ocean's imagination, these broken people do matter. The stories of their sad, empty lives have to be told—if, for no other reason than for their capacity to enrich our understanding of people who aren't like us. A case in point: "Pyramids," a masterful 10-minute R&B opus about an elusive woman of the night and the paralyzed man who can't claim her. Combining elements of Prince-esque funk, slow-burning soul and a killer guitar solo from John Mayer, "Pyramids" is far and away Channel Orange's most artistically realized moment.
Some songs here don't feel fully realized at all. Andre 3000's lovely verse in "Pink Matter" comes too late to save the song from its latent creepiness. The rushed percussion on "Monks" feels weirdly jarring; "Sierra Leone" is ambiguous and undercooked. These songs aren't necessarily bad in and of themselves; they just feel unfinished.
"Bad Religion" is the dramatic centerpiece, a stunning and bare ballad that, for the first time since opener "Thinkin About You," places the listener right in the center of Frank Ocean's pain. In that song, he spills all to a stranger who doesn't seem to speak much English, bursting with the heartbreak he feels at loving a man who won't love him back. "Taxi driver, be my shrink for an hour," he asks. Across cultural, religious and lingual distances, he's grasping at commonality. Whoever you are, wherever you are, Frank Ocean has been starting to think we're a lot alike.