Read a Heartfelt Holiday Message From George Michael's Family
Michael died on Christmas Day 2016
Photos by Gerrard/Getty, Jack Taylor/Getty
Music
News
George Michael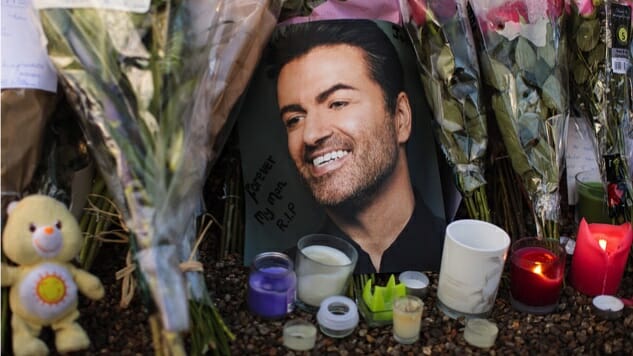 "Cause of death" (a fatty liver, heart disease, living life) is less important than the legacy George Michael left: from 1987's diamond-selling album Faith, to his importance in the queer community and role as the the unofficial pop pioneer of MTV's first decade. The tributes to Michael in the year since his death have been many, close together and meaningful.
To commemorate the anniversary of Michael's death, his family has released a letter to fans. Written in nostalgic font with a picture of little George Michael (aka "Yog") and brother David at the top, it begins with a gracious thank-you to fans for making Listen Without Prejudice number one on U.K. charts in October. It goes on to express solidarity for a shared sentiment during holidays and family gatherings:
This year has been a series of new and tough challenges for those of us close and loyal to Yog, not least of which was steeling ourselves this month, to hear 'Last Christmas' and 'December Song' streaming out of shops, cars, and radios, as it has done for decades, knowing he's no longer here with us, missing him.
This Christmas will be hard without him, but we know that we are not alone in our mourning the anniversary of his loss, and that the sadness of our wider family, and true friends, is shared by many of you.
You can read Michael's family's full message via his website here. We've ranked the 10 best George Michael songs, in our minds and in our hearts. Earlier this season, fans launched a campaign to boost Wham!'s rendition of "Last Christmas," so we hope you'll enjoy this performance from the Paste Cloud of Wham!'s "Everything She Wants" from 1985.