Grimes' Visions Reimagined in Classical Concert Series
Photo by Nicholas Hunt/Getty, Astrid Stawiarz/Getty
Music
News
Grimes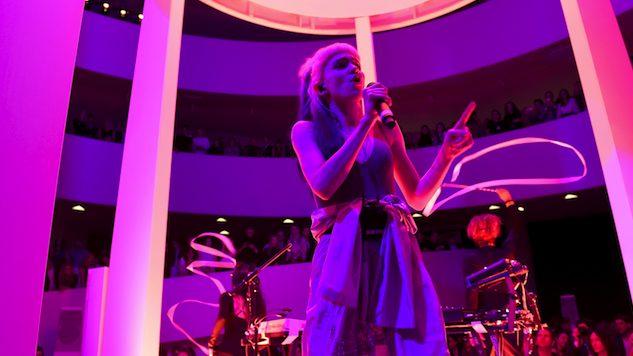 Art-pop artist Grimes' 2012 album Visions has been reimagined and reinterpreted by 13 different classical composers. The final product is the concert series Many Visions: Plumes Deconstructs the Music of Grimes, which will begin touring around Canada this Friday, March 10—see below for a list of tour dates and locations. The idea for the pop/classical crossover series came from Plumes, a Montreal-based ensemble dedicated to bringing classical music to the masses.
Luke Nickel, co-director of Winnipeg's Cluster New Music and Integrated Arts Festival, spoke to MusicWorks about the decision to form the series around Grimes:
We wanted to see how we could bridge the gap between popular and classical music—we have a suspicion it's smaller than people think. We want to think about interpretation and rearrangement, not only in terms of musical material but also in terms of the spirit of an artist. That led us to Grimes, whose DIY attitude seems to resonate across genres.
As for the composers, they were allowed to pick their top three songs off Visions, and Plumes assigned the songs from there. Most composers got their first pick, which is unsurprising seeing as they all have different styles and approaches. Plumes' Geof Holbrook said they gave the composers a lot of room to be creative. "The theme of the festival is dismantling, taking something apart and reconstructing it. So maybe that means reinterpreting or magnifying or exploding—we gave them pretty wide scope," said Holbrook. "They're very different composers with different backgrounds and styles. But it's not just a new arrangement or remix. Maybe it's a mashup."
It's unclear whether Grimes is a fan of the concert series or not, because as far as Holbrook knows, the art angel might not even know about the project. However, Holbrook did say he hopes they will get some kind of "blessing" from Grimes, or at least a small shoutout. Judging from the artist's passion for multimedia productions (just check out her latest music video for "Venus Fly"), we're guessing she'd probably like the idea. We're certainly intrigued—perhaps a performance recording is called for?
Don't miss Paste's "10 Reasons We Love Grimes," and listen to Paste Cloud audio from Grimes' 2013 Daytrotter session below.
Many Visions: Plumes Deconstructs the Music of Grimes Tour Dates:
March
10 — Montreal, Quebec @ Rocket Science Room
11 — Toronto, Ontario @ The Music Gallery
12 — Hamilton, Ontario @ The Casbah
13 — Windsor, Ontario @ University of Windsor
15 — Guelph, Ontario @ University of Guelph
16 — Kitchener, Ontario @ Wilfrid Laurier University
17 — Winnipeg, Manitoba @ Cluster Festival
18 — Saskatoon, Saskatchewan @ Village Guitar & Amp Co
21 — Vancouver, British Columbia @ Music on Main