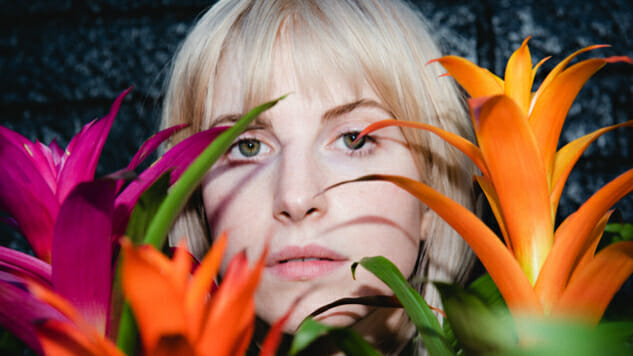 Paramore frontwoman Hayley Williams will release the music video for her new single "Simmer" on Wednesday afternoon. The single is Williams' first solo project since her co-founding of the pop group in 2004, and the first taste of her forthcoming solo debut Petals for Armor, coming May 8.
"I'm so ready and so incredibly humbled to get to share this project," says Williams in a statement. "Making it was a scary, empowering experience. Some of my proudest moments as a lyricist happened while writing Petals for Armor. And I was able to get my hands a little dirtier than usual when it came to instrumentation."
"I'm in a band with my favorite musicians so I never really feel the need to step into a role as a player when it comes to Paramore records. This project, however, benefited from a little bit of musical naïveté and rawness and so I experimented quite a bit more," Williams continues, concluding, "I'm excited to let people in to experience a different side of myself that I've only very recently become familiar with."
Williams released her new single at 2:30 p.m. ET after multiple teasers on social media, and a countdown to the track and accompanying music video.
In a Notes app screenshot posted on Williams' Twitter and Instagram accounts in December, Williams wrote, "I'm putting out some music next year. With the help of some of my closest friends I made something I'm going to call my own. It's a really special project and you'll get a taste of it in January."
— hayley from Paramore (@yelyahwilliams) December 28, 2019
Paramore's latest release was their fifth full-length album, After Laughter, in 2017. Paramore guitarist Taylor York appears on the credits of "Simmer" as producer, a collaboration the group's notably enthusiastic fan base has lauded on social media.
During Paramore's evident hiatus since After Laughter, Williams has shifted her focus towards her cruelty-free hair dye line, Good Dye Young, but after teasing new music in June 2019, she told ET she "didn't want people to forget … I have always been a musician first. Even though people are going to see me in this kind of [beauty] space a lot more, I don't want people to forget."
Watch the video for "Simmer" (dir. Warren Fu) below.