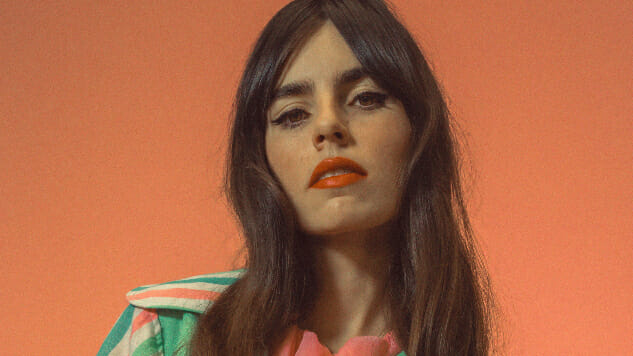 Daily Dose is your daily source for the song you absolutely, positively need to hear every day. Curated by the Paste Music Team.
The California-based, Australian dream-pop artist Hazel English has shared her first single since 2017, the free-flowing jam "Shaking." The song comes with a '60s psychedelia-inspired video that casts English as a charismatic cult leader.
"Shaking" distances itself from English's debut EP, Just Give In / Never Going Home, with a more grandiose sonic palette than its predecessor. While the EP maintains a hazy, lo-fi approach, "Shaking" shows the singer opening up her sound, which can be heard in her soaring vocals and lush drive of the chorus. Though the airy approach is still there, the single succeeds at packing a bigger punch than before.
The video for "Shaking"—directed by Erin S. Murray—follows English as she seduces an unsuspecting man into a hippie cult. English—clad in beautiful '60s garb and a beehive hairstyle—appears as the cult's ringleader, keeping a group of blissful, long-haired men under her control. In one scene, she forces her devotees to eat plates of red jello on their knees while they shake uncontrollably. While the newcomer to the group is initially skeptical, he finally indulges in the jello and becomes a fanatic.
Suddenly the line "Tell me that I am your queen / Baby, I'll set you free" takes on an entirely new, eerie meaning. As English notes, "'Shaking' presents the promise of spiritual awakening as a kind of seduction in order to lull the individual into false truths about themselves and the world around them."
English clearly had fun with the idea of a gender-reversed Manson cult but as she explains, her songwriting comes from a more sincere place inside herself:
There is a lot more I am trying to explore under the surface that I hope people notice. I feel like I'm on this continual journey of figuring out what I truly believe and separating it from the false and toxic ideas I was taught about myself and the world throughout my life. I hope I can inspire others to also search for their inner truth and find their own inner strength in the process.
You can watch the video for "Shaking" below.