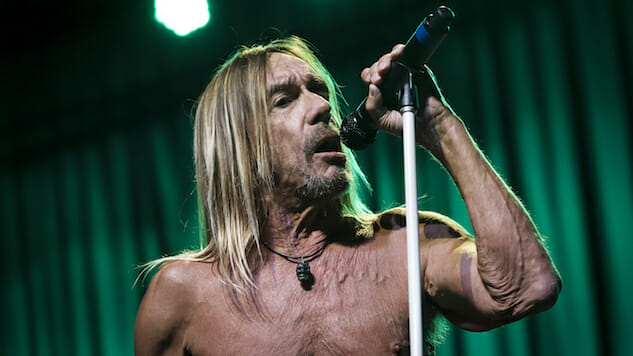 Iggoy Pop is back, baby—but in supercharged cartoon form.
The musician has released an animated video for his 1982 salvo "Run Like a Villain" just ahead of the musician's forthcoming reissue of 1982's Zombie Birdhouse.
Directed by Polish animator Marta Kacprzak, the video finds the musician's cartoon rendering diving into volcanoes, dangling above snapping alligators and shimmying like a maniac. Awash in unsettling tones of purple, red and army green, the animation style recalls the Esther Friedman photograph on the original Zombie Birdhouse cover.
The musician's sixth solo studio album will be reissued on vinyl and CD on June 28 via Caroline International. You can check out the tracklist below.
You can also see Igz front-and-center in Jim Jarmusch's new zombie film, The Dead Don't Die, alongside Adam Driver, Chloe Sevigny and Bill Murray, set to hit theaters today. How fitting.
Take a peek at the new animated video below.
Zombie Birdhouse Reissue Tracklist
01. Run Like A Villain
02. The Villagers
03. Angry Hills
04. Life Of Work
05. The Ballad Of Cookie McBride
06. Ordinary Bummer
07. Eat Or Be Eaten
08. Bulldozer
09. Platonic
10. The Horse Song
11. Watching The News
12. Street Crazies
13. Pain And Suffering (CD Bonus Track)