The 15 Irish Acts You Need to Know in 2019
Photo Illustration by Christine Fernando
Music
Lists
Irish Bands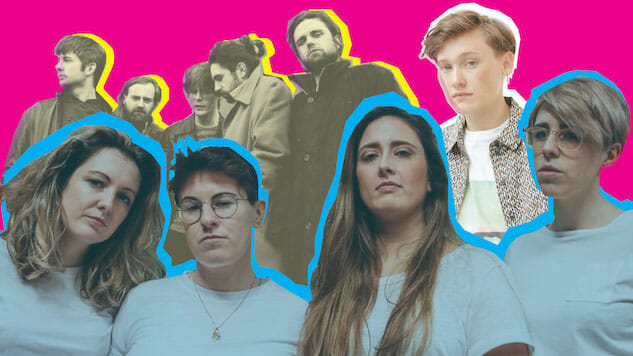 For a small, grassy island with a population about the size of Massachusetts', Ireland's impact on the music world has been disproportionately large. Ireland is home to Rory Gallagher, a man that (if you believe urban legend) Jimi Hendrix once declared the best guitar player in the world, and Sinead O'Connor, who famously ripped up a photo of Pope John Paul II on Saturday Night Live in possibly one of the most misconstrued political statements of our era. We also have the country to thank for My Bloody Valentine and their magnum opus Loveless, which utterly defined the shoegaze genre. That's not even mentioning Bob Geldof's work on Live Aid or Bono's silly glasses or the talent-filled and tragically short life of The Cranberries' Dolores O'Riordan. Hell, go all the way back to pianist John Field and his nocturnes' influence on Frédéric Chopin.
The Irish aren't finished making musical history, either. Despite long being associated with trad (traditional) and various rock genres, every corner of the island is exploding with musicians who dabble in hip-hop, experimental music, techno and aural art that shirks hard-and-fast definitions. Here are a few of the artists from the Emerald Isle (that is, both the Republic of and Northern Ireland) who are creating compelling music in 2019.
1. Æ MAK
Æ MAK, aka Aoife McCann, will sing you to sleep or soundtrack your next bop with her crystal clear voice. She's reminiscent of Miya Folick or Bjork, especially in the avant-garde nature of her art-pop, the grand scope of her range and her fervent delivery. The alternating solemnity and ecstasy of her performances makes McCann a musical priestess of sorts. This spring, she released a beautifully choreographed video for "Dancing Bug," her dance-pop collaboration with Irish duo Le Boom. McCann and her fellow dancers' sensuous, simple movements give new meaning to the phrase "throwing shapes." She has supported Django Django, Warpaint and Tune-Yards on tour and recently signed a worldwide publishing deal with BDi, so we can expect to see much more of her.
2. Bitch Falcon
Having graced the stage with both Glen Hansard and Pussy Riot, Bitch Falcon are an improbable combination. Vocalist Lizzie Fitzpatrick's rich, singular vocals ricochet with fury in every song, bouncing off of fuzzed-out guitars. She possesses the kind of voice that could tunnel through bedrock and break down walls. Accompanied by band members Nigel Kenny and Barry O'Sullivan, Fitzpatrick brings unbound emotion to every line in their latest single "Panther," released this past May. Thankfully, a debut album is on its way, as Bitch Falcon spent the end of April and early May holed up in a studio in County Wicklow to craft their first LP.
3. Fontaines D.C.
We'd be fairly surprised if you hadn't heard of Fontaines D.C. yet. The Dublin post-punk outfit played a sold-out U.S. tour with IDLES, earned a stellar review from Paste for their first album Dogrel, and even swaggered about on The Tonight Show stage. Frontman Grian Chatten wandered into their U.S. television debut to spout his musings about present-day Ireland with an air of spontaneity. As Chatten told Paste this April, "I use the themes that different people in Dublin bring to me. People who carry things with them. People carry stories just in the way they speak. When you overhear a conversation with that sort of emotion, it's an invitation as a writer to feel something." With taut melodies and a captivating stage presence, Chatten and fellow band members Conor Deegan III, Carlos O'Connell, Conor Curley and Tom Coll are certainly ones to watch.
4. Jealous of the Birds
Naomi Hamilton, better known by her stage name Jealous of the Birds, began writing music while pursuing English and Creative Writing in college. Iterative and cerebral are two words to best describe her, considering that Hamilton re-released four songs from a previous album on her 2018 EP The Moths of What I Want Will Eat Me in My Sleep. You get the sense that Hamilton is careful in everything she does, exemplified by her thoughtful songwriting. While often soft-spoken and contemplative, Hamilton's voice occasionally sounds spiky and fierce, like on the sultry rock single "Blue Eyes."
5. Junior Brother
Maybe you're here more for traditional Irish music, filled with the hollow beat of the bodhrán and a balladeer singing in a nasal, earnest drone. Junior Brother, the stage name of Kerry native Ronan Kealy, is here to answer your prayers with his alternative Irish folk sound. Often backed by little more than an acoustic guitar and foot tambourine, Kealy weaves an intricate tapestry of lively vocals and stirring melodies, with lyrics poking fun at all that Ireland has long held sacred (Here's looking at you, "Hungover at Mass").
6. Just Mustard
Ever since the days of My Bloody Valentine, shoegaze and noise-pop have long found a loving home in Ireland, and Dundalk rockers Just Mustard are keeping the tradition alive. Katie Ball (vocals), David Noonan (guitar, backing vocals), Mete Kalyon (guitar), Rob Clarke (bass) and Shane Maguire (drums) released their debut album Wednesday last year via Pizza Pizza Records, following it up with singles "Frank" and "October" in 2019. "Frank" in particular showcases the band's larger vision, as they wrote and directed the accompanying stop-motion music video. Between wobbling furniture and the eerily calm elderly gentleman spinning in a chair, the surreal piece naturally invites David Lynch comparisons.
7. Kojaque
Kevin Smith is no longer just the jersey-sporting director behind the Jay and Silent Bob franchise. The name also belongs to the Irish rapper popularly known as Kojaque, who grew up in the north Dublin neighborhood of Cabra and last year released his impressive concept album and debut LP Deli Daydreams, following a week in the life of a deli worker before the annual Christmas party. Despite being filled with jazzy, mellifluous backing tracks, the lyrics are anything but easy listening. "White Noise," in particular, skewers the classism faced by Dublin northsiders and the limited reproductive rights of Irish women ("Sovereign state; they'd rather see my mother bleed out than build a clinic / You leave abortions to the backstreets / If we need it we're gonna get"). Despite the recent repeal of the constitutional amendment banning abortion in Ireland, Kojaque crisply captures a snapshot of Ireland with his unmissable hip-hop.
8. Loah
Growing up in Maynooth and Sierra Leone, Loah (aka Sallay Matu Garnett) found an artistry all her own. The art-soul singer released her debut EP, This Heart, in 2017. As of late, she has collaborated with Cork producer Bantum on "April Brave" and the thumping, groovy dance track "Summer of Love." Her most enrapturing work to date, though, is "Buffer Fly," created with her sister and fellow artist Fehdah, showcasing their limber vocals against a lithe electronic melody.
9. MELTS
MELTS are ready to do just what their band name promises to your heart and brain. The guitar on "Skyward" zigzags in neon streaks and fuzzes joyfully on "Echoes." The band is made up of ex-members of other Irish bands, including Ghost Estates, The Things, The Mighty Stef and The North Sea. Their experience is obvious in their sound, as MELTS riff comfortably together to build rich melodies, eschewing any gimmicks.
10. The Murder Capital
If you're a fan of Fontaines D.C., then James McGovern, Damien Tuit, Cathal Roper, Gabriel Paschal Blake and Diarmuid Brennan of The Murder Capital will certainly appeal to your sensibilities with their riveting post-punk tunes. Their frontman is more fired up than Fontaines' Grian Chatten, though, proving less lackadaisical and more insistent behind the mic. Each of their songs sounds like it could score a different drunken escapade, sowing seeds of danger underneath every line. After playing with the likes of Shame and IDLES, The Murder Capital are finally releasing their Flood-produced (PJ Harvey, New Order, Foals) debut album When I Have Fears on August 16.
11. Pillow Queens
What can be said that wasn't summed up in our interview with the utterly charming "puppy pop" band? For starters, they've since released the deliciously catchy single "HowDoILook." The Dublin group, composed of Pamela Connelly, Sarah Corcoran, Cathy McGuinness and Rachel Lyons, explore emotional depths with unrivalled clarity and simplicity (and enough hooks to fill a tacklebox). Corcoran observes on their latest release, "I just can't let my mind wander / It always takes a dodgy street and I get nervous / And just retreat." We're just waiting on that debut album to drop now. It'll be worth the wait.
12. PowPig
What were you doing when you graduated from high school? Spoiler alert: whatever it was, it probably wasn't as cool as what the members of PowPig are doing. The lo-fi four-piece from Limerick (home of the Cranberries) is composed of Anna Marie Rooney, Andreea Mocanu, Laura Drennan and Leah O'Donnell. Listening to PowPig sometimes sounds like being transported to a particularly memorable performance at the Bronze (from Buffy? Remember??), with their vocals often veering into Cardigans territory. Oh, and to make things even better, they have a song devoted to cult icon/possible alien Tommy Wiseau. Enough said.
13. SOAK
Northern Irish indie darling SOAK (aka Bridie Monds-Watson) just put out her sophomore effort, Grim Town, which Paste's Lizzie Manno sums up as "a stomping ground for the second guessers, the alienated, the dreamers, the one last drinkers and the young, misty-eyed lovers." The Derry native, who gained recognition at 18 with her love-lorn debut Before We Forget How To Dream, has grown through her music, with this latest effort giving us a glimpse at her rich inner life.
14. THUMPER
Irish sextet THUMPER are the new, frenetic voice of paranoia in 2019. On "In My Room," frontman Oisin Leahy Furlong speak-sings menacingly of isolation, declaring he is "a modern day man fermenting, rotting / In the womb, in my room." Brimming with twitchy, contagious energy, Leahy Furlong describes anxiety in vivid detail on "(You're Bringing Me) Down": "There's spiders crawling around the covers on my bed / I'm lighting fires in the archways of my head." His voice is catapulted every time by a small militia of guitarists and drummers, making their latest release, Out of Body Auto-Message, a cathartic and necessary listen.
15. whenyoung
It's difficult not to feel uplifted listening to the lucent, almost childish voice of whenyoung's Aoife Power (bass, vocals). Even when singing about the disparity in safety between the wealthy and impoverished in London on "The Others" (written in the wake of the deadly Grenfell Tower fire), Power's voice holds an optimism that makes you think that maybe, just maybe, we can make the necessary strides to curtail classism. Despite coming up through the London music scene, Powers and bandmates Niall Burns (guitar) and Andrew Flood (drums) all hail from Limerick, inviting plenty of well-deserved Cranberries comparisons.