Listen to Japanese Breakfast's First Original Song Since 2017, "Essentially"
All proceeds from the W Records-released track benefit the ACLU
Photo by AVB Media Asia / Courtesy of W Records
Music
News
Japanese Breakfast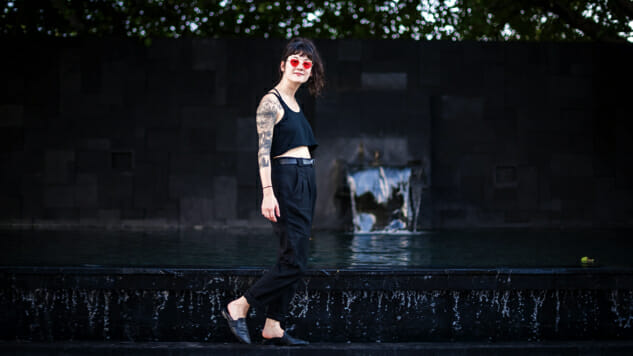 Let it be known that Michelle Zauner's first original release as Japanese Breakfast since 2017 is "Essentially" an indie-pop bop. The effervescent new single is the first entirely original track produced for and released by W Records, the music arm of W Hotels, with all proceeds benefitting the American Civil Liberties Union.
With this new song's release, Zauner joins Amber Mark, Perfume Genius and Roosevelt among W Records' inaugural class of artists, all of whom have put out two singles on the fledgling label—Japanese Breakfast has another on the way, though that's all we know about it for now. "Essentially" follows Zauner's 2017 Dead Oceans debut Soft Sounds from Another Planet, which landed on our list of that year's best albums, and her breakout full-length debut Psychopomp, which accomplished that same feat in 2016.
"I was originally going to record a different song but decided to write something on the fly once I arrived in Bali," Zauner recalls in a statement. "I like the challenge of writing and arranging quickly and intuitively sometimes, and I had just bought a native instruments machine and wanted to explore a lot of the sample libraries it came with and work on the synths that were at the studio." Zauner recorded the song at the W Sound Suite at W Bali, of which she adds, "It was a very idyllic place to work. I usually record in cold studios, so Bali was a pretty glamorous change. I felt so lucky the day I arrived just walking around the hotel."
"Essentially" wouldn't sound out of place on Soft Sounds, as it's a spacey, yet danceable thumper that finds Zauner demanding the kind of love that makes everything—and everyone—else seem trivial by comparison, like looking down on a crowd from a great height. "How is it you fall asleep so easy / Who is it you're dreaming of tonight?" she wonders, insisting, "Love me essentially." Japanese Breakfast will perform their new song at W Taipei on May 25, and they shot part of the video for the track at W Philadelphia, which opens in 2020.
Zauner's last song release we're aware of was her January 2018 cover of The Mamas and The Papas' California Dreamin', but she's been all over the place of late, scoring videogames (and designing her own), directing music videos for artists like Better Oblivion Community Center, Jay Som, and Charly Bliss, and writing a memoir, Crying in H Mart, to be published by Knopf in the near future.
Listen to "Essentially" below and revisit our 2017 talk with Zauner here.