Exclusive: Hear Justus Proffit's Emotional New Single "Shadow Of The Cross"
Photo by Kris Kirk
Music
News
Justus Proffit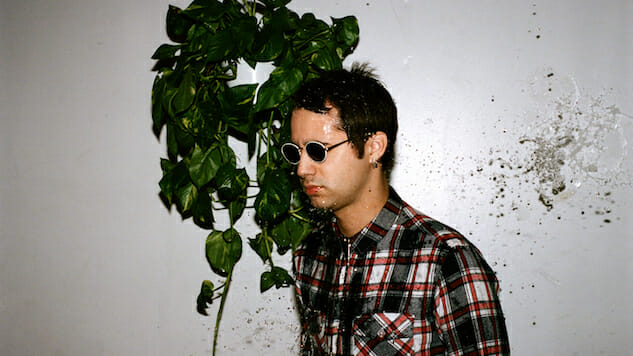 After self-releasing two EPs (including one with Jay Som), Los Angeles-based singer/songwriter Justus Proffit is set to release his debut full-length album this year. It's called L.A.'s Got Me Down, described in a press release as "a testament to the bleakness lurking next to the glamour of Los Angeles, where the space between abject poverty and untold wealth can be inches," and due out March 8 on Bar/None Records. Today (Feb. 26), the third single from the album, "Shadow Of The Cross," is premiering here at Paste. Give it a listen below.
The shreddy rock song is what Proffit describes as his "Back in Black.'" But don't let its scrappy garage-rock sounds mask the tune's tragedy. Proffit wrote the dark song about the death of his girlfriend and his reflection on that time, looking back three years later. He muses on his grief ("Shadow of the cross, the remorse, the loss") and then on acceptance: "Washing away the fear, the end is near."
"This song is about dealing with the death of my past girlfriend," Proffit says. "It's weird because it's been about 3 and a half years … all those feelings were strong at the time but as things move on, it's such a strange sensation of emptiness. It's not as tangible as it once was and it never will be."
Proffit grew up in L.A. and started playing in punk bands there at just 13. By the time he was 22, he had his own DIY space. His new album is about the city's often-imperceivable darkness—and his own personal demons. L.A.'s Got Me Down focuses on some of the worst times in Proffit's life, but he's still standing in spite of it all.
"I've gone through a lot of things in my life, more than some," he says in a statement. "I don't dwell on it. But that's what happened. It is what it is. L.A.'s Got Me Down focuses on that so much. Maybe the next one won't—maybe the next one will be chill!"
Most recently, Proffit collaborated with Jay Som for that aforementioned five-song EP, Nothing's Changed, released on Polyvinyl Recording Co. in September. Listen to the single "Invisible Friends" right here.
Again, you can listen to "Shadow Of The Cross" below. Keep scrolling for Proffit's tour dates.
Justus Proffit Tour Dates:
March
07 – Los Angeles, Calif. @ Zebulon *
08 – San Francisco, Calif. @ Thee Parkside *
10 – Portland, Ore. @ w/ Alien Boy at Blackwater *
11 – Seattle, Wash. @ Crocodile Backbar *
13 – Vancouver, B.C. @ Red Gate *
14 – Victoria, B.C. @ Copper Owl *
16 – Reno, NV @ The Holland Project *
18 – Oakland, Calif. @ Eli's Mile High *
(* – w/ Pardoner)