Kurt Vile Reworks "Baby's Arms" with The Sadies for Forthcoming Documentary
Images via Matt Winkelmeyer/Getty, Matador
Music
News
Kurt Vile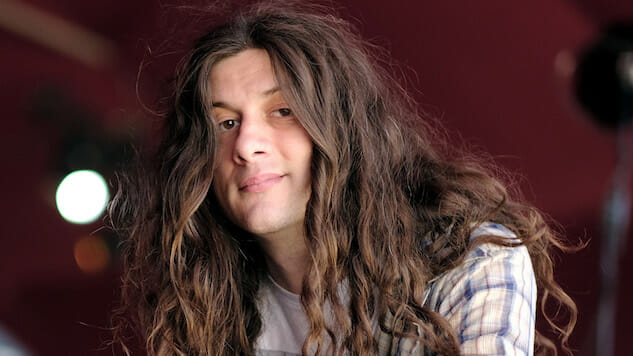 Kurt Vile's latest release comes from the wilderness of New York's Catskill Mountains, where he collaborated in a nighttime session with Canadian group The Sadies in reworking his song "Baby's Arms" for his forthcoming documentary (bottle back).
Vile initially released "Baby's Arms" on his 2011 record Smoke Ring For My Halo, but his latest version strips the song down to hypnotic acoustic picking and hand percussion. The barebones rendition was recorded in a session with members of The Sadies, who provided backup instrumentation behind Vile.
An accompanying video cut from the doc shows the musicians sitting in a glowing circle of warm lamplight in an outdoor jam. As the footage pans between the musicians, we catch glimpses of their half-empty beer bottles sitting next to them, giving the impression of a spontaneous musical consummation between the guys. After the song hits its last note, Vile sits back and says, "That was sweet, I think I forgot some of it," to the smiling group.
"Baby's Arms" is a brief glimpse into Vile's documentary, (bottle back), which comes out Thursday, Oct. 3, via Matador Records. You can check out the video (dir. Ryan Scott) below, along with Vile's tour dates further down.
Kurt Vile & The Violators Tour Dates:
October
05 – San Francisco, Calif. @ The Fillmore
06 – San Francisco, Calif. @ Hardly Strictly Bluegrass Festival
November
06 – Denver Colo. @ The Mission Ballroom %
08 – Oklahoma City Okla. @ The Criterion %
09 – Houston, Texas @ Warehouse Live %
10 – Austin, Texas @ Levitation Festival
16-17 – Mexico City, Mexico @ Corona Capital
(% with Dinosaur Jr.)